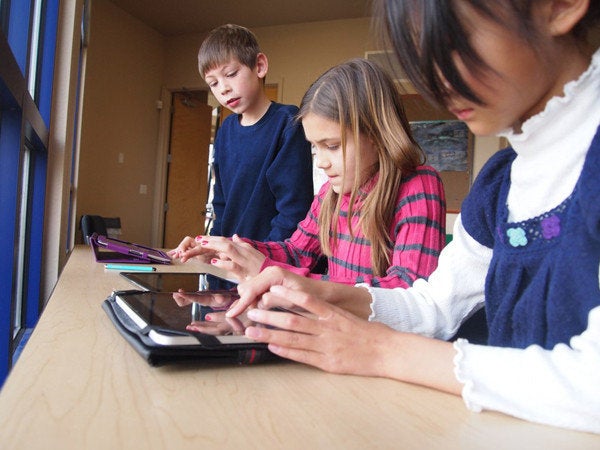 It's not easy trying to change the face of education. Working with public school districts, policy makers and state officials to balance stakeholder interests is messy and challenging. Changing the teaching and learning pedagogy in a system that was designed for factory-line education is tough work. Convincing school boards that tech really does belong in education -- and Google, if used correctly, can be an amazing resource -- is even tougher. Contrary to popular belief, life as a change agent in education is not all glamor. After a particularly grueling month of travel (I think I was home twice), I got a rejuvenation from our students.
When asked about what makes schools in our network different from traditional high schools, our common refrain is "don't ask us, ask the students." They are the best spokespeople for why change in education is necessary. And while everyone has an opinion about reforming education, at New Tech, our "go-to" source for "why change" and "what's possible" are our students.
So we asked the students to help raise awareness and increase our understanding about how education happens at a NTN school. We launched our first New Tech Video Challenge, designed to give students a national platform to say what's special about their education and how it is preparing them for success after high school.
We asked them, "What's so special about New Tech?"
The videos students produced were poignant, fun, warm, witty, informative and charming. Some students incorporated music; some rapped; some pushed technology and video production. Others danced, sang, acted and pantomimed, there was even a robot and an alien.
And within the more than 70 videos from around the country, the students conveyed importance of key aspects of their NTN education: collaboration, critical thinking, communication and problem-solving.
Students were asked to produce videos that were one to two minutes long, and to work in groups of three or four people. The finished videos were posted on YouTube for the world to see.
We invited members from the fields of journalism, business, the film industry, education and NTN to judge the video entries. We were delighted that Sean Astin, famous for his roles in the Lord of the Rings trilogy and Goonies, agreed to be part of our judging panel.
As for the winning video, at New Tech Network, we believe that learning opportunities are the prizes, and we have invited the creators of the winning video to be guests at the New Tech Network Annual Conference in Grand Rapids, Mich., in July, to present their video to more than 1,000 educators from the U.S. and Australia.
A strong theme emerged in the student videos: the importance NTN school "culture" plays in encouraging creativity and collaboration. Students thrive in a culture based on mutual trust, respect and responsibility. And when this culture is "combined" with rigorous, relevant project-based learning, technology that enables, and deeper learning skills students need to be successful in life, tremendous achievement is possible for every student. Judging the videos made me laugh, moved me to tears and ultimately, inspired me to work harder to provide "real" education for all students.
Popular in the Community