FORT LAUDERDALE Four blocks of State Road A1A, ravaged by churning waves that have undermined the roadway and torn up sidewalks and seawall, have become a spectacle, drawing onlookers wowed by Mother Nature's destructive power.
While Mayor Jack Seiler and other officials warned Monday that the blocks between Northeast 14th and 18th Streets may never again be able to support four lanes of traffic, the damage may preview what rising sea levels can mean for coastal communities throughout South Florida.
The roadway was blocked off last week for the second time in a month after pounding waves and high tide ate up the sidewalk, knocked down palm trees and outdoor showers, and left life guard towers standing in the surf. Those guard towers have been pulled back to the sea wall.
"These are exactly the kind of impacts we are concerned about," said Nancy Gassman, head of Broward County's climate change program. "We have to start to think about how to adapt."
With traffic on A1A reduced to one way in each direction north of Sunrise Boulevard, Seiler said Monday, "I'm hopeful we can maintain it as four lanes, but obviously that is up for discussion. We might need to leave it one lane each way for the forseeable future."
Engineers from the city and the Florida Department of Transportation engineers met Monday to discuss long-term solutions, including a massive beach renourishment program considered critical to saving the roadway.
In addition, some immediate steps were ordered. Workers were to begin Tuesday fortifying a temporary sea wall with plastic water-filled barriers and restriping A1A's lanes to reflect the narrowed passage, according to FDOT spokeswoman Barbara Kelleher.
The new striping will also mark a 6-foot-wide bike lane in each direction.
For residents of the 150-home neighborhood between Northeast 14th and 18th streets, preserving A1A is essential. It is the only way in and out of the neighborhood.
"Our homes would be uninhabitable if that road were to cease," said Brian Donaldson, president of the Birch Park Finger Street Homeowners Association. "It is our only escape route."
The roadway's vulnerability was highlighted late last month when Hurricane Sandy passed by to the east just as a full moon combined with seasonal high tides. That resulted in breached sea walls and overwhelmed drainage systems up and down the coast.
But the beachfront just east of Birch Park was particularly thin, and the waves pushed tons of sand into the street.
Donaldson and other residents seem willing to some sacrifice roadway. "It may not look as wide, we may lose parking, maybe it will be one lane, but many neighbors would prefer a less-busy road," said Donaldson. "We would give it up for beach renourishment."
Stephen Lange, who has lived on A1A north of 17th Street for 25 years, said, "One lane would not be terrible. You can live with it."
Lange and Donaldson also agree the long-term solution requires barges of sand to rebuild the beach, and maybe even an offshore breakwall to mitigate the ocean's relentless power.
"We can add 300 feet of beach, and it will last 20 or 30 years," said Lange, a Fort Lauderdale attorney. "But they are not going to let A1A fall into the sea."
City manager Lee Feldman said the future configuration of A1A and the beachfront would depend on decisions made jointly by FDOT, which owns the road, the county, which is responsible for beach renourishment, and local residents.
He said he had no idea what fixing the problems there would cost, or who would pay.
But clearly, said Feldman, the damaged roadway "is an image issue for us."
Seiler said he remains frustrated by the failure of county, state and federal officials address beach erosion. "We have been clamoring for it for four years," he said. "People come to Broward and Fort Lauderdale to see our great beaches and the ocean. We don't want our newest attraction to be people out there looking at a collapsed sea wall."
But people were looking, strolling or bicycling along the now blocked-off northbound lanes of A1A as if it were a sandy promendade.
"Every day I see things getting worse," said Fort Lauderdale resident Caroline Bertram, who biked over Monday to have a look. "The barricades are sinking into the sand and it just seems that nature is progressing on its own.
"It's not really an issue I think we can fix," Bertram said. "I think we need to change our lifestyle and think seriously about living so close to the sea."
Climate scientists predict sea levels in South Florida will rise by 1 foot by 2070, 2 feet by 2115, and 3 feet by 2150.
A 3-foot rise would mean extreme flooding not just on the barrier island and Las Olas neighborhoods, but also in communities such as Riverland, Sailboat Bend, Coral Ridge and Rio Vista.
"The time for action is now," said Gassman. "We need to start addressing these issues rather aggresively."
Staff photographer Susan Stocker contributed to this report.
mwclary@tribune.com or 954-356-4465 ___
(c)2012 the Sun Sentinel (Fort Lauderdale, Fla.)
Distributed by MCT Information Services
Before You Go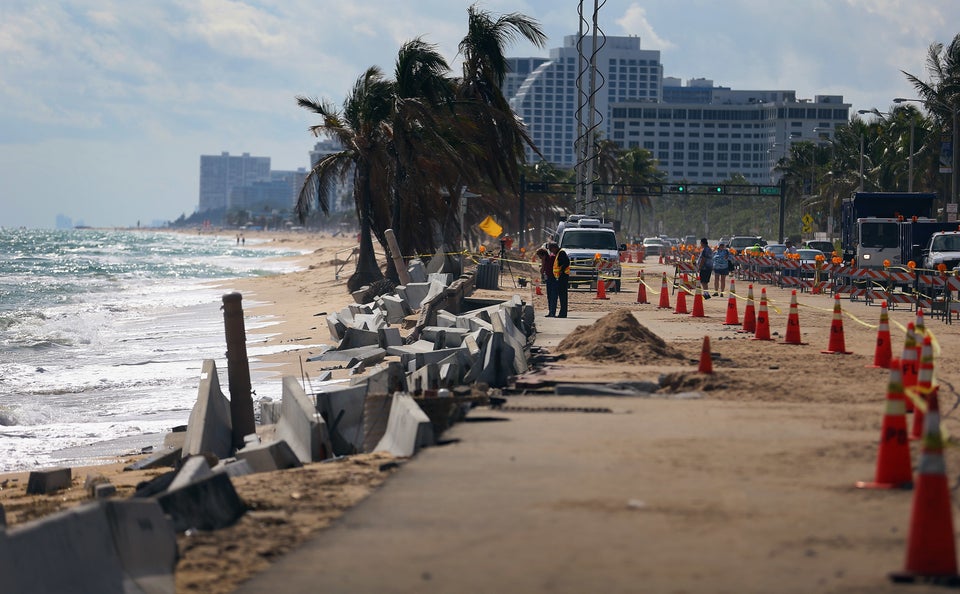 Fort Lauderdale Beach Erosion
Popular in the Community