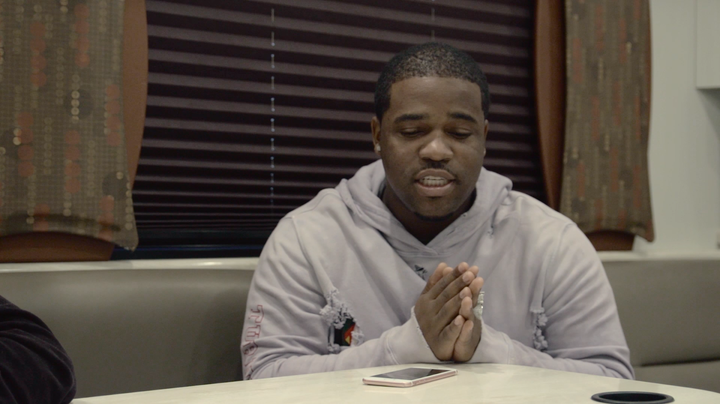 Darold D. Brown Ferguson, Sr., was a prominent designer in Harlem and New York. He had designed the "Uptown Records" logo for Andre Harrell, and the "Bad Boy Records" logo for Sean Combs. But he was probably better known for his "Ferg 54" clothing line, his boutique clothing store, "Ferg Apparel," and his fast food restaurant.
It's only fitting that his son also works across disciplines. Darold D. Brown Ferguson, Jr., known better as, "A$AP Ferg," is busy working on his third studio album, entitled "Still Striving." But his body of work extends into fashion (his clothing line, "Trap Lord") and video direction. He said, "I can rap really well, I can make songs really good, but at the end of the day, I want to create a world."
Ferg took this advice to heart. With his father's independent spirit and apparel expertise ("One of the most important lessons that I learned from him was to be independent, use my own money, so I don't ever have to owe anybody"), paired with his mother's advice to think critically and consciously, he started his first business in junior high school. He called it "Elegal," (not "Illegal," he emphasized) and designed custom t-shirts.
Around this time, he also spent time with a crew called Harlem Envy. "We used to battle each other to stay in the crew. It was like, a form of lyrical exercise. I'll battle you so you can keep your spot. That made us vicious towards other people. We'd go to these other people's blocks and we'd dominate."
Even at a young age, Ferg was already figuring out how to make his work more scalable — or, more accurately — transmissible. He wanted to create a "Domino effect of income."
One of his experiments in creating these transmissible products was to create what he called "throwaway lines."
"I created a clothing line called 'Harlem Up Apparel.' It was just to create stuff in Harlem, to get things moving," said Ferg.
Here was his technique: Ferg would talk with groups like his own "Harlem Envy," or the "Rich Girls," the "Rich Trump Divas," and the "Million Dollar Babies" (that his current collaborator and friend, A$AP Rocky, was affiliated with). He would convince these crews that their shirts needed to be better than the others, in what sounded like a creative arms race. Ferg, conveniently being a great shirt creator, would be the sole profiteer. "Everybody would be going against each other, but I would be benefiting throughout it all."
These throwaway lines would grow more and more popular amongst crews, and creatives, in Harlem. And Ferg moved on to his next idea: jewelry and belts.
The Next Level: How Ferg Taught Himself and Collaborated
Making jewelry was no easy feat. Not to mention, Ferg had no prior experience making jewelry before. He would have to teach himself to do it.
"I remember my ex-girlfriend telling me, 'How are you gonna do that? You can't do that yourself.' That was the fire. Like, 'Word, you don't believe in me? You don't think I can do it?' Ferg said. "Before I had my chain with the diamonds and the cuban link, I was creating that with the Swarovski crystals and the cuban link."
Eventually, Ferg's jewelry would caught on just like his t-shirts did. "This was a bad thing. People started getting robbed for their chain pieces, because they looked so good. But that let me know, 'Man, you got something official, you got a good product.'" And when he could, Ferg helped the victims get their jewelry back. ("Cause I knew a lot of people," he laughed.)
But the process of creating jewelry was tedious, and it wasn't easy for Ferg to scale. It required a lot of his own work and expertise. And on top of this, he was starting to feel the effects of the recession, and so were his customers. The days where people could afford one of Ferg's $1,000 chain pieces were coming to an end. He needed to create a product that would be easier for people to buy into.
All those reasons led Ferg to create his belt line, Devoni Clothing. Much like how he taught himself to make t-shirts and jewelry, Ferg would teach himself to make belts, but he'd collaborate with others in the process as well.
"When you concentrate, what you're looking for, it's called 'tunnel vision.' I had tunnel vision, because I needed to find a belt maker," he said. "I was trying to sew them myself, it wasn't coming out too good. I had my grandmother try to sew the belt. I love my grandmother to death, but they weren't coming out too good."
Eventually, Ferg's curiosity and tunnel vision led him to find a manufacturer, and a way to source high-quality leather for cheap. Ferg met graphic designer Belchez, and through him, celebrity stylist Kwasi Kessie. Ferg connected the dots — he would make the belts, Belchez would design them, and Kwasi would get them in the hands of celebrities. And it worked. Celebrities like Chris Brown, Swizz Beats, Ludacris, and Diggy Simmons wore Devoni.Ferg credits his collaboration with his own preparation.
"I didn't come asking questions and wanting to get these things done without a product," he said. "They'd already seen me moving stuff in the street. I was fly, I had my own money, I was willing to pay for things. I was willing to do whatever I had to do, so they just respected it. They wanted me with them. It made it look better — 'We got this young guy with us, too' — so it was good. That's how I got placement for my belts."
Why Ferg Took On the Music World
Ferg hadn't originally considered music as his career choice. It seemed impossible to be one of the greats. But as he thought about it, he realized that music could be his first avenue into doing something bigger.
"I started recognizing, 'Man, this clothing thing is really hard to do.' I started watching documentaries on Karl Lagerfeld going against Yves Saint Laurent in a dressmaking contest at school, and getting awards for making these dresses, and them meeting these billionaire dudes who are funding the houses for their clothing," Ferg said. He knew he'd have to do something differently than everyone else today, if he were to eventually compete with that caliber of designer.
Ferg saw music as the opportunity to display his lifestyle, where he would gain awareness for his fashion products. And so he started making music again. He said, "I am a designer, period. I'm an artist, I'm a creator, I'm a creative mind. You can never just call me a rapper."
"When I was coming up in high school, I had a card — we used to give out cards and everything. This card said, 'Graphic designer, artist, painter, rapper, silk screener, jewelry designer.'
"I remember hearing somebody or reading something that said you have to focus on one thing, or show people one thing, so they can take you seriously. They're not going to take you seriously when you do all of these things. They're not going to know where to direct their energy. They're like, 'Man, I don't know what to do with this dude.'"
"You have to direct them where to go first. That's what I did with music. I do the music," he said. "And then — boom — a few years later, I got the sneaker. I do clothes, I got Trap Lord, the clothing line. I write my own treatments. I direct my own videos. But, I'm not telling them this, I'm just doing it! It just organically grows on them."
Ferg's expertise across disciplines required a lot of studying. "You gotta wear your armor going into these different industries. That's why it looks that way. I may be turnt up and my eyes are open, my ears are open, I just go into these things fearless. I think you do build some type of fearlessness from having so much fear, so long. I remember before getting into the music industry, I had a lot of fear about the music industry."
"Just by me being so fearful of it, I had to study it to the max, to the point where I didn't fear it anymore. That's what happened. I studied it. I learned how to finesse certain things. Now I'm on top of my game," he said. "You can't work harder than me. I came from the bottom. I started realizing, 'Oh, these people are human.' All these people that they were scared of — and, that was just people's insecurities, they didn't have it in them to cross the line and see what was over there."
And, when I asked Ferg to give us some final words, for the kids, Ferg showed us why he earned his moniker, the "Hood Pope." He said:
"Make noise, wherever you're at. Literally. Like a child that wants attention, just make noise in your town. You want to be a rapper, or whatever you're doing, let it be known what you're doing. Don't be afraid to speak up. Be like, 'Hey, how are you doing? My name is so-and-so-, what do you do?'
"Ask questions. Be inquisitive. Always know that you're a student. I'm always a student for life.
"There's a gazillion books on everything. I want to learn how to float like David Blaine. I want intuitive powers. There's a book on everything. Whatever you want to learn. Magic. Poetry. You could become the best poet ever. You could study Shakespeare, you could study Michaelangelo, all of these different artists. Picasso. Jeff Koons. Whoever you want to study. Just know that there's a book out there for it, just know that you have Google now.
"Just know that you are equal to everybody else that made it. You're equal to Michael Jackson. You could be bigger than Michael Jackson. You could be bigger than Michael Jordan. Just know that you can do it. They did it, it was possible, you could become bigger than them at it."