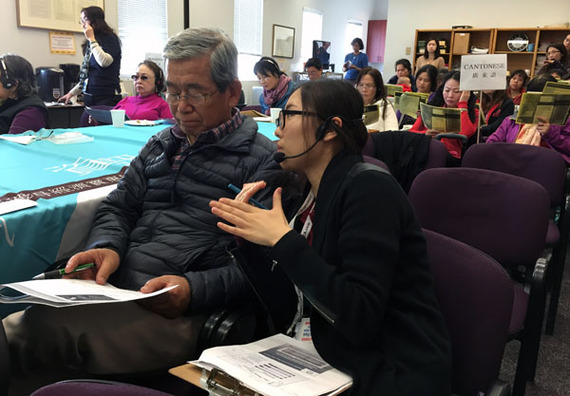 AAPCHO's 35-member CHCs, which deliver primary health care services to over 500,000 annually, ensured that over 100,000 individuals received access to health insurance in the first ACA enrollment period. The work of CHCs and their enrollers on the ground was astounding, given they were operating on extremely limited financial resources and were often forced to develop nearly from scratch, new in-language educational materials for their respective communities.
CHCs, a critical member of the safety net and provider of care to millions of uninsured, low-income and limited English proficient, continue this work in full force. Asian Health Services (AHS), a community health center in Oakland, California, deploys a multi-level strategy to ensure that Asian American and Pacific Islander communities get the information they need to make informed choices about their health care.
At an event yesterday, the clinic hosted an informational workshop for Asian community members. The session featured a presentation that explained to participants in laymen's terms what the ACA meant, what their options were, and how they could determine if they were eligible. Vanessa Quach, member services manager at AHS, deftly deconstructed existing insurance plans and complex health terminology for the participants on hand.
In addition, Quach eliminated a number of the misconceptions that exist regarding the ACA. For example, she provided information on mixed-status immigration amongst families (when family members hold different immigration statuses that make them individually eligible for different insurance programs). She also made it clear that insurance companies do not calculate insurance rates based on health status, gender, pre-existing conditions, or tobacco usage.
Participants donning headsets at the event, so they could listen to the presentation in Vietnamese, Cantonese, Mandarin and Korean, were given the opportunity to ask questions and speak to an AHS staff member who could further guide them through the enrollment process.
The work of CHCs should be hailed as a national model as we look at best practices that work in communities of color. CHCs take the extra step and reach out to their communities in ways that other organizations and agencies fall short. They without hesitation, do the outreach necessary in venues that are frequented by community members, they do education in the languages that are spoken by their community members regardless of the size of the population they are trying to reach, and moreover, they strive to ensure that the information is clearly understood by the individual. CHCs do whatever it takes to empower the individual and ensure that the ACA, with its intention to provide health care to all, is realized.
AA&NHOPIs = Asian American & Native Hawaiian and Other Pacific Islanders
Related