Aaron Alexis has been identified by police as the dead Washington Navy Yard shooter, NBC News reports.
Alexis, 34, originally of Fort Worth, Texas, recently began working at the Navy yard as a civilian contractor, the station reported. The FBI confirmed his identity in the afternoon.
Alexis was armed with an assault rifle and a handgun, two law enforcement officials tell the Washington Post. One of the sources said he also had a shotgun. All the weapons have reportedly been accounted for. His aunt, Helen Weeks, told the paper that he grew up in Brooklyn, N.Y. with his mother, Sarah, and father, Anthony.
At least 13 people were killed -- including Alexis -- and more were wounded at the Naval Sea Systems Command Headquarters building after at least one gunman opened fire after 8:20 a.m. Monday, a Defense Department official said.
Metropolitan Police Chief Cathy Lanier said at an earlier press conference that a Metropolitan Police officer is among those who have been shot, among other "multiple victims inside who are deceased." There were other reports that a naval security guard was reportedly among the wounded.
At a press conference Monday night, Navy Vice Admiral Bill French said that all of the casualties were civilians, according to NBC Washington.
The suspect was reportedly killed at the scene, but few details about the death were immediately available. One other person of interest is still on the loose. He's described as a black male, 50, with an olive military-style uniform who may be in possession of a long gun.
A third person of interest was cleared.
UPDATE: At a 10 p.m. Eastern press conference on Monday, Police Chief Cathy Lanier said that law enforcement has "the single and sole person responsible" for the shooting in custody, dispelling rumors that a second suspect is still at large.
The FBI released a photo and description of Alexis, asking the public for any information about the deceased suspect: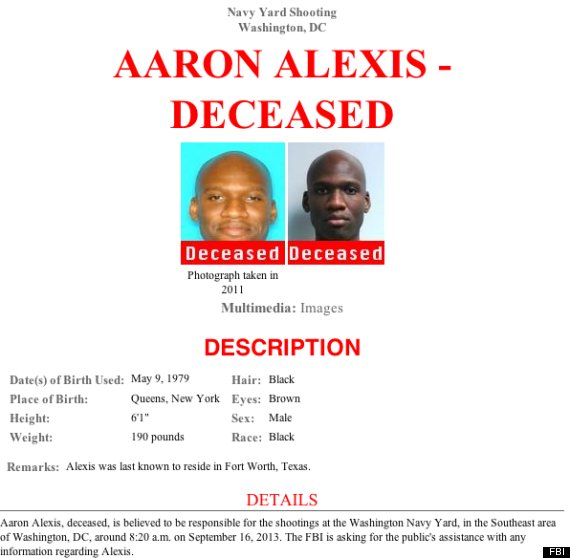 REAL LIFE. REAL NEWS. REAL VOICES.
Help us tell more of the stories that matter from voices that too often remain unheard.
BEFORE YOU GO
09/17/2013 6:14 PM EDT
There Have Been More Mass Shootings Since Newtown Than You've Heard About (INFOGRAPHIC)
When 13 people died in a shooting rampage at the Washington Navy Yard on Monday, the story made front page news. But many of the mass shootings that have happened since the December massacre of elementary school students and teachers in Newtown, Conn., didn't.
Click here to read more.
09/17/2013 5:09 PM EDT
Aaron Alexis Was At Gun Range The Day Before Navy Yard Shooting
The Associated Press reports:
Michael Slocum, an attorney for a Virginia gun store, said in an email that Aaron Alexis visited Sharpshooters Small Arms Range on Sunday. He says Alexis rented a rifle, bought bullets and used the range. He then bought a shotgun and 24 shells.
Click here to read more.
09/17/2013 3:12 PM EDT
Alexis Was 'Determined To Kill As Many People As Possible'
WASHINGTON -- Alleged Navy Yard shooter Aaron Alexis acted alone and was "determined to kill as many people as possible," law enforcement officials said Tuesday.
Officials would not comment on Alexis' alleged motive during a press conference held Tuesday afternoon outside the FBI's Washington Field Office, but said they had determined he arrived in the area around Aug. 25 and had been staying at the Residence Inn in Southwest Washington, D.C. since Sept. 7.
The FBI is investigating "hundreds" of tips they have received Monday's shooting. "No piece of information is too small," said FBI Assistant Director in Charge Valerie Parlave, asking for additional assistance from the public.
Metropolitan Police Officer Scott Williams is doing well and is expected to make a full recovery, according to MPD Chief Cathy Lanier. "We have a very good prognosis from the doctors, he does have serious injuries to his legs. Again, I know the officer and I know his personality, and I'm real confident he will not only walk again but probably will outrun most of us again," Lanier said.
09/17/2013 2:24 PM EDT
FBI: Alexis Only Had A Shotgun
Aaron Alexis entered Building 197 with only a shotgun in his possession, not an assault rifle like some media outlets reported. "We have no information that [Alexis] had an AR-15 assault rifle in his possession," the FBI's Valerie Parlave said in a press conference. "He may have gained access to a handgun ... and after he began shooting."
09/17/2013 2:22 PM EDT
FBI: Shotgun Used In Shooting Was Purchased Legally
FBI: Shotgun used in #NavyYardShooting was purchased lawfully in Virginia http://t.co/Onv2QgbBBP

— NewsBreaker (@NewsBreaker) 1 year ago
09/17/2013 11:52 AM EDT
Aaron Alexis Got Honorable Discharge Despite Disorderly Conduct, Insubordination
Alexis was honorably discharged from the Navy in 2011 after bouts of insubordination, disorderly conduct and being absent from work without authorization.
The AP reports:
Officials said the bad conduct was enough to make it clear Alexis would not be a good sailor, but not enough to warrant a general or less-than-honorable discharge. They also did not involve criminal offenses, so did not trigger any court-martial proceedings.
Click here to read more.
09/17/2013 11:51 AM EDT
Victims' Names Released
Here's a complete list of the victims of yesterday's shooting:
Michael Arnold, 59


Martin Bodrog, 54


Arthur Daniels, 51


Sylvia Frasier, 53


Kathleen Gaarde, 62


John Roger Johnson, 73


Mary Francis Knight, 51


Frank Kohler, 50


Vishnu Pandit, 61


Kenneth Bernard Proctor, 46


Gerald L. Read, 58

Richard Michael Ridgell, 52
Suspected gunman Aaron Alexis, 34, died as well.
09/17/2013 11:21 AM EDT
Recovering Victims Worried About Their Co-Workers
Dr. Janis Orlowski, chief medical officer at MedStar Washington Hospital Center, told the Associated Press that three victims in yesterday's shooting -- including a police officer who was shot in the legs -- are recovering and in fair or good condition. She said two women who saw others shot are "very worried about their co-workers," but are unaware of the extent of the shooting.
Click here for more.
09/17/2013 11:20 AM EDT
Schools Have Reopened
Schools near Navy Yard that were on lockdown after Monday's shooting have reopened on Tuesday, WJLA reports.
09/17/2013 9:25 AM EDT
District Of Columbia Holds Candlelight Vigil For Victims
"A dozen or so" people gathered for a candlelight vigil at D.C.'s Freedom Plaza last night, reports the Washington City Paper:
"How immune are we becoming to these senseless mass shootings?" Eddie Weingart, the vigil's organizer and the founder of Project End Gun Violence, asked the ceremony's participants, who were flanked by twice as many media members. "Mass shootings are becoming as American as apple pie and baseball."