Nick Carter is afraid his baby brother might be going down the same path of substance abuse that he has in the past.
Following Aaron Carter's arrest in Georgia over the weekend on suspicion of DUI and other drug-related charges, the Backstreet Boys singer shared a supportive message over Twitter on Sunday, saying he's there for his brother should he ever want help.
"If my own blood (Nick) truly cared about my well-being, why wouldn't he call me directly and have a conversation instead of making this about him through a very public forum? That's not cool at all to use me for his PR and kick me while I am down. I love my family despite it through thick and thin."
Rather than directly reply to Aaron, Nick then shared a tweet from his wife, Lauren Kitt Carter, posted the night before, when Aaron was detained. In her tweet, Lauren asked Aaron to send his new number "since [he] changed it again."
Police arrested Aaron on Saturday evening in Habersham County, Georgia, roughly 90 miles outside of Atlanta. He had been scheduled to perform with Flo Rida in Kansas City, Missouri, that night, but said prior to his arrest that he would not be able to make it due to "transportation issues." (Kansas City, Missouri, is a 13-hour drive from Habersham County, Georgia.) He was released on bail Sunday afternoon.
Aaron is facing misdemeanor charges over his alleged possession of marijuana and other drug-related objects, as well as for suspicion of driving under the influence. (TMZ reported that he would not submit to DUI-related tests.) His girlfriend, Madison Parker, who was in the passenger seat, faces drug-related charges as well as charges of obstruction.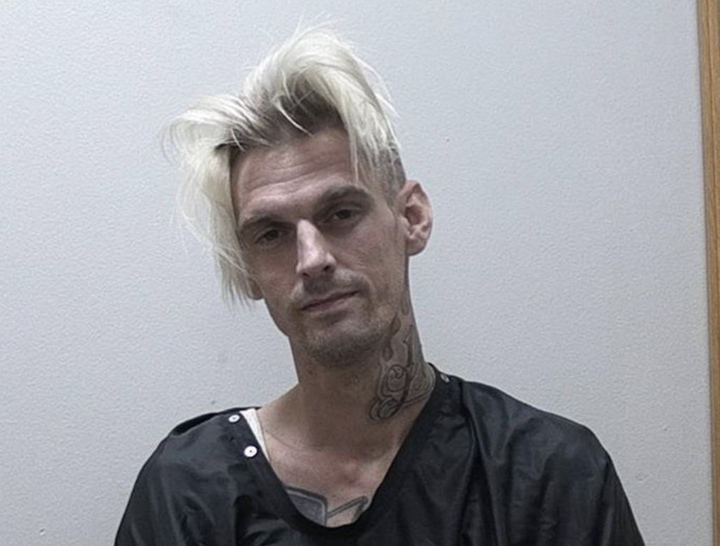 Aaron has since claimed that he was targeted by Georgia police because of his "celebrity" and that he has a medical license for marijuana due to anxiety. However, anxiety is not one of the specific conditions that allows for a medical marijuana license in Georgia, according to People.
Aaron has previously said that he struggles with substance abuse, admitting last year that he self-medicated with drugs and alcohol to cope with depression in the past. "I started getting really heavy into drinking and was telling people, 'I'm on a real bad path right now. I need help,'" he said at the time.
Their father, Robert Gene, died in May of an apparent heart attack.
Popular in the Community