The mother of Aaron Carter says the singer's death was written off too quickly as an accidental drug overdose.
Jane Schneck, formerly Jane Carter, shared disturbing images online Wednesday of her son's death scene at his home last year, suggesting in a social media post that he neither died by suicide as some have speculated nor by mere accident as officials had determined.
"Still trying to get a real investigation for the death of my son," she wrote Wednesday on Facebook. "I want to share these death scene photos with you all because the coroner wrote it off as an accidental drug overdose."
Carter was found dead in Lancaster, California, on Nov. 5. The 34-year-old pop star had long struggled with substance abuse and familial infighting before his body was discovered in his bathtub, which Schneck believes spurred officials to make a rushed conclusion.
"They never investigated it as a possible crime scene because of his addiction past," she wrote on Facebook, saying police "allowed people to go in and out ... [despite] a lot of potential homicide information [being present]."
In the images she shared, a tub is seen full of greenish-brown water and dirty clothes are shown on a soiled floor. "Aaron had a lot of death threats and many many people who were making his life miserable," wrote Schneck, adding in a separate post that her friends and close relatives supported her in sharing the photos.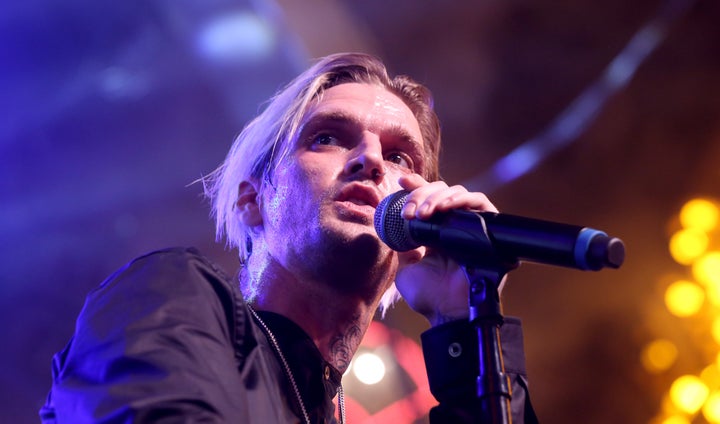 "Because of my son's mental illness and prescription drug issues they [officials] just wanted it to be something easy that they didn't have the time or inclination to address," wrote the mother, stating that she hasn't been "taken seriously" by authorities.
"This won't work for me or Melanie [Martin] or anyone who truly loved him," she said in reference to the singer's fiancée. "There are people who must be held accountable."
Schneck and Martin previously told TMZ that the Los Angeles County coroner's office had ruled out a drowning because no water was found in Carter's lungs. Martin also said somebody had texted Carter demanding $800 from him for an unknown substance shortly before he died.
Schneck and Martin were reportedly convinced that the singer died from this substance, despite him texting the person back to say he didn't need it anymore. He was found dead beside cans of compressed air and prescription pill bottles.
Need help with substance use disorder or mental health issues? In the U.S., call 800-662-HELP (4357) for the
SAMHSA National Helpline
.
Popular in the Community