The Texas police officer who on Saturday fatally shot Atatiana "Tay" Jefferson, a 28-year-old Black woman, in her own home after a neighbor requested a wellness check at the residence has resigned, officials said.
Fort Worth Police Chief Ed Kraus said Monday during a news conference that the officer, identified as Aaron Dean, had resigned earlier in the day. Kraus said he intended to fire him, but Dean tendered his resignation before they met.
Dean, who was hired by the department in August 2017, may face criminal charges. Kraus said he expects a "substantial update" on the criminal case no later than Tuesday. Police have also presented a preliminary case to the FBI for possible civil rights violations, he said.
"None of this information can ease the pain of Atatiana's family, but I hope it shows the community that we take these incidents seriously," the police chief said.
Officials said Dean, who is white, shot Jefferson though a window of her home around 2:30 a.m. Saturday. He and several other officers showed up to the house minutes after a neighbor called the police department's nonemergency line to express concern over the house's front door being open and lights being on.
Body camera video released Saturday shows Dean entering the backyard of the house, turning left, suddenly grabbing for his gun and pointing it at the window.
"Put your hands up! Show me your hands!" he can be heard shouting before immediately firing one round through the screen window.
The officers then entered the house and provided emergency medical care to Jefferson, but police said she died at the scene. There's no indication the officers identified themselves to Jefferson or knocked on the front door of the house before the shooting, officials said.
Jefferson had been playing video games with her 8-year-old nephew moments before she was killed, according to Lee Merritt, a civil rights attorney representing the family. Jefferson went to the window when she heard a noise outside and was shot, Merritt said. He said her nephew was in the room at the time and watched her fall to the ground.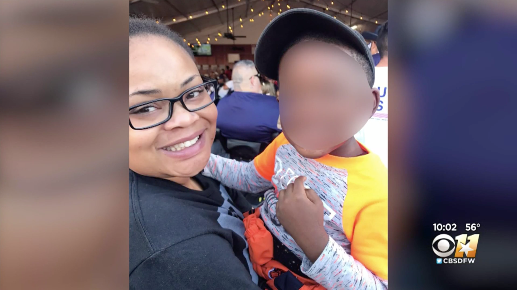 Dean was served a written administrative complaint the following day, placed on administrative leave and stripped of his badge and firearm, Kraus said Monday.
"Had the officer not resigned, I would have fired him for violations of several policies, including our use of force policy, our deescalation policy and unprofessional conduct," he said during the news conference.
State licensing paperwork will also reflect that Dean was "dishonorably discharged" from the force, Kraus said.
Fort Worth Mayor Betsy Price said during the news conference Monday that city leadership is moving to bring in a panel of national experts to review the police department.
"Justice is critical here," she said. "We know we cannot bring back this young woman who was taken all too soon. But this is a pivotal moment for a city that will and can come together."
Price condemned the Fort Worth Police Department for releasing still images from body camera footage that showed a firearm the officers found inside Jefferson's home the night of the shooting.
Kraus said the department was following protocol by releasing the images to show what responding officers could have perceived as a threat. But he also said he regretted having released them.
"In hindsight, it was a bad thing to do," he said. "We need to review what we did and why we did that."
During a news conference earlier Monday, Jefferson's family remembered her as a smart, kind and hard-working woman who loved spending time with her family.
Jefferson was a graduate of Xavier University of Louisiana and worked in pharmaceutical equipment sales. She had recently moved into her mother's home to help take care of her as her health declined.
"Honor, integrity, commitment and service ― these are the attributes of Atatiana Jefferson," said Ashley Carr, Jefferson's oldest sister. "She was enjoying a life in her home where no one would have expected her life to be in harm's way, especially not at the hands of a civil servant who had taken the oath to serve and protect."