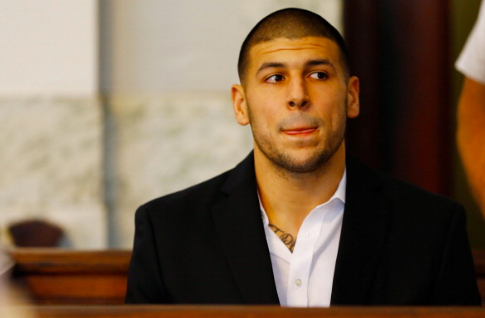 The American justice system works in weird ways, and one Massachusetts state law is likely going to make Hernandez's death the reason that his first-degree murder charge against Odin Lloyd in 2013 will be null and void. Hernandez was sentenced two years ago for the death of Odin Lloyd, a gruesome scene that resulted in Hernandez's orchestrating the murder, as well as pulling the trigger six times, according to the jury who convicted him.
The law, known as "abatement," is part of a Latin phrase that means to "roll back the clock" and as CNN has reported, this law is automatic, meaning that Hernandez has died an innocent man, giving those who were in the appeals process an "innocent until proven guilty" out.
Because Hernandez had not exhausted all of his appeals when he died, his conviction in the Lloyd case will be voided.
Additionally, the justice system is going pull the New England Patriots back into this mess, given that the Patriots withheld $3.25 million from Hernandez's signing bonus and refused to pay him $2.5 million in his base salary after they cited the NFL Collective Bargaining Agreement (CBA) following his arrest and charge of murdering Odin Lloyd.
The money has to go somewhere, and while there is now going to be a four-way intersection involving Odin Lloyd's family (who is seeking reparation for the damages and fallout of their loved one's murder), Aaron Hernandez's family, as Hernandez leaves behind a 4-year-old daughter, lawyers and the Patriots organization. The death of the former star tight end does not add any closure, in fact, it messes up an already messy situation for all parties involved.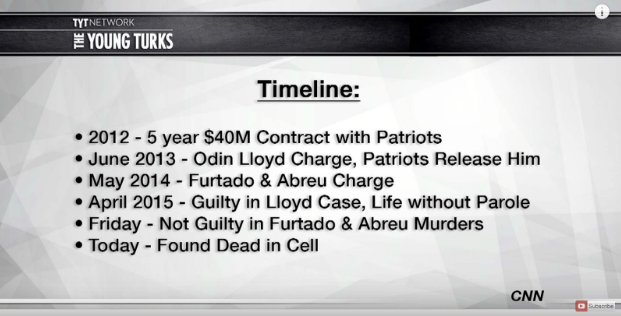 As you can tell from the timeline of events, the Odin Lloyd charge came before the charges against Furtado and Abreu (who were shot and killed in a drive-by), however, the murders of Furtado and Abreu occurred BEFORE Odin Lloyd was shot and killed. What followed was Hernandez being found guilty of murdering Odin Lloyd and sentenced to life in prison without parole. Then, just this past Friday, Hernandez was acquitted of the double murder of Furtado and Abreu. On Tuesday morning, he was found dead in his cell.
This is a tragic story, and tragedy is not to be considered synonymous with sympathy or endorsement. I sympathize with Hernandez's 4-year-old daughter who will now grow up without a father and the family of Odin Lloyd who will likely see no reparation after they watched the man who killed their loved one considered "innocent."
REAL LIFE. REAL NEWS. REAL VOICES.
Help us tell more of the stories that matter from voices that too often remain unheard.
BEFORE YOU GO