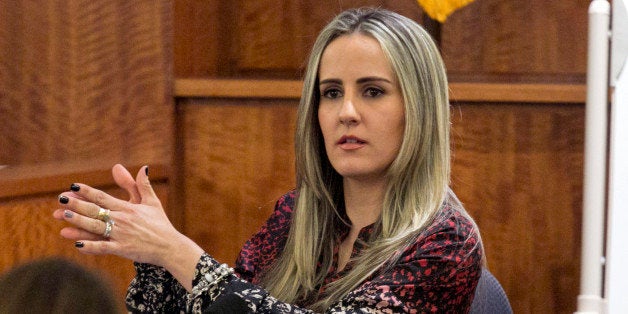 Two people who cleaned Aaron Hernandez's house testified Monday that they'd seen guns there starting a little more than a month before Odin Lloyd was killed.
Marilia Prinholato and Grazielli Silva cleaned the home of the ex-Patriots star and were there regularly in the weeks leading up to the alleged murder. Hernandez has pleaded not guilty in the June 2013 shooting of Lloyd, an associate and semi-pro football player. Two co-defendants face trial separately.
Prinholato said that a "big" gun -- measuring 30 to 40 centimeters -- fell out from under a mattress at Hernandez's home when she was cleaning a guest room there around May 7, 2013.
"I took the gun. I looked at the gun, and I put it back," Prinholato testified. "It was, like, heavy... It felt like the magazine was full."
She said she saw the gun twice in May, but not "after everything happened." Superior Court Judge E. Susan Garsh cut her off to tell jurors that they couldn't use Prinholato's testimony to show that Hernandez had a propensity to commit a crime, only that he had the means to, according to the Boston Herald.
Prinholato said she also saw a smaller, silver gun in Hernandez's pants pocket, which was also reported by Silva. Silva said she'd seen a gun in a sock drawer, too.
Neither Prinholato nor Silva could describe the caliber or brand of guns that they saw, but said they were automatics and not revolvers. Prosecutors haven't been able to produce the gun that killed Odin Lloyd, which was determined to be a .45 caliber weapon.
The court also heard testimony on Monday from night shift workers employed at NeedleTech, a company in the industrial park near where Lloyd's body was found. Both were on their lunch break when they said they heard loud noises.
Barbara Chan said a series of loud bangs roused her from a mid-shift nap the night Lloyd died. Michael Ribeiro said he was sitting in his car around 3 a.m. when he "heard a loud banging sound going off... like fireworks... consecutively, like six or seven times."
Calling all HuffPost superfans!
Sign up for membership to become a founding member and help shape HuffPost's next chapter
BEFORE YOU GO
PHOTO GALLERY
Dangerous Days