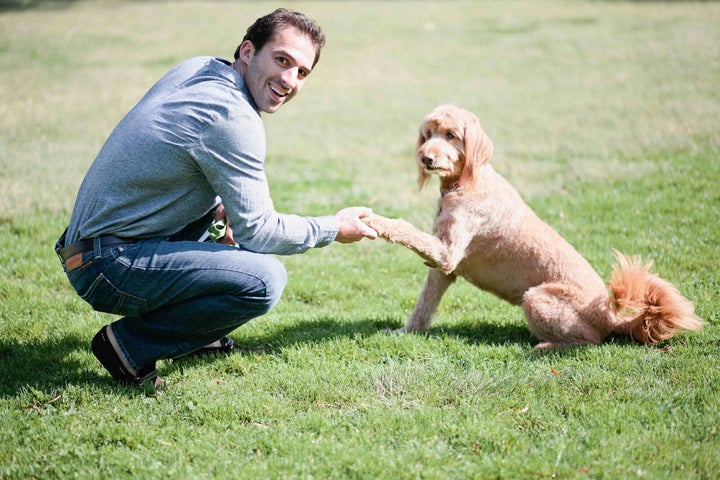 Like many dog owners, husband and wife Aaron Hirschhorn and Karine Nissim Hirschhorn faced some anxiety about what to do with their dogs whenever they traveled. But after one particular trip, they returned to pick up Rocky and Rambo from a friend's house and realized the dogs seemed happy -- as if they had enjoyed their own dog vacation. Inspired, the couple decided to try dog sitting themselves. Before they knew it, one dog became 100, and Aaron was leaving his venture capital job and Karinne her media job to start a full-fledged business. Investors from Santa Monica-based tech accelerator Science and venture capitalists and angel investors in Silicon Valley and Los Angeles have bought into the concept. "The concept is dog vacations," Aaron says. "Why should humans have all the fun? We want dogs to have their own vacay when their owners travel."
Your own puppies gave you the idea for this business?
With Rocky and Rambo, we faced the same issue that most dog owners face when they travel. You have two options -- put your dog in a kennel, which tends to be overpriced, and your dog is stuck in a cage most of the day, which you feel anxious and guilty about. Or you ask a friend or family member to pet sit. Often that works out great, but you're calling in a favor, or they cancel at the last minute, or you feel like you're putting a burden on them. So we found someone who was a friend and a dog trainer who watched our puppies in her home, and they had a great time. They ran around, got tired out, played with other dogs. When we got them back, we thought, "This is a great idea. Let's give it a shot ourselves." So we created a listing on Yelp and basically opened our home to other dogs. And business just took off. We realized we were filling a real need in the market. People loved the idea of having a trusted person watch the dog in their home. And after we watched about 100 dogs, we said, "OK, it's time to turn this into a scalable online business."
We're really a community marketplace for pet services. So we bring together dog lovers, dog owners and pet-care providers into a trusted, vetted marketplace. The pet-care providers can either be professional sitters who do this already as their primary source of income and have certifications and training, as well as more casual dog lovers -- people who have grown up with dogs, want to watch a dog or two in their home and maybe make little extra money, or who don't have enough time to have a dog but on weekends can watch dogs. So we're bringing all of those people together and putting them on the site. Providers create a profile, share qualifications, connect with social networks. And we interview them, vet them -- there's a system of reviews and feedback. They set their own rates and decide what kind of dogs they want to watch at what time. Then customers browse, schedule and book online. Say a dog owner has a chihuahua and wants a one-bedroom apartment in Brooklyn -- I can get you that for $15. Or maybe you want a 22-acre ranch in Malibu with an animal trainer -- that'll be $80. So it's really about customized care with the right person to fit your needs and your budget.
We take a 3- to 10-percent cut of that, which depends on a number of factors, but the more business you do and the more positive reviews as a host that you get, the lower your transaction fees go.
A 22-acre ranch in Malibu? That really does sound like a vacay.
That's really what we want. And we supplement that with photo updates to your cell phone by text message or email, so you can see your dog enjoying his vacay and share those on social networks.
Besides the photo updates, you'll offer GPS-enabled dog collars?
Yes, we'll be offering that in the next month, for additional peace of mind -- if you really want to know what your dog is up to, you'll have the ability to track him on your iPhone or Android app. The apps are in development, and will include the vacay photos and videos, and check in and check out.
Safety is probably a top concern for customers and providers. What exactly do you do to ensure that?
There are layers of verification. At the very basic level, there is connecting with social networks like Facebook and LinkedIn to show you're a real person, and verify phone number, email, address. We also have an instructional video and online training, and our concierge desk calls everybody and goes through a short interview process. There's an ongoing sytem of reviews tied to transactions and we provide some insurance coverage for the dogs, and we'll soon be rolling out comprehensive liability insurance and property insurance for our hosts. All that said, at the end of the day, some of that is not enough, and you just want to meet the person, go to the house and have the dogs interact with each other, since that person is going to be taking care of what is essentially your baby. We encourage and support that. We have a feature called a meet and greet -- we think that's great for the host as well as the customer, so the host can make an informed decision that, "Yes i feel comfortable taking on this dog."
What are your expansion plans?
Our goal -- what we're really creating here -- is a a national pet services brand based on trust and community. We want to become the place you go to to take care of your pets. We're currently in Los Angeles, San Francisco and San Diego. And then we're expanding nationally very quickly, in a couple of months. We're coming to New York next, by the end of this month.
You're also possibly expanding to other animals as well? You already own the domain names for PetVacay.com add CatVacay.com?
I'll throw in a few more for you. We've got AnimalVacay.com, HamsterVacay.com, SnakeVacay.com, BirdVacay.com. We've got the vacays covered.
Customers are calling us and asking for walking, training and day care services, which is a very natural expansion. And we already have a lot of people on the sites who have cats, so it's very easy to move into pet services as we build the community.
Have customers shared anecdotes about how you've helped them?
One customer could not find an option for her puppy, because he was less than 4 months old, and at that age they don't have all vaccinations so traditional kennels won't take them. A host on our site is a trainer who has a special area of her yard for unvaccinated puppies. So it was just this natural fit where she had no options and found someone just perfect for her in her area. It made me happy that we can serve our customers with these unique cases.
Name: Aaron Hirschhorn and Karine Nissim Hirschhorn
Company: Dog Vacay
Age: Both 33
Location: Santa Monica, Calif.
Founded: 2011
Employees: 7
Website: www.DogVacay.com