Aaron Levie (Twitter: @levie) was a student at USC (Southern Cal) in 2005, when he started his company Box.net from his dorm room with Dylan Smith. It almost sounds commonplace, after all Michael Dell and countless others did the same thing, right?
Wrong. It's not as commonplace as you might think.
Dell, Brin/Page and Yang/Filo aside, it's still incredibly rare and special for two youngsters, disquieted with university life, restless to get out of the classroom and accomplish something, anything ... to then build a company which succeeds. Much less that they would build one with the monolithic potential of a Dell, Google or Yahoo.
But Box has such potential. It is a consumer play--everybody needs all-area, remote access to their files while they're on-the-go, collaboration software and cloud storage--with an Enterprise end-game. And that's what makes Box such a potential high-flyer.
Compellingly, Box's cloud technology integrates seamlessly with the the big platforms like Salesforce, NetSuite and GoogleApps.

Aaron Levie is a very excited and excitable 27-year old who has a vision well beyond his years. Where does he get this? "I'd say spending too many years on the computer during middle and high school probably made me this way," Levie jokes.
He has also presented his take on tech at some of the top tech conferences such as Fortune Brainstorm Tech, Web 2.0, Dreamforce, Accenture Global Summit, South by Southwest and Svase.
I spoke to Aaron Levie recently and he shared with me some of his story, goals and predictions for Box and technology in general.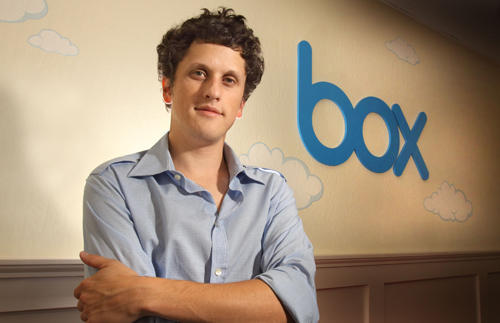 Aaron Levie
"Our original question to ourselves," Levie remembered, "was 'how do we build enterprise-level technology that doesn't feel like enterprise-level technology?'"
So their answer was to build "a software company that delivers the service," Levie said. Smart, most enterprise tech companies invariably deliver either hardware, software or service solutions but this pigeon-holing ends up commoditizing their products. A combination of two or three averts this lethal dynamic.
"We were also looking very closely at the tech landscape, philosophically," Levie chatted energetically, "and asking ourselves other questions such as 'what kinds of devices will people be using?' and 'how will people be using data?'"
In 2004 and 2005, Levie had interned in the film industry for Paramount and Miramax, when he had a stark realization. "I had a 'God, the entertainment industry sucks moment' and decided I'd better write some more software. It was while working for these studios, that I realized how slow and cumbersome they really were. As an intern, I had to file tons of paper contracts in a gigantic room and when you file the same contract for the millionth time you realize, 'there's got to be a better way.'"
A "better way" involved some hard thinking, some lucky conversations and the eventual receipt of a $350,000 check in his dorm room from billionaire Mark Cuban. I had to ask Levie again to confirm what sounded surreal--"you got a $350k check sent to your dorm room as a sophomore?" Yes, I had heard him correctly.
In addition to Cuban's seed investment, Levie has been a terrific fundraiser for Box over the last six years. Early investors in Box include top-tier firms like Andreessen Horowitz, Draper Fisher Jurvetson (DFJ), Emergence Capital Partners, Meritech Capital Partners, Scale Venture Partners, and U.S. Venture Partners.
And that's just to start with. Recent series D Box investors are Bessemer Venture Partners, NEA and get this: SAP Ventures and Salesforce.com.
The grand total invested in Box? $162 million.
One quote from these latest investors stood out. "The consumerization of the enterprise is driving entirely new technology usage and buying patterns, and Box has established itself as a leader in the wave of solutions emerging to support the new way that people work," said Kittu Kolluri, general partner at NEA. "Box has built a compelling solution that marries ease of use with enterprise-class security and management that delights users and IT leaders alike."
According to Josh Stein, Managing Partner of Draper Fisher Jurvetson, first investor in Box and a Box director, "It's a really interesting time in 'Enterprise Software' right now. You used to see top-down selling from CEO to the troops; now employees can't be stopped from using what they want, from LinkedIn and Facebook to Androids and iPads; it would be crazy for employers to try and stop their staff from using the devices and services they want. Box is one of these services. Add to this, the fact that Box has compiled a truly spectacular management team."
Another Box investor is Marc Andreessen. "Marc's on the board of directors of Facebook, eBay, H-P," Levie pointed out, "and those companies bring tremendous insight into the Internet, retailing and electronics; Marc truly cares about large-scale problems in Technology."
In an awesome display of casual name-dropping--because I asked him to--Levie said, "We get to meet some amazing minds: Aneel Bhusri, former PeopleSoft Vice Chaiman, lieutenant of Dave Duffield and current co-CEO of "Peoplesoft 2.0" start-up, Workday; Zach Nelson at NetSuite; Marc Benioff at Salesforce.com; and Lars Dalgaard at SuccessFactors." If your business is enterprise software, I doubt a better bunch of mentors could be assembled.
One name I didn't hear: Drew Houston of Dropbox, a company I perceived as a threat to Levie and Box. "Drew and I are good buddies," Levie said genially, "they're going after consumers and we're going after enterprise. I think it's a very large market particularly if you think about the large amounts of data to be stored out there."
I asked Levie if thinks that the whole Cloud thing is overhyped. "I respectfully disagree," he said diplomatically, "the Cloud is allowing the next generation of entrepreneurs to go up against the big oligarchical corporations; it's a revolution! There's a perfect storm for disrupting traditional enterprise software companies with orders of magnitude improvement by smaller companies in the cost and service of data storage."
Levie was quoted as saying recently, "Businesses of all sizes are moving their information and collaboration to the cloud, and with this new capital we'll support their transition by continuing to aggressively out-innovate legacy players like Microsoft." Ouch, MS.
Levie wasn't done yet as he recently tried to drive a stake into the heart of Microsoft at the CloudBeat conference as "not even relevant." Going further, Levie analogized, "If (Microsoft) Sharepoint happened to work, that's what we kind of do," a statement with which I wholeheartedly agree.
Stein of DFJ recalled, "Aaron has always thought of Sharepoint as the incumbent that needed improving ... Sharepoint's never worked very well but you can sit a novice user in front of Box and they can figure it out pretty quickly."
When I asked about his quote, Levie didn't hesitate. "Actually, a little context for that quote is necessary. I was saying that CIOs today are looking out at their new IT strategy for the next five to ten years, and Microsoft solutions aren't as competitive as they used to be. When you think about mobile, cloud, and social technologies in the enterprise, Microsoft has a far less relevant story for businesses compared to startups and other players in the market."
And a rampantly growing Box has an increasingly impressive list of accomplishments:
**From two to over 300 employees in just over six years. This growth, Levie says "is well-managed growth."
**Box is "one of the fastest growing enterprise applications" ever.
**Box now has more than 7 million individuals and over 100,000 businesses (including "77% of the Fortune 500") using its managed cloud services.
**The enterprise market penetration of Box has recently been validated in a 18,000-seat sale to P&G.
While recent Box reports show:
**Huge year-over-year growth in vertical industries: retail (370%), financial (265%), healthcare (200%)
**9x growth in mobile downloads, bringing Box's total to 1.9M across iOS, Android, webOS and Playbook devices.
**140% month-over-month growth in mobile customer implementations.
**New mobile Box users jumped by 171% monthly

Taking into account these recent growth dynamics, Box appears to be the new enteprise software 'darling.'
"When I fist met Aaron and Dylan," Josh Stein said, "their office was in Aaron's uncle's garage behind a house in Berkeley and I was stepping over laundry. It was amazing but even then, they had tens of thousands of customers paying them more than $10,000 per month."
To explain the evolution of Box from a consumer product to enterprise-strength product, Stein says, "Back then, Box had all single-seat accounts but ... people were using it for business. We could tell because instead of storing mp3s and videos on Box, people were storing Power Point, Word and Excel files there, so we knew it was a business-enterprise opportunity."
On Dylan Smith, his Box co-founder, Levie says, "we really balance each other out terrifically. Dylan studied economics and I needed that financial and operational focus; I don't have it." Forgetting about his financial inefficiencies, Levie is well-qualified to think about Box's product and platform strategy. "We developed our business model from one where any consumer could use our product to an enterprise business model," Levie said.
With regard to Levie and Smith, Stein concluded, "Aaron's not only wise beyond his years but straight-up wise regardless of years. Dylan is 'Mr. Inside,' always making sure the trains run."
In terms of an exit for his Box investment, Stein astonishes me, "I'd be very surprised if Box isn't a publicly-traded company sometime soon." Aren't VCs known for pushing for trade sales more recently? "We'd always prefer that our companies grow up to be publicly traded," Stein corrected me smoothly.

Box seems to have all its bases covered. "Spectacular management team," rock-solid investors along for the long-term ride, founders with an unshakable vision and a massive market of eager consumers for a well-designed product.
With regard to his extreme good fortune at an amazingly youthful age, Levie says, "I'm constantly surprised and thankful for the exciting opportunities I've been a part of."

Popular in the Community