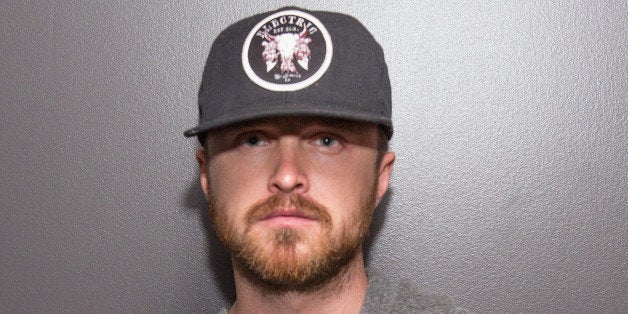 "Breaking Bad" star Aaron Paul conducted a Reddit AMA (Ask Me Anything) on Tuesday, two days after the premiere of the AMC meth drama's final batch of episodes. Paul regaled the Reddit crowd with stories from the "Breaking Bad" set, called dozens of Reddit users "bitches" and basked in the adulation from the assembled "Breaking Bad" fans.
Like his "Breaking Bad" co-star Bryan Cranston's Reddit session, Paul's AMA had a charitable goal. Through an organization called Omaze, Paul was raising money for the Kind Campaign, a charity that raises awareness about bullying. Fans who donate to the charity have the chance to win the opportunity to watch the "Breaking Bad" finale with Paul, ride around in an RV and wear hazmat suits. (Seriously.)
Check out 11 highlights from Paul's Reddit AMA below:
"I gotta be honest. I never wanted 'Breaking Bad' to end, simply because I'm a huge fan of the show and I didn't want to be unemployed. But after reading the final eight episodes and understanding where the writers are going with it, I'm so happy they ended it the way they did and I think all of you will be happy as well. It's a dark, crazy ride to the final episode but it is a fun one. Yeah, bitch."
When asked where he'd like appear next, Paul said, "I would say 'It's Always Sunny in Philadelphia,' or 'Game of Thrones,' or 'House of Cards.' They are so badass and addicting."
"Right now I'm reliving 'The Wonder Years' from the beginning with my wife and it's so much better in this day and age. It absolutely lives up to what it was back then. So if you haven't seen it, get on Netflix and watch it now... bitch.
Edit: Also there's my girlfriend on 'American Horror Story' ... Jessica Lange and I make eyes through the screen."
"I honestly think the hardest scene for me to do was when Jesse woke up and found Jane lying next to him dead. Looking at Jane through Jesse's eyes that day was very hard and emotional for all of us. When that day was over, I couldn't be happier that it was over because I really, truly felt I was living those tortured moments with Jesse. So yeah, bitch, that's the one."
"I actually have found myself while shooting 'Breaking Bad,' thinking as Jesse. While playing this character, I have tried to really get inside his head. And as any 'Breaking Bad' fan knows, it can be difficult to live and breathe as Jesse. But I have enjoyed living and growing through his struggles. And all I want to do is protect him."
"Absolutely not! I'd kill us all and blow us all up."
"Absolutely. And Hal was my favorite character on the show. So when I was auditioning for 'BB,' I knew they were getting the goofy dad from Malcom in the Middle to play Walter White, which confused me. But I was also very excited at the chance to work with Bryan."
"Yes, I get called 'bitch' on a daily basis and yes, I do think I'll get called 'bitch' on a daily basis for years to come. But to be honest, I don't really mind because I like being called 'bitch.'"
"Raymond Cruz, who played Tuco, gave me a concussion during the episode 'Grilled' where Tuco takes Walt and Jesse to his shack in the middle of nowhere where we meet the famous Uncle Tio. Tuco takes Jesse and he throws him through the screen door outside, and if you watch it back, you'll notice that my head gets caught inside the wooden screen door and it flips me around and lands me on my stomach and the door splinters into a million pieces. Raymond just thought I was acting so he continued and kicked me in the side and picked me up over his shoulder and threw me against the house, but in reality, I was pretty much unconscious the other time. I kept pleading to him, saying 'stop.' The next thing I know, I guess I blacked out and I woke up to a flashlight in [my] eyes and it was our medic. And then, I hopped up, acting like nothing wrong, but it appeared like I was drunk, and I kept saying, 'Le's finish the scene.' But then my eye started swelling shut so they took me to the hospital. Just another fun day on the set of 'Breaking Bad'!"
"Just going to set and working off him every single day was a constant learning experience. I wouldn't be the actor I am today without him. I've learned that it's OK to be professional and very immature at the same time because that describes Bryan perfectly."
"Breaking Bad" airs Sunday nights at 9 p.m. ET on AMC.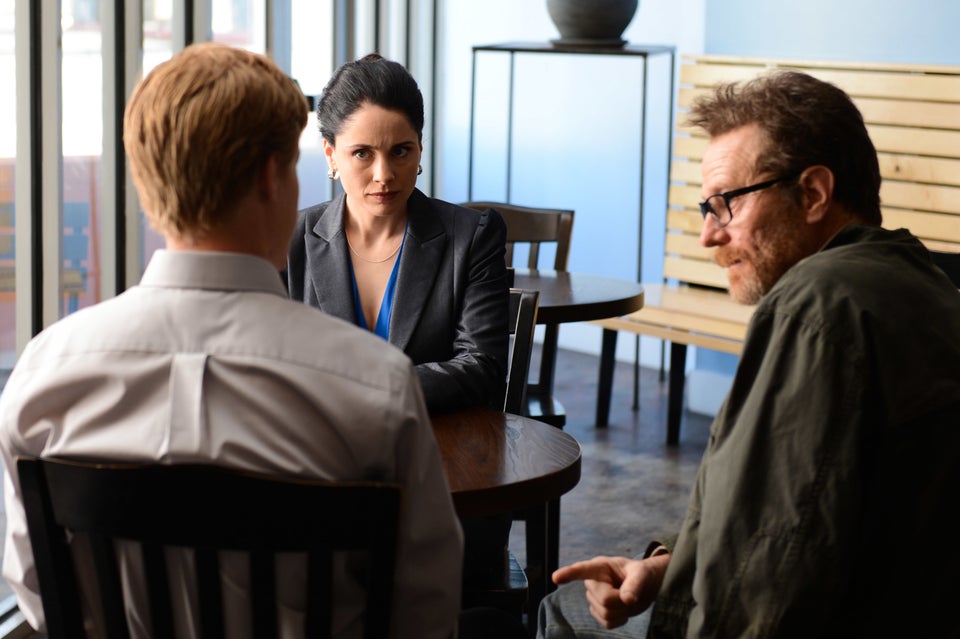 'Breaking Bad' Final Episodes Images
Popular in the Community