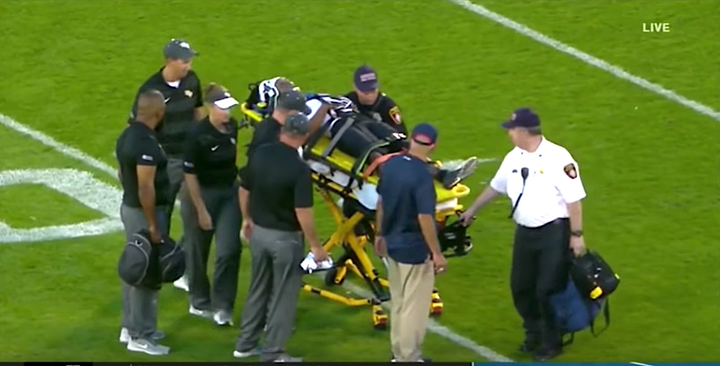 This wasn't the kind of drama college football needed on the first play of one of its opening games of the season on Thursday.
University of Central Florida defensive back Aaron Robinson lay motionless on the turf after he appeared to collide head-on with a teammate as he hit UConn returner Keyion Dixon on the kickoff in East Harford, Connecticut, according to reports.
The YouTube clip of the play below appears to confirm the account. (A replay was not shown during the broadcast.)
Medics worked on him for about nine minutes, the Associated Press reported.
Robinson was cut from his shoulder pads while teammates prayed near him, the wire service said. He was taken off the field on a gurney. Robinson appeared conscious and gave a thumbs-up.
Broadcasters said at one point Robinson was moving his legs, For The Win noted.
He was reportedly hospitalized overnight nearby.
"He's going to be OK," coach Josh Heupel said, per Sports Illustrated. "He's going to stay overnight. They'll monitor him and make sure he's going to be OK."
HuffPost reached out to the school for an update on Robinson but didn't immediately hear back.
Popular in the Community