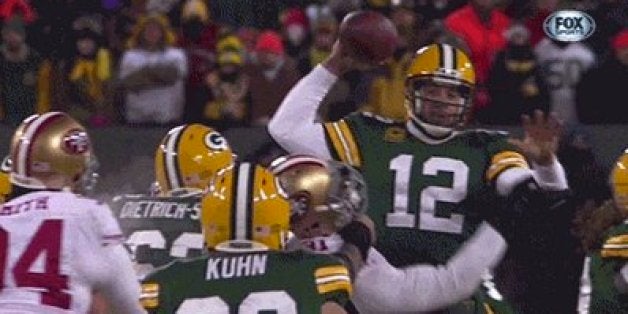 As is the case with any magic trick, Aaron Rodgers' great escape on fourth down against the San Francisco 49ers isn't meant to be scrutinized. As is the case with any magic trick, a slow-motion replay would reveal some sleight of hand that the magician would prefer you didn't see. In this case, that hand belonged to a Packers offensive lineman and there was nothing slight about the way he used it.
Trailing 13-10 early in the fourth quarter of their NFC wild-card tilt, Rodgers and the Packers faced with a must-have 4th-and-2 play at their opponents' 30-yard line. Rodgers took the snap in the shotgun formation and the pocket soon began collapsing around him. 49ers defensive tackle Ray McDonald seemed to have Rodgers in his grasp and linebacker Ahmad Brooks appeared in position to aid his teammate in pulling him down.
The 2011 NFL MVP had magically escaped. After somehow evading his would-be tacklers, Rodgers scrambled to his right and rifled a 26-yard completion to wide receiver Randall Cobb.
To hear Rodgers describe the play to reporters later, it all sounded so matter of fact.
"It got very cluttered in their, in the middle," Rodgers would say. "I felt a guy swiping at the ball so I tried to pull it away from him. I was being grabbed and I felt like I was free so I just moved to my right and saw Randall and threw it to him."
What he didn't mention was that his teammate, Packers center Evan Dietrich-Smith, had put an arm around McDonald's neck and kept him from finishing off the sack. Amid the confusion of the collapsing pocket, the officials missed the egregious holding penalty. At that point, magic happened.

(GIF via @BuzzFeedSports)
Cobb's reception advanced the ball to the 49ers' 4-yard line. Two rushing plays later, fullback John Kuhn would be awkwardly celebrating a go-ahead touchdown. While no-call on the apparent hold was consistent with the loose officiating throughout the game, it drew attention because of the pivotal nature of the play and the violent nature of the apparent infraction.
The 49ers let the officiating crew of the hook for this one by quickly answering with a score of their own. Colin Kaepernick and the Niners needed just five offensive plays to retake the lead, 20-17. The teams would then trade field goals in the final minutes as the 49ers prevailed with a 23-20 triumph.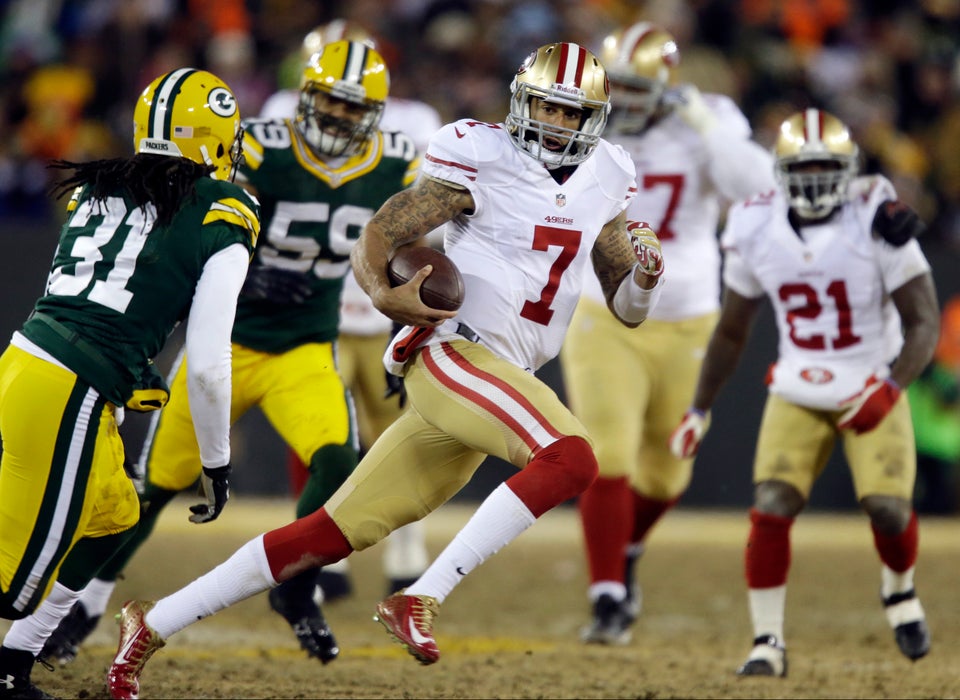 PHOTOS: 49ers vs. Packers