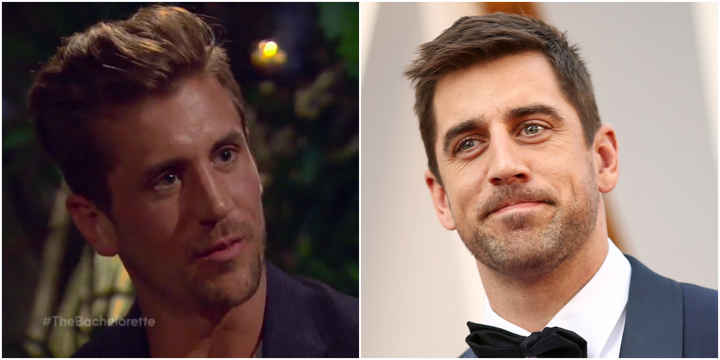 Throughout Season 12 of "The Bachelorette," Aaron Rodgers' little brother, otherwise known as Jordan the finalist, has discussed Aaron's apparently strained relationship with his family.
The Green Bay Packers quarterback, however, has taken the high road, avoiding discussing Jordan during the offseason. Most notably, noted "Bachelor" fan Bill Simmons didn't even ask him a single question about it when Rodgers appeared on his show "Any Given Wednesday" this month. In general, Rodgers has kept a relatively low profile this offseason outside of attending award shows with girlfriend Olivia Munn.
I haven't seen the show, to be honest with you, so it hasn't really affected me a whole lot. As far as those kinds of things go, I've always found that it's a little inappropriate to talk publicly about some family matters, so I'm just — I'm not going to speak on those things, but I wish him well in the competition.
Aaron's response reads as an easy, diplomatic non-response. Aaron even wished him well in the competition — key word "competition" — perhaps knowing that Jordan's past as an NFL quarterback himself gives his brother an athlete's drive to "win" the "Bachelorette."
But moreover, Aaron hasn't even seen the show, probably because he's busy leading a charmed, well-deserved life in reality. He achieved fame by becoming the NFL's No. 1 quarterback and a Super Bowl winner, not because he went on orchestrated dates for ABC.
Here's where the ideological chasm, and, as inferred from Aaron's interview, the beef between the two brothers emerges: Jordan is digging up family dirt — which again, may or may not be substantiated — to garner strategic pity while chasing D-list fame on a reality television competition.
Aaron, on the other hand, doesn't give a shit. He's got another Super Bowl and MVP award to win this year. That's better than getting the final rose.
Love "The Bachelorette" and its related shows, or love to hate it? Either way, hosts Claire Fallon and Emma Gray break down each delicious moment on HuffPost's "Here To Make Friends" podcast, available on iTunes and SoundCloud.
Popular in the Community