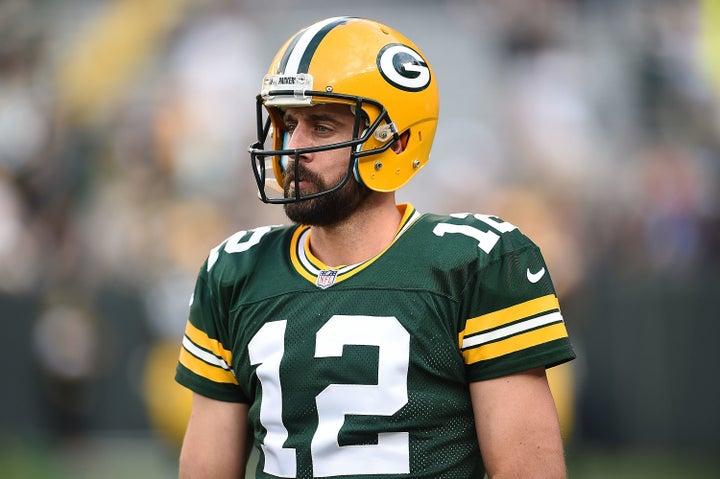 Green Bay Packers quarterback Aaron Rodgers has been an outspoken critic of the casual homophobia often expressed during athletic events. Fortunately, he believes the sports world is becoming more inclusive, and that teams are getting closer to fully accepting an openly gay player. 
In a wide-ranging ESPN interview, the 33-year-old shared his thoughts on Ryan O'Callaghan, the retired New England Patriots and Kansas City Chiefs tackle who came out as gay in an interview with Outsports in June. Rodgers said he was "incredibly proud" of O'Callaghan, who was his college teammate at the University of California, Berkeley from 2003 to 2004. 
"I know he had a lot of fear about it, and how he would be accepted, and how people would change around him," Rodgers said of O'Callaghan, 34. The relative ease at which O'Callaghan opened up about his sexuality, he added, was indicative of how sports is becoming more welcoming to the idea of queer athletes. "I think society is finally moving in the right direction, as far as treating all people with respect and love and acceptance and appreciation," he added. "And the locker room, I think the sport is getting closer."
That doesn't mean there's not more work to be done, of course. Later in the interview, Rodgers seemed to hint at the experience of Michael Sam, who made history as the first openly gay player to be drafted by the NFL in 2014 but was later cut by two teams before stepping away from football. Though Rodgers didn't mention Sam by name, he noted that there's still "fear of job security" among athletes who identify as LGBTQ.
"If you have a differing opinion, differing sexual orientation, they can get rid of you," he said. "So is it better just to be quiet and not ever say anything? And not risk getting cut, with people saying: 'Well, it's because you can't play'?"
"I'm just going to say I'm not gay," Rodgers said at the time. "I really, really like women... There's always going to be silly stuff out there in the media which you can't worry too much about, and I don't." 
Calling all HuffPost superfans!
Sign up for membership to become a founding member and help shape HuffPost's next chapter
BEFORE YOU GO