A tattoo artist in Denver, Colorado, enraged a group of homophobic trolls on Friday when she posted a new piece of work depicting a male figure wearing a jockstrap and Green Bay Packer Aaron Rodgers' football jersey.
Alisha Rice did not expect the backlash when she posted the photo on her Instagram ― but trolls were quick to emerge from the depths of the internet.
One user wrote, "What in tarnation is this gay ass sh*t? This is what y'all do up in Wisconsin? Don't even look like his face and that helmet is severely f**ked. This some homo ass sh*t."
Another added, "The gayest tattoo ever. I'm sure A rod don't want this shit on anyone." There are many, many other comments that can be viewed on the artist's Instagram.
"The idea for the tattoo was a combination of the client wanting a traditional American style male pinup and a packers tattoo," Rice, who has been tattooing since 1992, told The Huffington Post. She noted that the tattoo wasn't necessarily supposed to be Rodgers and that his "particular jersey was selected because [he] is a football legend and the client admires him as a player and as a person."
Two days after posting the initial image of the tattoo, the 43-year-old artist followed up with another post directly challenging the "homophobic football fans and armchair tattoo critiques" she had received: 
Rice told The Huffington Post the tattoo was never meant to be a comment on Rodgers' sexuality, as some commenters charged, but instead was "just meant to be a fun, tongue in cheek ode to team." 
She added, "If anyone has an issue with the tattoo I'd challenge them to ask themselves why and reflect on the apparent double standard regarding the sexualization of the male and female forms."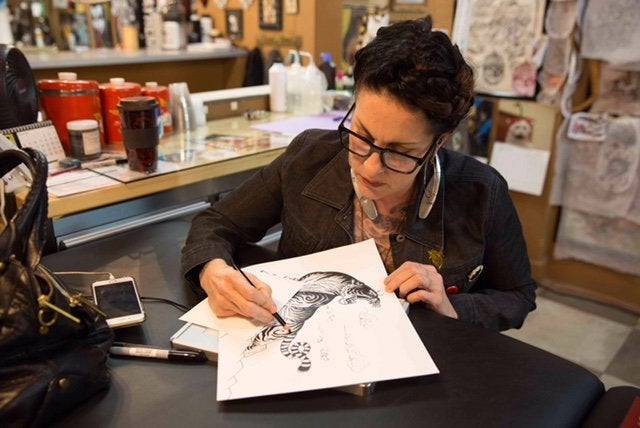 Calling all HuffPost superfans!
Sign up for membership to become a founding member and help shape HuffPost's next chapter