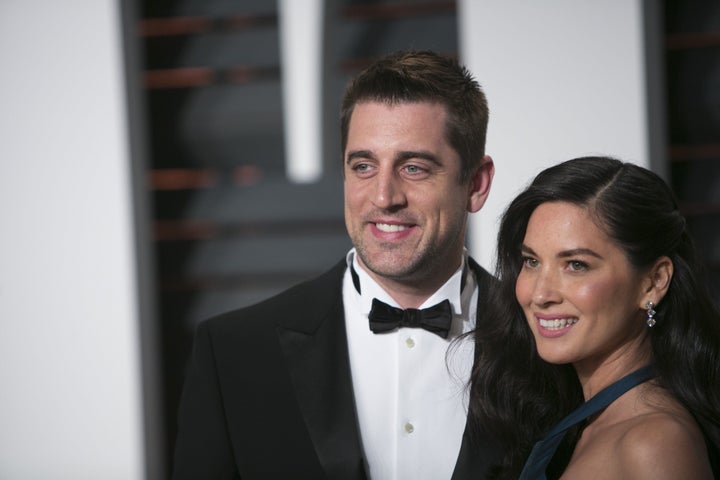 The Green Bay Packers are in the midst of a three-game losing streak, so naturally, part of the blame has been laid on reigning NFL MVP Aaron Rodgers, who has looked more mortal than usual at quarterback. In November, he has only thrown six touchdown passes while completing 56.5 percent of his passes for 5.95 yards per attempt, which has added up to pedestrian performances, critical missed touchdown throws and, ultimately, Packers losses. 
Football is a complex game, so it's difficult to pin down any one thing to explain Rodgers' drop-off, but many people have done so anyway, zeroing in on his sex life with girlfriend Olivia Munn. One Packers fan in particular, presumably in the absence of real football knowledge, did just that in the comments section of the Milwaukee Journal Sentinel's website. 
In a current online media landscape -- a journalistic blogosphere really -- where everything and anything can be aggregated and manufactured to create false controversy for clicks, the production of these articles isn't surprising. It's business.
But that doesn't make it morally or ethically right. And so, Munn rightfully called out the outlets for writing news entries off of one fan's comment, which handed a microphone to a complete "bigot" (Munn's words).
Munn even went a step further to shame ESPN Packers beat writer Rob Demovsky for alluding to the fan's feelings in a column about Rodgers' recent play, titled "Five reasons why Packers quarterback Aaron Rodgers is struggling." Riding off of the wave of interest generated by the fan's Journal-Sentinel comment, Demovsky wrote:
Possible off-field issues?: A longtime NFL agent told me recently that when he sees one of his top-performing clients play differently, as Rodgers has of late, the first thing he wonders is if something is going on in his personal life. There's no indication that Rodgers' relationship status has changed. Lions reporters said they spotted Rodgers' girlfriend, actress Olivia Munn, at Lambeau Field on Sunday. Sometimes it's easy to forget that professional athletes have lives away from the field, and you never know what could be going on in their personal lives.
How this counts as a reason why Rodgers is struggling is beyond me. It's not even perpetuating gossip or a false rumor about the couple -- Demovsky's just throwing guesswork out there that, hey, maybe Rodgers is bringing his home life down to the field. Munn responded to Demovsky saying as much on Thursday:
Again, the following unfortunately needs to be said: Munn shouldn't have to defend her boyfriend and their private lives on a public forum. But because outlets have provided a microphone to one commenter, she does. 
Now, Munn has been open about their sex life before, but on her terms. In December 2014, appearing on "Watch What Happens Live," Munn revealed that the couple doesn't have sex on game days, but they sometimes do after games, adding "I try to have sex as much as I can."
Opening up is Munn's choice. But beyond what Munn chooses to reveal, none of it is frankly anyone's business. Roping in an anonymous fan's hate-speech about Rodgers' sex life to prove a football-related point is a poor reflection of today's media, and worse, how we choose to talk about the private lives of public figures. 
Calling all HuffPost superfans!
Sign up for membership to become a founding member and help shape HuffPost's next chapter