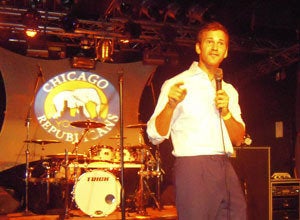 That was the message for the estimated 700 Chicago Republicans who packed into the Cubby Bear in Wrigleyville Monday night for an open bar, like-minded people and the feeling that for once they belonged in a city long considered hostile territory.
"If you think for a minute that because you're in Chicago your vote can't have an impact, you're wrong," 28-year-old Congressman Aaron Schock told the crowd. "You're vote does count, and in 2010 it will make the difference in us reclaiming the majority in the United States Congress and statewide in Illinois."
"We are going to have an opportunity after the Democrats are done in the next year and a half with passing some of the most ridiculous, outrageous legislation to make some gains and make a comeback," Schock said.
Schock lambasted the federal cap-and-trade bill, pointing out that it passed Congress last week by a mere 219 to 212 margin and would require property owners to have their property up to federal code before they could sell it.
"This is a bad bill on all fronts, and I encourage you to light up your senator's phone lines this week," Schock said.
But the night wasn't solely next-gen. Many familiar Illinois Republican names were on hand. State Senators and gubernatorial candidates Kirk Dillard, Bill Brady and Matt Murphy all spoke, as did political commentator Dan Proft, gubernatorial candidate Adam Andrzejewski and former U.S. Senate candidate Jack Ryan, whose withdrawal from the 2004 Senate race helped clear a path for Barack Obama's ascent.
"Thank you for making it hip again to be a young Republican in Chicago," said Dillard, the Hinsdale Republican who grew up in a house not far from Wrigley Field.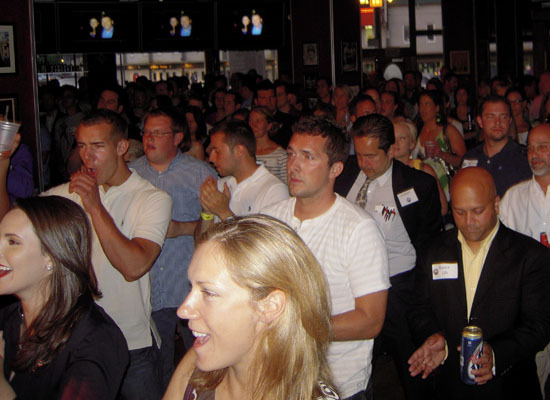 The summer membership event was the culmination of a month-long, $40,000 marketing effort intended to organize and energize young Republicans in Chicago as the party looks to rebound from its shellacking in 2008.
"During the presidential cycle we noticed a lot of enthusiasm, a lot of new people coming out and getting involved in the party, and we thought that was going to die off after the election," said Jeremy Rose, president of the Chicago Young Republicans. "What we found was the complete opposite."
According to Rose, the response the group most often got when talking with Republicans in Chicago was that they thought they were all alone. The events Monday and throughout June were meant to combat that impression and to help re-brand the party's image.
"I think the party is changing into the party of young professionals," Rose said. "As you can see here, nobody has gray hair."
Speakers were urged not to wear ties to the event Monday because doing so would reinforce the image of Republicans as stuffy and old-fashioned.
Some followed the instructions, but not all. And there were times during the night when the divide between the old guard and the new showed through.
Like when Cook County Commissioner Tony Peraica had to raise his voice to quiet the crowd during his remarks.
"Can I get some attention up here, please?" Peraica said.
Schock told the Huffington Post he was surprised his colleague voted for it.
"Yeah," Shock said, "you know everybody's got to represent their district and do what they think is best."
For Mary Ann Parrille, 26, the event was an unqualified success. Parrille joined the Chicago Young Republicans two months ago after watching the news one night and seeing something about President Obama that upset her.
"I was watching the news and got really pissed off," Parrille said. "So I Google searched 'Chicago Republicans' and that's how I found out about the group."
Parrille said she enjoyed hearing from all the speakers but had not yet committed to a gubernatorial candidate.
"I don't know enough about all of them yet," Parrille said.
Gubernatorial candidate Dan Proft told the Huffington Post that the he sensed a Republican opportunity to swing the political pendulum back in 2010 but that to do so they would need to win more of the young vote.
"If Republicans are going to get back in the game, we have to get the young professionals out of retirement from the party," Proft said. "And not just energized but ready to really work. The Democrats have written a script for us that we could not have made up."
Proft said the Republicans in Illinois have for too long tried to be all things to all people.
"The Democrats are cosmically vulnerable," Proft said. "But we have to decide who our constituents are."
Schock declined to say who he would be supporting in the increasingly-crowded governor's race.
"A Republican candidate," Schock said. "I'm not yet getting involved."
The event featured rounds of short speeches separated by hour-long sets by popular '80s cover band, Sixteen Candles.
"We had a pretty amazing Republican president in the 80s," conservative Chicago radio show host and emcee Guy Benson told the crowd. "We also had some amazing music."
Benson was joined onstage by Weekly Standard columnist and blogger Mary Katharine Ham, who flew in from Washington, D.C. to help emcee the event.
Together the two took shots at President Obama and talked about their "favorite" things about living in liberal cities.
"My favorite is probably my daily commute on the Kennedy [Expressway]," Benson said, "when I'm sitting behind a Prius with an Obama bumper sticker and a Coexist bumper sticker. They are so thoughtful."
"The best," responded Ham, "is the Obama Senate run bumper sticker. That gives you a lot of street cred. You want people to know you were really on that bandwagon when he was even less qualified for office."
By night's end, after a couple hours of dancing and drinking, the crowd seemed to have little attention left for any more speakers. They'd heard enough, they'd cheered enough and talk of the cap-and-trade bill was a definite buzz kill.
Rose and his colleagues seemed to notice. They thanked everyone for coming, plugged the organization and brought Sixteen Candles back out.
It was clear the crowd wanted more of the '80s.
Calling all HuffPost superfans!
Sign up for membership to become a founding member and help shape HuffPost's next chapter