It's official! Nearly 10,000 of you voted in our "Who's The Hottest Congressional Freshman?" poll, and Republican Representative Aaron Schock is the winner, taking home 34.88% of the vote. Second place goes to Representative Glenn Nye, a Democrat from Virginia who gained the approval of 24.03% of you.
Here are the final results: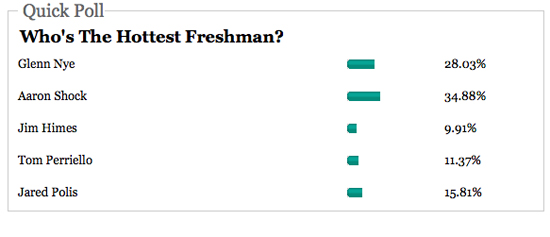 27-year-old Schock hails from Peoria, Illinois. At the tender age of 19, he became the youngest member of the Peoria School Board, of which he went on to become President. By 23, he was elected Illinois State Representative. **Scroll down for more biographical info.**
Here's a closer look at the man you elected Hottest Freshman.
(Photos from AP and Getty)
Watch Schock speak at the Republican National Convention:
AARON'S STORY

At the age of 23, Aaron Schock was simultaneously the President of the Peoria School Board and a Republican Illinois State Representative, making him the youngest school board president in history and the youngest member of the Illinois General Assembly.

Aaron Schock had a penchant for work, saving and investment during his high school years. Aaron invested nearly all his earnings. In fact, with his own earnings, he invested in his own IRA when he was only 14 years old.

GROWING UP

Aaron's parents taught him the value of work at an early age. He grew up on a farm, and when Aaron was five years old, his father planted a strawberry patch so the kids could earn money selling the strawberries. Aaron's brother and sisters worked the strawberry field and Aaron took orders on the phone. His sisters remember customers being shocked when they learned that the very well-spoken and diligent order taker was five years old.

Aaron began working in a gravel pit at age 15 and earned up to $18,000 a year in his mid-teens. He invested nearly all of it.

Aaron wanted to buy real estate in his mid-teens but his parents weren't willing to go along with deals they considered too risky at the time. So Aaron continued to save his earnings and bought his first piece of real estate on his 18th birthday.

Aaron enrolled in Bradley University and earned his degree in Finance...a four-year degree in only two years.

Right out of college, Aaron started a business with a partner and hired a few employees. He had a knack for business and intended to make it big by working hard and investing smartly.

ELECTED TO SCHOOL BOARD

Aaron decided at age 19 to run for the Peoria School Board against the president of the school board because of policies he disagreed with in high school. Though he was busy with college and investing in real estate, Aaron felt a need to step up to the cause of getting on the school board to make things better.

Aaron gathered more than the necessary signatures to get on the ballot. But his opponent--the school board president--challenged his petitions because some signers used ditto marks for part of their addresses. She succeeded in having him thrown off the ballot.

Every local government official he spoke to told Aaron the race was over at that point. But Aaron believes where there's a will there's a way. So he decided to run as a write-in candidate. All the powers-that-be in Peoria were amused but gave him no chance of succeeding.

Aaron began working hard and assembled an army of volunteers. He handmade his door hangers that described what voters had to do to write in a candidate's name on their ballot. He and his volunteers knocked on 13,000 doors and ended up getting 6,406 successful write-in votes. He defeated the president of the school board with 60% of the vote. Aaron Schock became a school board member of one of the largest school systems in Illinois at age 19.Aaron Schock was so diligent in his work on the school board that his school board colleagues voted to make him vice president of the board when he was 22 years old. At age 23, they unanimously voted to make him school board president.

The Peoria Journal Star newspaper lauded Schock's work on the school board when he left after four years and said, "Schock left a mature record."

During his term on the school board, Schock became concerned about his state representative, Ricca Slone.

The school board had held meetings with area legislators to discuss state funding and regulations. While six area legislators attended the meetings, the one who represented most of the Peoria School District did not--Ricca Slone. She refused every attempt by the school district to meet with legislators.

Schock and some of his school board colleagues went to Springfield to meet with officials. They met with the Lt. Governor, the Secretary of State, State Senators and State Representatives, but Representative Ricca Slone again declined to meet with them.

That prompted Schock to look closely at her voting record. He found that she was one of the most liberal representatives in the state and voted for many bills that impaired the ability of employers in Illinois to continue to do business here.

Rep. Slone was an eight-year incumbent in a district that routinely gives Democrats 60% of the vote. Nevertheless, at age 22, Aaron Schock decided to challenge her to work to make Illinois a better place to do business.

Once again, the conventional wisdom had it that Schock was on a fool's errand and it would be impossible for him to win. He was "too young" and the district was "too Democrat for a Republican to win."

It was a challenge that required Schock to sell his business in order to devote his energies toward winning the election. Just a few years earlier, Aaron's aim was to pursue his goals in business as an entrepreneur. Now he found a more important cause in helping to create a positive economic environment in Illinois and reforming education policy. He wanted to grow in the business world but could not ignore a necessary challenge that others were not willing to take on.

That 2004 election for state representative became Illinois' most expensive house race in history. Aaron Schock was outspent by over $200,000 but he won in spite of the financial disadvantage. His opponent was funded by Speaker Madigan and her campaign was run by his Chicago operatives. Schock faced a brutal negative barrage of attack ads on television that wildly distorted his positions. He kept his cool, stayed positive, made his case to the voters, again knocked on thousands of doors and was victorious once more.

After being sworn in as State Representative, his colleagues expected this very young representative to do what all freshman legislators do, no matter their age--sit back and be overwhelmed by being in the House of Representatives while they take a couple years to learn the ropes.

Aaron Schock skipped that step. He studiously learned House procedure in a week and began authoring substantive legislation. He worked to pass 11 of his bills in his first five months in office. In his first three years he has sponsored 18 bills that he was able to work through to passage.

These bills dealt with a series of education reforms, several child protection initiatives, prescription drug savings, veterans' assistance, road construction, and a bill to combat high-tech identity theft, the first of its kind in the nation.Aaron Schock was a forceful advocate against Rod Blagojevich's ruinous economic policies of massive borrowing, spending, and taxing employers. Schock spoke on the House Floor, in Committee, throughout his district and in speeches around the state, where Aaron made front page headlines disputing Blagojevich's proposals. In the summer of 2007, Schock was part of the coalition in the House that defeated the Governor's proposed Gross Receipts Tax and his employer tax, which would have caused an exodus of employers from Illinois. Blagojevich had also proposed the largest spending increase in Illinois history and the coalition stopped that too.

Representative Schock, fully engaged, worked hard in representing his district. He attended community events and meetings on a regular basis. He has been exceptionally engaged with neighborhood associations and non-profit organizations to assist in the job they do. When asked by leaders of these organizations for legislative help or funding, Representative Schock went to bat for them in Springfield. Many long-time leaders from these organizations continue to say they have never seen such an engaged representative on their behalf.

Representatives, be they in the Illinois House of Representatives or in Congress, have three important responsibilities:

1. To accurately represent the values of the majority of the district's residents.

2. To advocate for the economic interests of the district.

3. To provide constituent service for constituents with problems too complex or with too much red tape for the constituent to solve on their own.

Representative Schock made constituent service a top priority and has intervened successfully on behalf of hundreds of constituents in need.

Aaron Schock, the Republican Representative of the primarily Democrat 92nd District became the top target for defeat by state Democrats in the 2006 elections. They recruited Bill Spears, a moderate, long-time Peoria city councilman, with deep family ties to the district to run against him. Speaker Madigan sent his top political lieutenant to run Spears' campaign and they ran months of negative attack ads against Aaron Schock. To counter the onslaught against him financed by Speaker Madigan's Chicago money, Schock raised $1,250,000, most of it in the Peoria area. He was able to present his own positive message and rise above the attacks. In the end Schock aired 14 positive television ads and no negative attacks.

REELECTED

Aaron was re-elected to the Illinois House with 59% of the vote in a district that routinely gives Democrats 60% of the vote.

While Aaron was still a freshman legislator, he also made a priority to strengthen the Republican Party.

Aaron personally recruited candidates for local city councils, the county board and precinct committeemen. He and his organization helped many Republicans win their campaigns. With no statewide elected Republicans in Illinois these days, Aaron Schock responded to numerous invitations around the state to speak at Republican Lincoln Day Dinners. Each time he inspired those attending.

Aaron Schock is an active member of Bethany Baptist Church in Peoria.

Aaron Schock has demonstrated legislative ability, the courage to offer new ideas, a proven ability to win difficult elections, deep intellect and the energy to help move the ball forward in the search for solutions to problems confronting our nation. His experience in both business and public service, combined with his guiding conservative principles, make Aaron Schock well prepared to represent the people of the 18th District in Congress.

Aaron Schock is ready, willing and able to contribute to the people of the 18th District, Illinois and our country as one of the 435 members of the House of Representatives.
Related