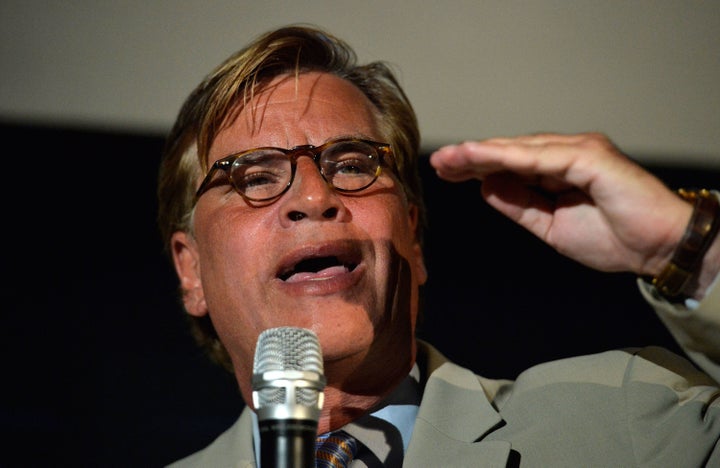 Aaron Sorkin is still mad about the Sony hack.
Almost a year has passed since a group of hackers tied to the North Korean government infiltrated Sony Pictures' servers to steal thousands of confidential emails, which they then released to the press. Sorkin -- the prolific screenwriter behind such modern classics as "The West Wing" and "The Social Network" -- was an early, aggressive critic of the hack and the response to it in the media and in Hollywood. And his feelings about the matter apparently haven't softened with time.
This week, while promoting his upcoming biopic "Steve Jobs" in London, Sorkin tore into the hackers, and the journalists who published their loot, yet again. 
Sorkin has been scornful of the state of U.S. media -- his HBO series "The Newsroom" was essentially a three-season-long critique of journalism today. But he also had harsh words for Sony's fellow movie studios, whose response to the hack was notably tepid. 
"It was a sad moment for Hollywood, it really was, a terrible, terrible moment," Sorkin said. 
The Sony hack was initially thought of -- both inside and outside the company -- as little more than a nuisance, albeit a particularly embarrassing one for some of the biggest names in Hollywood. (Including Sorkin.)
But the affair escalated to an international incident in mid-December, when a group calling themselves Guardians of Peace took credit for the hack, saying that it had been motivated by the upcoming release of Sony Pictures' North Korea satire "The Interview." They threatened mass violence if the movie made it to theaters, specifically mentioning Sept. 11, and many screenings were canceled. So Sorkin is by no means exaggerating when he describes it as terrorism -- though it's also the case that when the hack first emerged, and the press began writing about it, the extent of the menace was not yet clear. 
PHOTO GALLERY
"The Interview" Premiere
For a constant stream of entertainment news and discussion, follow HuffPost Entertainment on Viber.
Calling all HuffPost superfans!
Sign up for membership to become a founding member and help shape HuffPost's next chapter