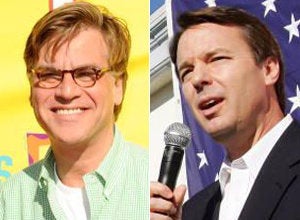 When former John Edwards aide and tell-all 'The Politician' author Andrew Young signed with agent Ari Emanuel, it seemed inevitable a movie was in the works.
Now the New York Daily News hears that 'West Wing' scribe Aaron Sorkin may be interested.
We hear Sorkin is among those talking with William Morris Endeavor uberagent Ari Emanuel about optioning "The Politician," the best-selling memoir by former Edwards aide Andrew Young. Reps for Sorkin and Emanuel didn't get back to us.

Other recently-penned Sorkin adaptations listed on imdb include 'Social Network,' aka the Facebook movie, and Brad Pitt's plagued 'Moneyball.'
Popular in the Community