Although the event functioned as a critique on the federal criminal justice system, it also served as a memorial service attended by high-profile lawmakers, academics and activists angered by Swartz's prosecution on federal hacking charges. Such an event is extraordinarily rare in the Capitol complex, especially one honoring a private citizen whose suicide has made him a symbol of federal prosecutorial power.
Sen. Ron Wyden (D-Ore.) and House Oversight Committee Chairman Darrell Issa (R-Calif.) spoke at the event, as did Reps. Alan Grayson (D-Fla.) and Jared Polis (D-Colo.). Sen. Elizabeth Warren (D-Mass.), Rep. Zoe Lofgren (D-Calif.) and Rep. Jan Schakowsky (D-Ill.) also attended.
Swartz took his own life last month after fighting federal hacking charges for two years. In the fall of 2010, he downloaded millions of academic journal articles from the online database JSTOR from a library at the Massachusetts Institute of Technology. Swartz had legal access to the articles, but his mass download violated the database terms of service agreement. Prosecutors refused to accept any plea deal that did not include jail time and a felony conviction, even though JSTOR had opposed criminal prosecution.
"He was always asking forgiveness rather than asking permission," said Taren Stinebrikner-Kaufmann, Swartz's partner. "And JSTOR forgave him, but MIT and the U.S. government would not."
Grayson called Swartz's prosecution and death the "human sacrifice" of a luminary who sought to reform the political status quo -- a loss he said belongs in the tradition of the poisoning of Socrates.
Swartz's intellect was celebrated in both political and technology circles. At age 14, he helped develop the code for RSS feeds, helped format the Creative Commons license at 15, and became one of the formative minds behind Reddit at 19. In politics, he co-founded Demand Progress and the Progressive Change Campaign Committee and interned with Grayson to work on the Dodd-Frank financial reform bill. He was 26 when he died.
"The striking fact about this case is that the more they learned, the more obstinate they became," Harvard University law professor Lawrence Lessig told the crowd, referring to U.S. Attorney Carmen Ortiz and Assistant U.S. Attorney Stephen Heyman, who handled Swartz's case.
"It's very, very difficult not to be angry about the circumstances of his death," said economist Dean Baker, co-director of the Center for Economic Policy and Research. "This is a Justice Department that couldn't find anyone to prosecute for the tens of billions in fraudulent mortgages that were issued, but somehow had time and resources" to pursue Swartz.
Swartz had also previously downloaded thousands of public domain court documents from the subscription database PACER. The downloads drew the attention of the FBI, but no charges were filed because the documents were, in fact, public. Swartz later filed a Freedom of Information Act request to retrieve his own FBI file, and published the documentation on his blog.
Baker and Swartz's father, Robert Swartz, contrasted the activist's efforts with those of other tech pioneers who had directed their ingenuity toward corporate success and personal financial gain rather than public advocacy work. Both cited Microsoft founder Bill Gates and Facebook CEO Mark Zuckerberg by name. The disparity was emphasized by images of Swartz lecturing while wearing a hooded sweatshirt -- informal attire that Zuckerberg continues to wear after steering his company through a $104 billion initial public stock offering. "That's not what Aaron was about," Baker said.
Ortiz and Heymann relied on the 1984 Computer Fraud and Abuse Act to indict Swartz on 13 felony counts carrying a maximum penalty of 35 years in prison, plus fines. Ortiz has defended the charges as "appropriate," noting that prosecutors did not seek the maximum sentence in plea deals. Internet experts have been pushing to reform the Computer Fraud and Abuse Act for years, arguing that it allows prosecutors to seek penalties similar to those of violent assaults for offenses some activities say should not be considered criminal at all.
Advocates are now pushing to enact "Aaron's Law," which would shorten sentences for minor hacking violations, decriminalize terms of service contract violations and ban the prosecution of those who have authorized access to data, but deploy unconventional methods for obtaining it.
The reforms are strongly embraced by both conservative and liberal Internet freedom advocates, but face significant political opposition. Federal courts have issued conflicting rulings on the Computer Fraud and Abuse Act. As recently as 2012, the Department of Justice had urged Congress to clarify that terms of service violations are a felony.
Swartz' memorial service was dominated by progressives, but drew a handful of conservatives to pay their respects. Among them was Issa and Berin Szoka, president of the TechFreedom activist group. Szoka voiced support for amending the Computer Fraud and Abuse Act, but cautioned that he and other conservatives did not "condone" Aaron's effort to download JSTOR's academic journal articles. He argued that Swartz was innocent of any crime because he failed to republish the articles. Nevertheless, Szoka said, prosecutors should not have the legal authority to treat such activities as major offenses.
Szoka encouraged attendees not to portray Swartz as a "martyr for openness," but as a "victim" of an overzealous criminal justice system -- a call that drew jeers from the crowd that had to be quieted by Stinebrikner-Kaufmann. In his own remarks, Issa, leading a congressional investigation with Rep. Elijah Cummings (D-Md.) into the prosecution of Swartz, applauded Swartz's open Internet advocacy.
"Stick it to the man," Issa said. "[Aaron] and I probably would have found ourselves at odds with lots of decisions, but never with the question of whether information was in fact a human right … Ultimately knowledge belongs to all the people of the world -- unless there's a really valid reason to restrict it."
Support HuffPost
The Stakes Have Never Been Higher
Before You Go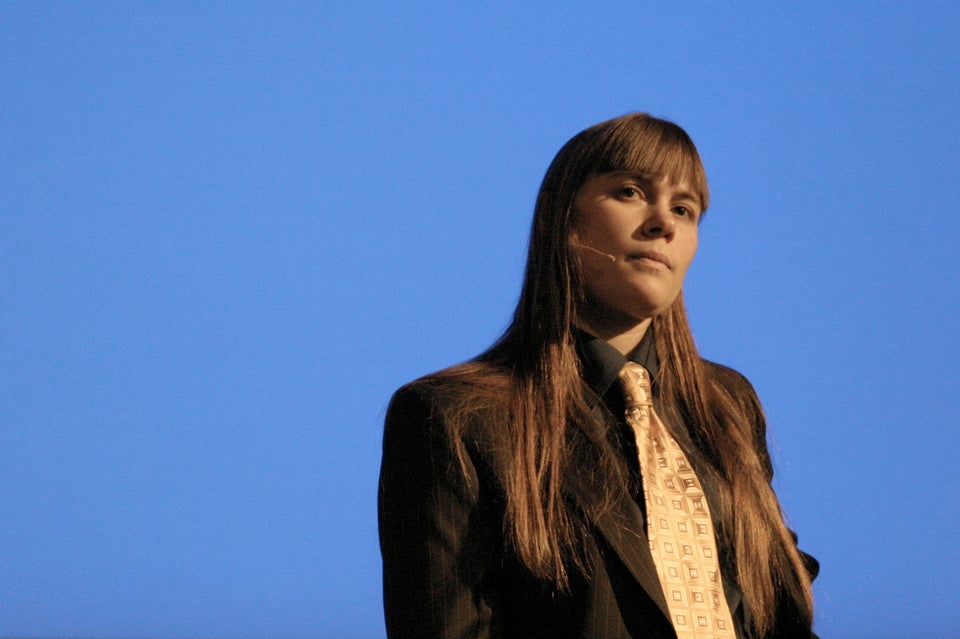 Remembering Aaron Swartz
Popular in the Community