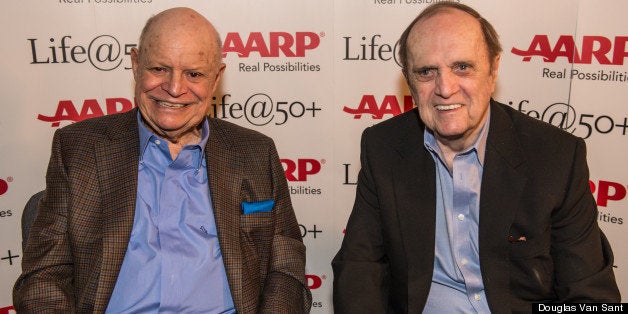 Don Rickles is acerbic, insulting and -- at age 87 -- still wickedly funny. Bob Newhart is polite, charming and -- at age 83 -- also wickedly funny. Put the two together and you strike comic gold.
"If Hitler had lived, Bob would have chatted him up... that's how polite Bob is," Rickles quipped before a full house of AARP members.
Dubbed "Don Rickles In Conversation With Bob Newhart," the pair's performance entertained thousands of people for close to an hour. There were plenty of the usual Rickles' jibes, but there also was a lot of personal conversation around their friendship, their shared family vacations and the ways in which Las Vegas has changed. And, all the while, there was a lot of laughter.

"I started at the Sahara in 1963," Newhart said.
"I started on a wagon train going west," Rickles added.
Newhart said he liked the "old days" of Las Vegas, before Howard Hughes swooped in. "After that everything became very corporate," he said. "I liked the way Las Vegas used to be."
When asked about their friendship, Rickles said "I adore him. Our values are the same. When we're on vacation we can tell stories and fall on the floor laughing. In this business there's a lot of envy and jealousy, but he's one of the sweetest people I've ever known."
The pair's wives -- Ginny Newhart and Barbara Rickles -- also are close friends. Newhart has been married 50 years; Rickles has been married 48 years.
"For some reason comedians' marriages tend to last longer," Newhart said. "I think if you can keep laughing you will stay together."
Afterwards, Huff/Post50 got the opportunity to speak with the two. When asked why they chose to share a stage for the first time at an AARP event, Rickles joked that "there's this little thing called money. Maybe you've heard of it."
In other revelations, Rickles said it was Johnny Carson who called him "Mr. Warmth" for the first time. Newhart disclosed the name of the funniest comedienne he's ever known: Madeline Kahn. Both men said they stay in shape by riding a stationary bicycle an hour a day.
The pair's most hilarious exchanges came when they recalled the family vacations they'd taken together over the years.
"No one is more brilliant on stage than Don, but when you get him off stage, he's clueless," Newhart said. "We were at Lake Como in Italy. I got the camcorder out. My wife said to give it to Don.
"He took some shots of us and then we stopped and walked down the beach," he continued. "After awhile, I said, 'Hey Don, you turned the camcorder off, right?' and he said 'What... you have to turn it off?'
"We wound up with all this video of the ground shot from the camcorder hanging off Don's shoulders," he said.
The AARP event drew more than 11,000 people from around the country to the Las Vegas Convention Center. The event included three full days of volunteering, exhibits, entertainment and wide-ranging information sessions on topics including brain health, travel, personal finance, health and wellness and more. Speakers included Dr. Pepper Schwartz, AARP's sex and relationships expert.
Throughout it all, the overwhelming message was that those over 50 are living in a new age of possibilities.
"Those of us 50 and older have possibilities our parents never had due to increasing longevity and our relatively good health," said AARP CEO Barry Rand. "Growing older is no longer just about retirement. It is about living a richer and purposeful and more fulfilling life."
Mark your calendars for October 3-5 in 2013, when AARP's Life @50+ will come to the Georgia World Congress Center in Atlanta.
Calling all HuffPost superfans!
Sign up for membership to become a founding member and help shape HuffPost's next chapter
BEFORE YOU GO
PHOTO GALLERY
10 Misconceptions About Aging