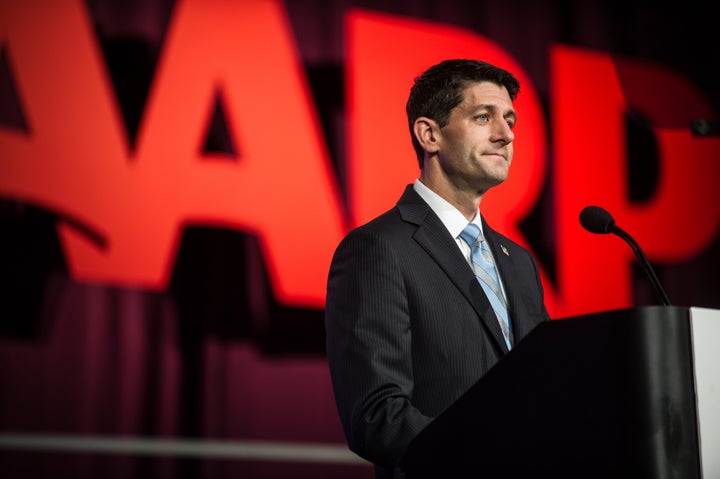 NEW ORLEANS -- Nancy Tressa, 62, a retired middle school principal from Corpus Christi, Texas, drove with her husband in their RV to New Orleans to attend the AARP Convention and take in the sites, sounds and cuisine of the Big Easy. On Friday morning, they joined about 5,000 other attendees to hear President Barack Obama speak to the convention via satellite about his proposals for Medicare and Social Security. That speech was followed by an in-person address by Republican vice presidential candidate Paul Ryan.
A conservative, Tressa was disappointed by the booing and heckling that greeted some of Ryan's remarks, particularly his oft-repeated campaign pledge to repeal Obamacare. "We come to the AARP Convention because we're educators and balanced people, so it's fun to meet people from all over with different views," she said. "But I thought it was rude. I think bipartisanship is what's wrong with this country. The Congress needs to sit down and they need to put things aside and start getting together for the good of the country."
Tressa's spouse is a retired lieutant colonel in the National Guard and her father landed in Normandy during World War II. "I believe in the country ... we had better stop this crassness that is enveloping our society," she said. "This tit-for-tat stuff, and [politicians] looking at the next job they are going to get, politicking all the time rather than doing what they're supposed to be doing in the job that they're in -- that's a problem."
Bob Rittman, 74, and his wife Joyce, 70, of Apple Valley, Calif., are Obama supporters. "I wanted to hear both and I was pleased with the president's presentation. I admired Ryan's presentation because he is proposing things that are different from the president's -- which means to me that Americans do have a real choice," said Rittman, a retired high school teacher with two grown children.
For Rittman, the key issues in this election are "Medicare, Medicaid and Social Security, but also a woman's right to choose, respect for all individuals regardless of class," he said. "And the concept that I firmly believe in is that everyone should pay for a part of government, especially those who are super rich who can afford more. Not to prohibit their wealth, but to help the majority of the people afford a better life."
Joyce, a former middle school speech pathologist, said she also took interest in both candidate's speeches. "Obviously I enjoyed hearing the president's speech and wanted to hear what Ryan had to say," she said. "I think people should keep an open mind and listen to both sides. There are important things being said on both sides and it's an extremely important election."
Dennis Eisnach, of Pierre, S.D., is also focused entitlement programs and the associated costs. "I think Social, Security, Medicare and the debt are the three most important [issues] and obviously they work together," said Eisnach, a former mayor and state highway patrol superintendent. "I have always been under the belief that you have to take a balanced approach to this; you can't make draconian cuts -- there has to be a source of new revenue and cuts, both."
Eisnach said he didn't hear much in the speeches that was new: "The only thing I picked up on that I hadn't heard from Paul Ryan or Romney before is that they talked abut raising the retirement age [for Social Security eligibility]."
Tressa, who has a married son and two grandchildren in Ohio, said the key issues for her in the upcoming election are the economy and national security. "If other countries see us as weak in our economy and in this bipartisanship that we can't act as a nation for the good of the nation, someone is going to take advantage of that," she said.
Tressa added that she's enjoying retirement -- "it's everything it's cracked up to be" -- but said the road hasn't always been easy. "We took care of ourselves. We worked hard, we sacrificed, we saved, we didn't think Medicare was going to be there -- that wasn't the safety net. It's nice that it's there, but we prepared. And we started out making $5,200 a year as teachers in Texas back in 1972, so we didn't have a whole lot. I'm an optimist ... I think middle America will come through."
REAL LIFE. REAL NEWS. REAL VOICES.
Help us tell more of the stories that matter from voices that too often remain unheard.
BEFORE YOU GO