AARP, the nation's largest seniors group, is launching a seven-figure television advertisement buy asking Republican senators in key states to vote against the Obamacare repeal legislation the House of Representatives passed earlier this month.
The ads are due to begin this week in the home states of Sens. Jeff Flake (Ariz.), Cory Gardner (Colo.), Dean Heller (Nev.), Lisa Murkowski (Alaska) and Dan Sullivan (Alaska). AARP plans to spend at least six figures on the ads in each of the four states where they air.
The senators AARP is targeting are all either moderate, or ― in the cases of Flake and Heller ― up for re-election in 2018. 
"Older Americans are very worried about the cost of their health insurance," AARP executive vice president Nancy LeaMond said in a statement announcing the ad buy. "AARP is taking a strong stand against the American Health Care Act for one simple reason: it is a bad bill." 
AARP, which represents 38 million Americans age 50 or older, is "urging Senators to scrap the AHCA and start over," LeaMond added.
AARP's 30-second ad focuses on two of the House bill's most controversial features: a waiver allowing states to opt out of federal regulations protecting people with pre-existing conditions, and an increase in the age rating that would allow people over 50 to be charged five times more than younger individuals. AARP has dubbed the latter provision an "age tax." Obamacare, by contrast, allowed insurers to charge people over 50 a maximum of three times more than younger people.
In the ad, an older couple named the Hutchinses learns how much these aspects of the law will cost them during a visit with their accountant at an office not too subtly named Ryan and Associates Financial & Tax Services.
Mr. Hutchins has asthma, which the accountant tells him is a pre-existing condition. "Insurers can charge thousands more for that," the accountant says. "This is going to be a big bill."
The ad concludes with a narrator telling viewers to call one of the five senators and tell them to vote "no on the health care bill."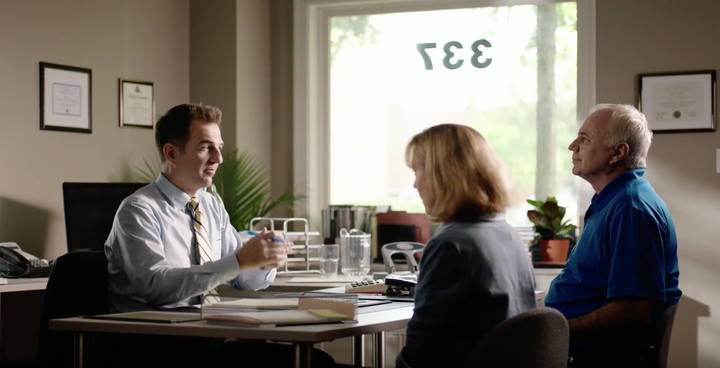 Along with the advertising campaign, AARP is also asking its members to call their senators to voice their opposition to the House bill.
AARP played an important role in making the Republican health care bill that passed the House politically radioactive. It launched internet ads featuring a talking squirrel that denounced the bill's provision permitting insurers to charge older Americans more.
The campaign AARP announced Wednesday, however, is the organization's first foray into paid television advertising over the Obamacare replacement bill, suggesting the influential group is increasingly worried that the legislation has a chance of passing into law.
Hours after AARP announced the ad campaign, the nonpartisan Congressional Budget Office released an updated estimate of the Republican bill's impact on health insurance coverage. The bill would result in 23 million fewer Americans having insurance, according to CBO.
Like most political advertisements, AARP's video elides some policy nuances. The House health care bill partially offsets the 5-to-1 age rating with tax credits to buy insurance on the exchanges; those credits increase as customers age. But AARP has argued the credits are inadequate to defray the potential cost increase for older Americans, since the credits max out at twice as large as those younger individuals receive.
In addition, the law would allow states to opt out of Obamacare's community rating regulations that obligate insurers to set premiums based on regional costs, rather than charge exorbitant amounts for pre-existing conditions. House Republicans tried to address these concerns by requiring states that waive these rules to set up high-risk pools to cover people with pre-existing conditions at rates they can afford. But conservative and liberal experts alike believe the funding in the bill is far too low to accommodate the cost of covering those people.
There are some early signs that AARP could get its wish that the Senate start from scratch. Almost immediately after the House passed its version of the law earlier this month, several Republican senators declared their intention to craft an entirely different law.
BEFORE YOU GO
PHOTO GALLERY
2017 Scenes From Congress & Capitol Hill