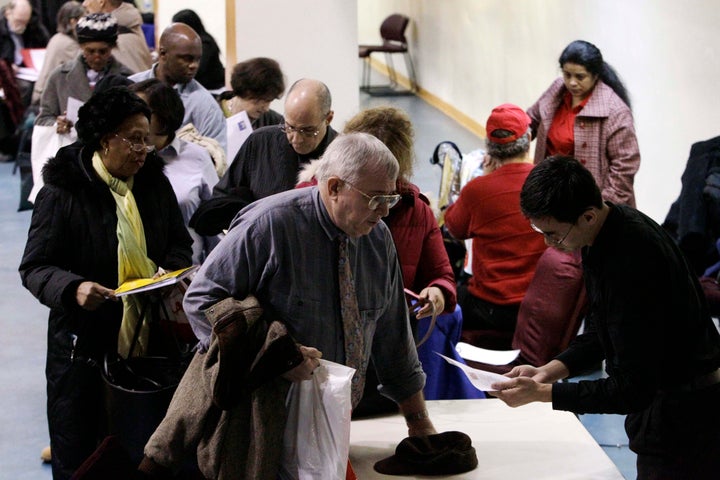 WASHINGTON -- Older workers are gloomier about the economy now than they were last year.
Nearly two thirds of workers older than 50 first surveyed by AARP's Public Policy Institute in 2010 said things had gotten worse by the time the senior lobbying powerhouse followed up in August. Fewer than one in 10 said their view of the economy had improved. The rest said things had stayed the same.
Of the more than 5,000 people surveyed last year, 16.7 percent said they were jobless. Nearly the same percentage said they were jobless when AARP caught up with 1,300 people from the original sample this summer.
The official unemployment rate for workers older than 55 is 6.7 percent, lower than the overall rate of 9.1 percent. But Labor Department data show older folks who lose their jobs tend to stay unemployed longer. While the overall average duration of joblessness was 38.6 weeks as of last month, for the 55-plus crowd it was slightly over one year.
An analysis by the Congressional Research Service found that older jobless are more than twice as likely as their younger counterparts to remain unemployed for 99 weeks or longer. Dozens of out-of-work older workers have told HuffPost they blame age discrimination for their predicament.
Savings worries are widespread. Sixty-one percent said their savings balances had declined since the start of the recession in December 2007. When they were first surveyed in 2010, nearly a quarter of respondents said they'd already used up all their savings.
AARP initially thought people's economic outlooks might have improved. After all, the economy has seen several quarters of (admittedly weak) growth since the recession technically ended halfway though 2009.
"When the decision was made to do a follow-up survey, the economy appeared to have been improving to such an extent that recession experiences almost seemed like old news," an AARP summary reads. "By the time we returned to the field, however, there were fears that another recession might be in the offing; the unemployment rate -- while below what it had been a year ago -- was still above 9 percent; average duration of unemployment was on the rise; and the stock market was fluctuating wildly. Older Americans in August 2011 were not very optimistic."
Eighty percent said they fear another recession in the next year; 31 percent are "very worried" about another downturn.
Click HERE to download a PDF of the AARP Public Policy Institute's data.
Related
Popular in the Community