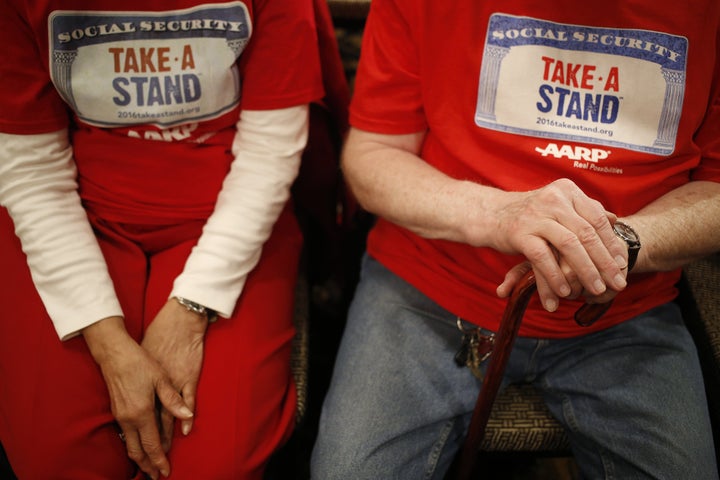 AARP defended itself Monday against criticism of its "Take A Stand" Social Security advocacy campaign, which has outraged progressives because it uses conservative scare tactics about the program and does not take a position against benefit cuts.
The blog post appeared to be in response to a Huffington Post report Sunday for which the group declined repeated requests for comment.
"Take A Stand" uses advertising, in-person activism and other tactics to demand that political candidates spell out their plans for closing Social Security's funding gap with as much detail as possible.
The chief liberal complaint about the campaign is that AARP's tone and language resemble the rhetoric of fiscal conservatives who try to convince the public that the program is in crisis to make cuts seem more palatable. Progressive retirement security advocates are also frustrated that the seniors group refuses to distinguish between reforms that cut benefits and those that do not. It has even given awards to Republican lawmakers who strongly back cutting benefits, such as House Speaker Paul Ryan (R-Wis.), who has backed privatization in the past.
Another critic, Eric Laursen, author of The People's Pension: The Struggle To Defend Social Security Since Reagan, told HuffPost on Sunday that he faulted AARP for not at least including concerns about the adequacy of current Social Security benefits in the context of the current retirement income deficit.
In spite of the evolution of the debate, AARP's "Take A Stand" campaign suggests it still views the program exclusively through the lens of financial solvency.

If AARP were concerned about retirement security overall, surely its ads would focus more on the adequacy of Social Security benefits and not just the program's solvency. A more constructive campaign from the seniors group, said Laursen, would ask politicians to both address Social Security's solvency and its increasingly vital role as a source of retirement income.

"There is a lot of evidence it needs to be conserved and expanded to serve the needs of the 21st century workforce, [which will be] retiring without the pensions of past generations," he said. "How do you balance those two objectives: to make it solvent and ensure it must do the job it is supposed to do?"
Jo Ann Jenkins, AARP's executive vice president and chief operating officer, responded to this charge directly in her blog post on Monday. In the post, "Putting Your Head in the Sand Rarely Solves a Problem — Especially One That Matters So Much to So Many," Jenkins argues that concern about the adequacy of Social Security benefits is in fact at the heart of "Take A Stand," since the across-the-board cut that will occur if Congress does nothing would hit vulnerable beneficiaries hardest.
Saying a lot of people will have a lot of skin in the game seems an apt if somewhat glib metaphor, except Social Security, a cornerstone of American life for more than 80 years, is not a game. For millions of people, it's a lifeline.

About 1 in 3 elderly Social Security recipients relies on Social Security for 90 percent or more of their income and, on average, more than half rely on it for 50 percent or more of their income.

So this issue is not merely about the solvency of Social Security, it's about adequacy, too. Put it this way, people who rely on Social Security to survive are usually doing just about that — surviving, getting by.
Reading the two passages alongside one another "simply added to an already obvious case that they were responding to [HuffPost]. No one else writes about them," said Frederick Lynch, a professor of government at Claremont McKenna College and author of One Nation Under AARP: The Fight Over Medicare, Social Security and America's Future.
But the fact that AARP responded does not mean it provided an effective rebuttal of its critics.
"I hope that AARP is concerned about the adequacy of Social Security benefits," said Alex Lawson, executive director of Social Security Works. "Unfortunately, giving Paul Ryan a 'champion' award, a man who is literally the architect of dismantling Social Security and Medicare, makes it look like they support a plan to cut benefits."
"I want AARP to 'take a stand' and make it clear they are not supporting politicians who would cut Social Security benefits like Paul Ryan," he added.
In addition, no one is claiming that failing to address Social Security's shortfall, which begins in 2034, would not cause enormous pain. Progressives simply maintain that there is little to gain in invoking the worst-case scenario since the gap can be closed relatively easily without cutting benefits.
In fact, liberal activists are willing to wait before reforming Social Security, because that way it will be harder for politicians to close the funding gap by cutting benefits. Lawmakers will be hesitant to enact cuts so soon before the shortfall date, the thinking goes, because it can deprive people of the time needed to plan accordingly. 
Jenkins' blog post also suggests there has been silence on the topic from major candidates. She claims "we're seemingly ignoring [Social Security's financial challenges] in the hope they will go away."
Hillary Clinton has a relatively detailed plan for reforming Social Security, calling for wealthier Americans to pay more into the program in order to finance benefit increases and close the funding gap. Nearly every Democrat in Congress has come out in favor of similar proposals to expand the program, specifically by lifting the cap on earnings taxed for Social Security. (In 2017, Americans will not have to pay into Social Security on earnings above $126,000.)
Donald Trump has offered fewer specifics, but claims he would avoid cutting the program by rooting out fraud. (Overpayments are extremely rare, so cracking down on them would likely yield little money.)
He has said in the past, however, that he backs cutting the program but believes politicians should not discuss their plans to do so if they want to win elections.
Calling all HuffPost superfans!
Sign up for membership to become a founding member and help shape HuffPost's next chapter
BEFORE YOU GO