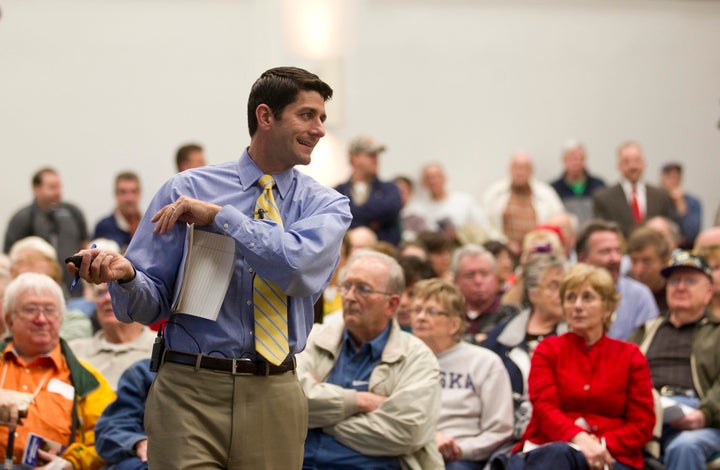 WASHINGTON -- Maybe the government should cut funding for treadmills for shrimp and poetry in zoos before hacking away at Medicare or Social Security, the influential lobby for older Americans, AARP, is arguing in a new national TV ad released Thursday.
With Congress and the White House locked in intense negotiations over spending cuts and the nation's looming debt limit, the multimillion-dollar ad buy marks AARP's second major campaign aimed at derailing proposals to cut and privatize Medicare and Social Security.
AARP had been relatively quiet when House Budget Committee Chairman Rep. Paul Ryan (R-Wis.) first released his proposal in the spring that included a spending plan that replaces Medicare with a private system the nonpartisan Congressional Budget Office found would nearly double costs for seniors over 10 years.
Democrats had worried that AARP was standing on the sidelines, but sources familiar with the influential lobby say it didn't think the Ryan plan could pass.
The fact that it has made its second expensive ad buy suggests it is much more worried now that some of the Ryan ideas could be adopted in the high-pressure budget negotiations being conducted on Capitol Hill. That pressure will only rise as negotiations near Aug. 2, the date by which Treasury Secretary Tim Geithner has warned the country must hike its $14.3 trillion borrowing cap or face default.
"While some members of Congress are considering making changes to Medicare's structure, what few people realize is that some proposals being discussed behind closed doors include harmful cuts to the critical Medicare and Social Security benefits that are lifelines for millions of today's seniors," said AARP's Nancy LeaMond.
The new ad takes a more mocking tone thanAARP's first spot, pointing to several questionable programs funded by Congress over the last few years, including a cotton institute in Brazil, treadmills for shrimp and poetry in zoos.
Those efforts likely don't amount to much in the greater federal budget, but the point is clear.
"Instead of cutting waste, or closing tax loopholes, next month Congress could make a deal that cuts Medicare, even Social Security," says the ad script. "I guess it's easier to cut the benefits we earned -- than to cut pickle technology."
AARP has also mounted a broader lobbying effort that includes a petition that it says has been signed by nearly 1.5 million people, and a campaign that has generated almost 260,000 phones calls and emails to members of Congress.
LeaMond says the new ad "will put Congress on notice that AARP will fight with the strength of our millions of members to prevent harmful cuts to Medicare and Social Security from being included in any deal to pay the nation's bills."

Popular in the Community