"Older Americans care deeply about access to and affordability of health care," AARP Executive Vice President Nancy LeaMond said in a statement Tuesday. "They need and deserve affordable premiums, lower out of pocket costs, and coverage they can count on as they age. The Better Care Reconciliation Act (BCRA) does not achieve these goals."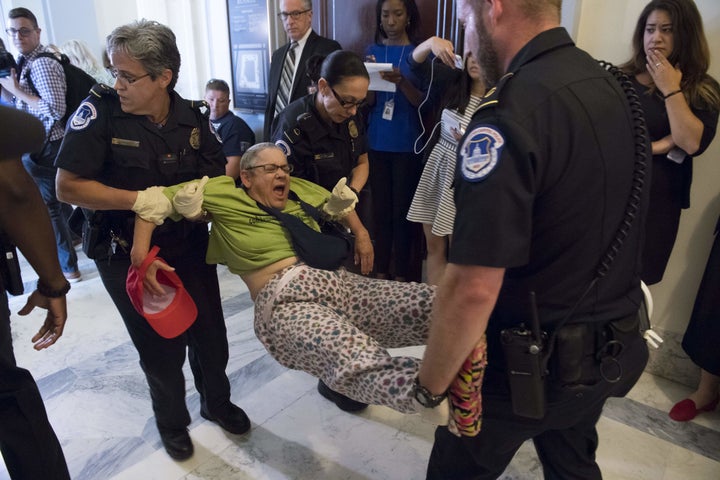 LeaMond said premiums and out-of-pocket costs for people ages 50 to 64 purchasing their own insurance "would skyrocket." Millions more seniors with disabilities would be at risk of losing Medicaid coverage, according to AARP, and states, along with state taxpayers, would be stuck paying high costs for health coverage without federal support.
"Most states are not in a position to adequately respond to this shortfall of funds, so these changes would result in cuts to program eligibility, services, or both ― ultimately harming some of our nation's most vulnerable citizens," LeaMond said.
On Monday night, Sen. Susan Collins (R-Maine) said she would join Sen. Dean Heller (R-Nev.) in opposing the bill. Other GOP senators, including Rand Paul (Ky.), have called the bill "terrible."
"It's worse to pass a bad bill than to pass no bill," Paul said. "2018 is going to roll around and people are going to ask themselves, 'Are my premiums lower?' And they're going to find out, 'You know what, my premiums still went up 25 percent.'"
Every Senate Democrat has condemned the legislation, which needs 50 votes to pass. With 52 Republicans in the Senate, the bill can only afford to lose three Republican votes. Senate Majority Leader Mitch McConnell (R-Ky.), who had hoped to have a vote as early as Thursday, announced Tuesday that he would delay the vote until after the July Fourth recess.
"We urge you to vote NO on the Better Care Reconciliation Act and ask that you instead craft health care legislation that ensures a robust insurance market with needed consumer protections, controls costs, improves quality, and provides affordable coverage to all Americans," LeaMond said in AARP's letter.