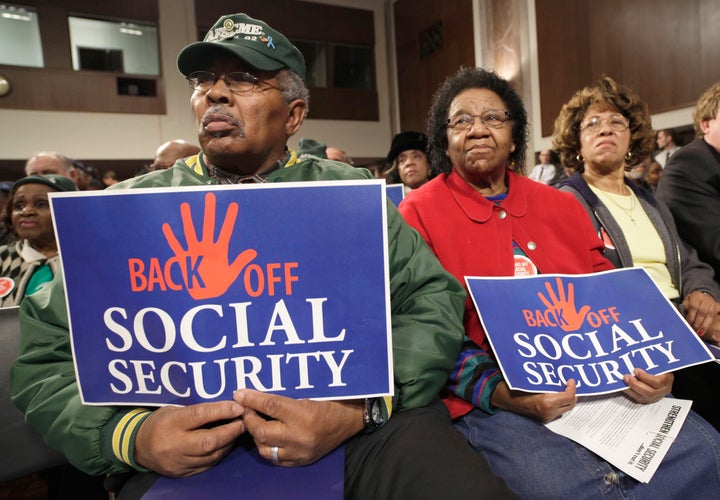 WASHINGTON -- For defenders of the Social Security Act's old-age retirement insurance program, news that the most powerful lobbying force for older Americans had softened its opposition to benefit cuts could not have come at a worse time.
In the midst of Vice President Joe Biden's negotiations with members of Congress about a deal to cut the federal budget in exchange for raising the debt ceiling to avoid a U.S. government default, the Wall Street Journal reported Friday that AARP "is dropping its longstanding opposition to cutting Social Security benefits."
"The timing is very destructive," Nancy Altman, co-director of the Strengthen Social Security Campaign, said in response to the story. "We all know the news is full of the Biden group meetings, and even though they say they don't want [Social Security] to be part of the deficit discussions and raising the debt limit, that's the impact it will have."
Now in damage control mode, AARP says it is completely against including cuts to Social Security benefits in the budget talks.
"We had a pretty big concern that Wall Street Journal article came out at the time it did," AARP legislative policy director David Certner told HuffPost on Tuesday. "The fact that they dropped it at this time gave the suggestion we were somehow open to having Social Security as part of this deficit debate."
While AARP says it is adamantly opposed to having Social Security in the debt ceiling discussion, the group is open to separate negotiations on changes in things like the retirement age or the formula for calculating benefits to maintain the long-term solvency of the Social Security trust fund. Such changes are tantamount to benefit cuts if they reduce the total amount retirees receive.
The $2.6 trillion Social Security trust fund is on pace to run out of money in 2036, at which point incoming payroll contributions will only be able to pay 77 percent of promised benefits. As of April, 35 million seniors received Social Security retirement benefits averaging $1,179 a month, according to the program's latest monthly snapshot.
President Barack Obama dipped his toe into the Social Security solvency debate in 2010 when he created the bipartisan National Commission on Fiscal Responsibility and Reform, which released a proposal in December that called for tweaking Social Security's benefit formula and raising the retirement age. "Reform Social Security for its own sake, and not for deficit reduction," the commission said in its recommendations.
AARP says it is willing to negotiate possible benefit cuts, so long as they are not tied to the larger debt reduction negotiations -- and that it has always been open to reducing benefits. This came as a shock to several other Social Security advocates. Alliance for Retired Americans Executive Director Ed Coyle said if AARP had been open to cuts all along, "to me, that's news."
As evidence, a spokeswoman sent HuffPost a 2005 memo about the need to "strengthen" Social Security. "Whether it involves changes to benefits, to revenue or some combination of both, we must meet the needs of all Americans," the memo said. (It would be possible to eliminate the program's future shortfalls solely by lifting the $106,800 cap on taxable wages, but revenue-only fix is unpopular with politicians.)
Though Social Security has received less attention than Medicare and Medicaid in the ongoing debt limit negotiations, there are budget-cutting proposals from various members of Congress that could affect Social Security.
"We still have all these proposed caps and triggers out there, which probably won't include Social Security because they usually understand that Social Security is a separate program, separately financed," Certner said, referring to the fact that Social Security is paid for out of the trust fund, not the federal budget. "But not all of the proposals out there do exclude Social Security, for instance the CAP Act."
"So there's still the potential Social Security could be included in these arbitrary triggers," he added.
The CAP Act by Sen. Claire McCaskill (D-Mo.) and Sen. Bob Corker (R-Tenn.) would both institute a limit on all federal spending and "eliminate the deceptive 'off-budget' distinction for Social Security," as their statement announcing the bill described it.
Sen. Kay Bailey Hutchison (R-Texas) has also crafted a proposal that makes cuts to the program. "It is my hope that Social Security is included in the bipartisan discussions on raising the debt ceiling, as it is an opportunity to fix this important entitlement for seventy-five years rather than just focusing on a short-term band aid," she said in a statement hailing AARP's apparently new position.