AARP is headed to Capitol Hill today on a very serious mission. On behalf of our 38 million members – and all older Americans – our volunteers and staff from all 50 states, the District of Columbia, Puerto Rico, and the U.S. Virgin Islands are fanning out to talk to members of Congress about health care.
Our message is simple: The American Health Care Act (AHCA) is a deeply flawed bill, and the Senate should start over.
Older Americans need affordable insurance, health care services, and prescriptions. They are worried about paying their bills while they try to save for retirement – or that out-of-pocket healthcare costs are taking too big of a bite out of their incomes. The bill passed by the House of Representative in May goes in the wrong direction, increasing insurance premiums for older Americans while doing nothing to lower the skyrocketing cost of prescription drugs.
Americans between the ages of 50 and 64 buying insurance on the individual market are among the hardest hit by changes proposed in the House bill. They are already paying up to three times more than everyone else for the same insurance coverage. Under the AHCA, insurance companies would be allowed to charge them even more – as much as five times what others pay.
And, to make matters worse, the tax credits offered by the House bill are significantly lower than what is currently available to help low- to moderate-income families offset their out-of-pocket insurance costs.
The combined effect is an age tax that would be devastating to families whose budgets are already stretched to the brink. We've done the math. Some older Americans would be looking at premium hikes of $13,000 per year. That's more than half of the median income for people ages 50 to 64 years old.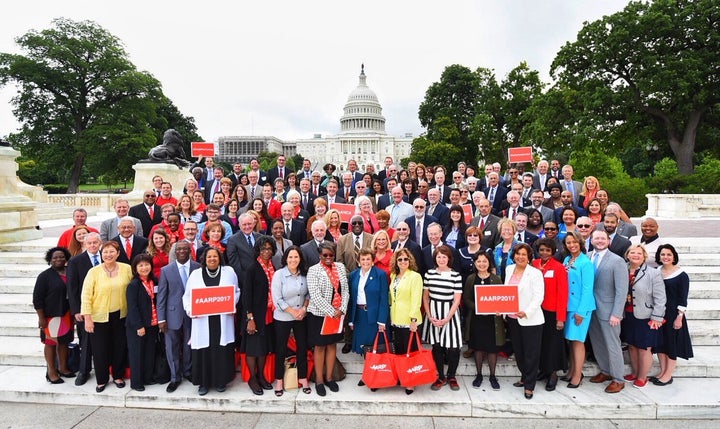 Insurance premiums could go even higher for the 40 percent of older Americans who have a pre-existing condition. For them, the AHCA takes a giant step backwards allowing states to strip protections for people with cancer, diabetes, heart disease or other conditions. If the Senate keeps this provision, insurance companies could once again be allowed to push prices out of reach for millions, effectively leaving them with no coverage at all. The funding set aside in the AHCA to help cover these Americans is simply not enough. The Congressional Budget Office, in its analysis, was very clear on this point: "People who are less healthy (including those with preexisting or newly acquired medical conditions) would ultimately be unable to purchase comprehensive non-group health insurance at premiums comparable to those under current law, if they could purchase it at all — despite the additional funding that would be available under (the AHCA) to help reduce premiums."
As we talk to Senators and House members this week, we are urging them to think about their constituents and consider the true cost of health care reform for them and their families. We hear these stories every day: The 55-year-old man with diabetes who struggles to afford medication that will save his sight; the 60-year-old woman who beat cancer, but lost her health insurance along with her job. These folks and millions like them across the county are terrified of changes that will leave them stranded, unable to afford the care they need for themselves or their families.
We will also be urging our elected officials to rethink the flawed legislation's capped financing structure for Medicaid that would cut $839 billion – nearly 25 percent – from the program over ten years. Both per capita cap and block grant financing would likely shift significant costs to states, state taxpayers, and families. The approach could lead to cuts in provider payments, program eligibility, and services – ultimately harming some of our nation's most vulnerable citizens.
The goal needs to be making insurance – and health care services – more affordable, not less. The AHCA does not meet this test.
The best path forward for the Senate is to start over. The current health care system certainly isn't perfect. There is a lot of room for improvement. But, we must not go backwards.
At AARP, we will keep fighting to protect older Americans from unfair premium increases, maintain safeguards for people with pre-existing conditions, preserve the promise of Medicare, and the safety net that Medicaid provides to those most in need. We urge the Senate to craft a health care bill that protects families, controls cost, improves quality, and provides affordable coverage to all Americans.
Popular in the Community