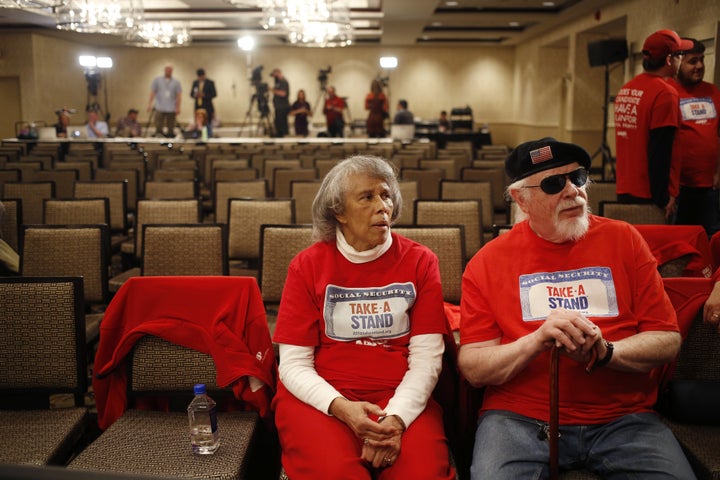 AARP announced on Thursday that it plans to let its membership in a controversial conservative group expire at the end of the year, a clear response to mounting pressure from its members and progressive organizations.
AARP is one of many organizations that sponsor the American Legislative Exchange Council, a powerful corporate-backed lobbying group focused on influencing state-level legislation.
Almost immediately, a number of liberal groups and labor unions, including Social Security Works, the American Federations of State, County and Municipal Employees, and ClimateTruth.org, launched a public campaign to get AARP to cut its ties to ALEC. They argued that AARP's involvement with ALEC contradicted its mission to represent older Americans, since ALEC has taken many positions that are harmful to seniors.
ALEC has supported privatizing Social Security in the past, opposes the expansion of Medicaid as part of the Affordable Care Act and has helped pass voter identification laws that often disenfranchise senior citizens, the groups noted.
The progressive organizations, many of which are longstanding critics of ALEC, sent AARP a strongly-worded letter urging it to withdraw from the group and began an online petition campaign to pressure AARP to do so. Social Security Works told activists in an email blast that the petition had received over 53,000 signatures within 24 hours.
"After hearing from many of you, we've decided not to renew our membership to ALEC," AARP wrote in a message posted on its Facebook page early Friday morning. "We would never work against the interests of older Americans and our engagement with ALEC was NOT an endorsement of the organization's policies, but an opportunity to engage with state legislators and advance our members' priorities."
AARP, unlike ALEC, opposes Social Security privatization and was a key backer of the Affordable Care Act health care reform law.
"We will not renew our membership to ALEC. AARP will continue to explore avenues that will enhance our interaction with organizations and elected officials that represent different perspectives in order to further the issues important to Americans 50+ and their families," AARP said in a statement.
ALEC did not immediately respond to The Huffington Post's request for comment.
"After a huge uproar from its members, we are very pleased that AARP is doing the right thing and cutting all ties with the anti-senior ALEC."
AARP had been sending staff to ALEC's annual meeting since 2014 and paid a membership fee starting this year, according to sources familiar with the matter. AARP claimed it hoped its membership would grant it access to state lawmakers.
Although AARP's financial support for ALEC was likely insignificant, progressive groups worried that AARP's imprimatur lent considerable credibility to a group that would otherwise have a deeply contentious reputation.
The organizations also found it inconceivable that AARP somehow needed ALEC to gain access to lawmakers. AARP is widely viewed as one of the most powerful public interest groups in the country, with over 37 million members over the age of 50.
While ALEC is technically an educational nonprofit, it functions as a powerful public policy lobbying group that drafts numerous pieces of model legislation for state lawmakers. In addition to membership dues, corporations often pay ALEC to write and advance specific kinds of laws that benefit their bottom line.
ALEC's influence is sometimes comically apparent in conservative state-level legislation. A Florida lawmaker forgot to remove ALEC's mission statement from a November 2011 resolution calling on the federal government to reduce corporate taxes.
Stand Up to ALEC, a coalition of labor unions, environmental groups and other progressive organizations, have successfully urged many major corporations to leave ALEC in response to the controversial policies the group supports.
In recent years, 19 nonprofits and 108 corporations, including Microsoft, Google, Yahoo and Coca-Cola, have withdrawn from ALEC, according to the Center for Media and Democracy.
The corporate exodus from the organization picked up in earnest after the killing of unarmed black teenager Trayvon Martin in 2012. ALEC was promoting so-called stand your ground legislation, similar to the law in Florida that allowed George Zimmerman, a civilian, to legally kill Martin because he allegedly felt threatened.
ALEC has also come under fire for providing a forum for climate change deniers. It is an active opponent of the Obama administration's Clean Power Plan, the initiative aimed at reducing power plants' greenhouse gas emissions.
Google Executive Chairman Eric Schmidt cited ALEC's work against climate change action when announcing the decision to leave ALEC in September 2014. In ripping remarks, Schmidt claimed that when it came to climate change, ALEC was "literally just lying."
Social Security Works, an organization that is fighting to expand Social Security, celebrated AARP's decision to allow its membership in ALEC to expire.
"After a huge uproar from its members, we are very pleased that AARP is doing the right thing and cutting all ties with the anti-senior ALEC," said Linda Benesch, Social Security Works' communications director.
Although AARP's decision to withdraw from ALEC has quieted its critics for now, it is likely to raise questions about the organization's policy agenda. AARP's involvement in ALEC is the second major instance this year in which it provoked the ire of progressive groups.
AARP's "Take A Stand" initiative, launched in November, mobilizes its members to ask presidential candidates to elaborate on how they plan to reform Social Security to close its long-term funding shortfall.
The campaign does not distinguish, however, between plans that boost Social Security's finances by cutting benefits and those that do not.
Maya Rockeymoore, president of Global Policy Solutions, a progressive think tank, was one of the prominent liberal policy experts who publicly criticized AARP for its neutrality in February.
"There is no question where AARP should stand: on the side of older adults trying to make ends meet. And their policy prescriptions should reflect that," Rockeymoore said at the time.
This story has been updated with a statement from AARP.
Popular in the Community