Aasif Mandvi left his role as a correspondent on "The Daily Show" in 2015, but the comedian certainly hasn't stopped raising his voice against oppression and hypocrisy.
Since Donald Trump's election win, Mandvi has been especially open with his criticisms and has used his celebrity platform to raise awareness for causes of resistance. 
"As an immigrant myself, it's a no-brainer for me to get involved with this kind of stuff," Mandvi said. "I think we're all sort of sitting around feeling like we want to do something."
Right now, it's more important than it's ever been.

Aasif Mandvi
Along with making an appearance during the celebrity-filled livestream "Stand for Rights" to benefit the American Civil Liberties Union Friday, Mandvi is also hosting a benefit to support the non-profit organization on April 26 at the City Winery in New York City. (Note: "Stand for Rights" is being held in partnership with The Huffington Post and Funny or Die.) That second event, "All Star Deportation Jamboree," will similarly feature celebrities, but will also raise money for the International Rescue Committee.
"The ACLU is doing the thankless job of defending the rights of people that have been deported, of immigrants," Mandvi said. "And this work is so necessary right now and it's so important. These people are sort of on the front lines of fighting for the victims of these deportations and Trump's policy around immigrants.
Amid protests against travel bans, the ACLU has recently earned more attention and donations than is typical for the organization, raising $24 million in a single January weekend. At the Oscars in February, many nominees wore blue ribbons to support the non-profit.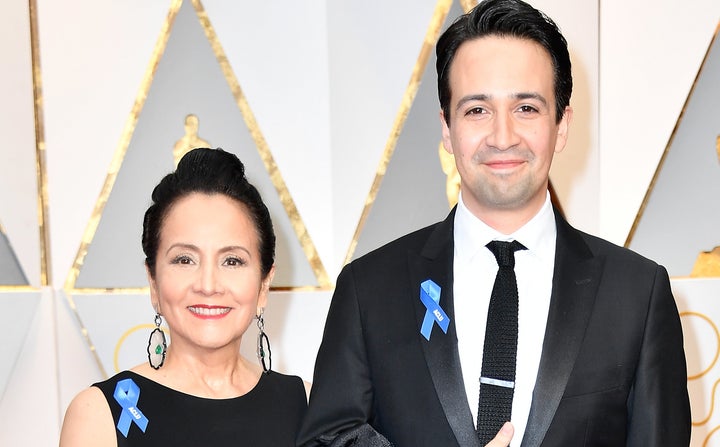 Mandvi told Variety in January that he believes protests will keep happening to resist Trump. When asked whether he feels his upcoming events are a part of that movement of protest, Mandvi responded, "I think it's less about Trump personally as it is about, giving these people the tools and the money that they need in order to do their job effectively."
For his event at City Winery, Mandvi said that he extended an invitation to the president.
"We actually invited him. He's not going to come. But I would love him to. I'll tweet out at him."
After the election, Mandvi wrote a New York Times op-ed expressing his frustration that the president was attacking groups such as artists and journalists rather than hate groups.
"My op-ed that I wrote for The New York Times is really about how the anger and outrage that he seems to have for 'SNL' and the cast of 'Hamilton' and, you know, a ninth grader somewhere that tweets something about him or whatever," Mandvi said. "That outrage could be directed at actual Nazis and hate groups. I was sort of making the point that there doesn't seem to be the equal level of outrage against actual people who are perpetrating prejudice or racism and hatred."
In Mandvi's view, the events he's a part of aren't so much about opposing any political figure as they are about raising support for the "organizations that are fighting for [people's] rights."
"Ultimately this is going to come down to, like, who can fight the hardest," he said.
You can support the ACLU right away. Text POWER to 20222 to give $10 to the ACLU. The ACLU will call you to explain other actions you can take to help. Visit www.hmgf.org/t for terms.
Calling all HuffPost superfans!
Sign up for membership to become a founding member and help shape HuffPost's next chapter
BEFORE YOU GO
PHOTO GALLERY
ACLU Ribbons Red Carpet