After watching Aasif Mandvi's segment on Thursday's "Daily Show," two things are clear: 1) America has the greatest healthcare system in the world (if 37th place is considered the greatest), and 2) some people shouldn't do interviews with "Daily Show" correspondents.
Case in point, "Fox Business" commentator and NYSE Euronext Managing Director Todd Wilemon has a couple of jaw-dropping moments in this interview about "third world" healthcare conditions in Knoxville, Tennessee, not the least of which is his statement right at the end: "If you're poor, stop being poor."
Watch the clip above, and keep an eye out for one of the more awkward pauses in "Daily Show" history.
This story has been updated to include Wilemon's position at NYSE Euronext.
Related
Before You Go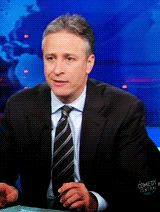 Jon Stewart GIFs
Popular in the Community