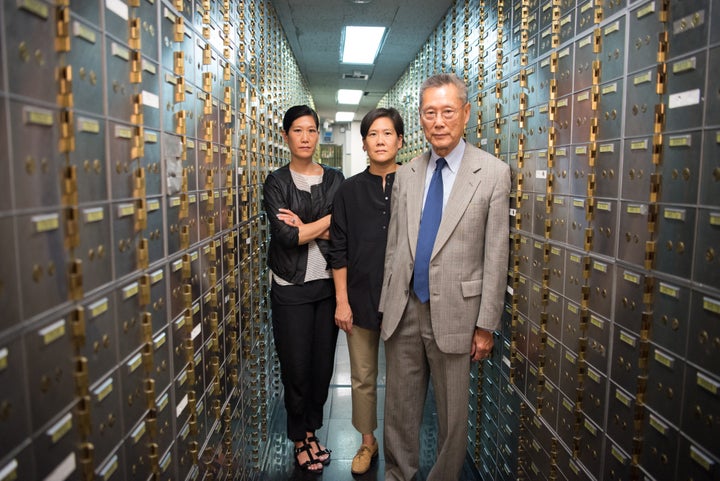 A two-part Q&A with President & CEO of Abacus Federal Savings Bank Jill Sung and Director Steve James (Hoop Dreams, The Interrupters, Life Itself) about the new documentary Abacus: Small Enough to Jail. The movie chronicles the saga and five-year legal battle of The Sung Family, owners of Abacus Federal Savings of Chinatown, New York-- which was accused of mortgage fraud by Manhattan District Attorney Cyrus R. Vance, Jr., and the only U.S. bank to face criminal charges in the wake of the 2008 financial crisis. The indictment and subsequent trial forced the Sung family to defend themselves – and their bank's legacy in the Chinatown community. The movie premieres theatrically in Los Angeles, Friday, June 9 at Landmark Nuart Theatre.
As lawyers, and as owners of a small bank singled out for mortgage fraud in the 2008 financial crisis, do you have advice for people who are experiencing or will experience unfair harassment, particularly under a more hostile environment for ethnic communities under the Trump administration?
Jill Sung: As a community, we need to know and exercise our rights. Once we do, we will recognize immediately when we are being wronged and address it head on. Unless we take action and face a bully, the bully will continue to bully. Taking a stand against injustice is very difficult, but we have a responsibility as individuals and as a community to take that stand, no matter how small or large that stand may be.
Many journalists and activists were quick to attribute the prosecution of Abacus Federal Savings Bank to institutional aggression toward ethnic communities. Do you think race was a significant influence in the singling out of Abacus, or do you feel these connections are for the most part inaccurate?
We believe that racism and cultural bias played a key role in the prosecution. The DA Office's perception of the Chinese American community as passives underlined not only their decision to pursue our Bank, but also the means and methods in which they pursued the case.
Instead of protecting the vulnerable, the DA's Office preyed upon this immigrant community's legitimate fear of government and used this fear to build a bogus case. An example of this was their extremely aggressive interrogation techniques on former employees and Bank customers. We heard many stories of how these people were woken up as early as 6AM in the morning with loud banging on their doors by DA's Office investigators and forcefully "asked" to come to the DA's Office for interrogation.
During trial preparation, the DA's Office was required to submit a tape recording of one of their investigators interrogating one of the indicted employees, threatening her with her immigration status and separation from her grandchildren, despite her denying over and over again of any wrongdoing.
One of our sage friends puts it more bluntly - the question for the DA's Office is: did you treat us in the same way you treated non-minority banks, and what about those large banks who even admitted they committed crimes?
Were there any positives your family gained from this prolonged, burdensome ordeal-- even after Chanterelle, who was working as Assistant District Attorney, became disillusioned with how the office handled your family's case and resigned?
Yes. Chanterelle has had many meaningful conversations with prosecutors and defense attorneys who appreciate learning about the experience she went through. She sees this is as a wake-up call to those who work for our criminal justice system. Instead of diminishing our strength as a family and as an institution, the DA's Office has achieved the exact opposite. We have come away from this closer together as a family and stronger as an institution. It is now all of our responsibility to ensure that cases like this unites and strengthens us as a community.
With Abacus's deep history in New York's Chinatown, what are your thoughts on gentrification and the health and trajectory of New York's Chinese American community?
We believe that our community has achieved a lot of successes and we should be very proud of all our collective achievements. Progress comes at different rates for various parts of our community. We agree that it is important to remember that true progress is defined not only by how we as individuals are doing, but by how we treat each other and how society treats us as a community.
How do you feel about how the movie depicted your family and situation? Is there anything you wish was shown differently?
One of the most humbling comments we have heard from a number of people is that they walk away from the film feeling inspired by our family's strength. To this end, we are extremely grateful to the filmmakers for capturing this family sentiment. Integrity and honesty have always been of utmost importance in our family. These values and principles guide us in our lives and life decisions. They are also the same values that must be espoused by any good prosecutor. Without these values, it becomes far too easy for a prosecutor to abuse his or her discretion and end up destroying innocent lives.
Any additional thoughts you'd like to share?
Although we have gone through a lot, we also have a lot to be grateful for. We are profoundly grateful and humbled that this documentary was made. The film has restored our faith and hope that through this experience, we may be able to help society learn from mistakes, prevent similar situations from occurring, and seek positive change. It has given us the ability to share this story with far more people than we had ever hoped or imagined. We have to remember that we are all part of a community. We must actively get involved to improve our community, whether it be joining the local neighborhood association, community board, etc., or opening up our pocketbooks and buying from our local grocery stores, hardware stores, bakery, clothing store, or banking at a local community bank. We are truly appreciative to Steve James, Mark Mitten, and the entire film team for making this documentary.
Was your approach in documenting for Abacus-- a story set in Chinatown--in any way different from how you approached documenting in your previous works?
Steve James: My approach had definite similarities to past works, but also some differences. This is not uncommon for me, because I've tried my hand at telling different kinds of documentary stories. With Abacus, we were able to follow the Sung family in cinéma vérité fashion through the months long ordeal of the trial. But since we couldn't have access to the courtroom, we had to find creative ways to dramatize the trial itself. Because the film is also a courtroom drama of sorts. This was done through illustrations and reenactments, something I've not done before. I believe in utilizing whatever approach I feel best allows me to tell the story.
Did your impression or perceptions of Chinatown as a neighborhood/community change as you made this film?
Going into making this film, I'd not spent hardly any time in Chinatown, beyond going to a restaurant or walking the streets like a tourist. My knowledge of the community was embarrassingly shallow. So making this film was a major education in coming to understand the community in some ways. I have a long way to go, but the Sung family helped me gain an appreciation for how hard-working, close, and politically disenfranchised the community is.
What are some of the most touching or most surprising reactions you have gotten from audiences now that Abacus has made the film festival circuit and has now been released widely?
This has been a very rewarding film to see with audiences. I can feel their anxiety and empathy with the Sungs as they watch them navigate this difficult trial. There is much anger at the NY District Attorney's office, on behalf of the Sungs. And there is much laughter - something unexpected audiences coming to a film about a financial fraud case. The Sungs are such a close, funny and unguarded family, and audiences really connect with them. And that's surprising too for mainstream audiences who have little experience with the lives of Chinese-American families.
Has the District Attorney commented on the situation after Abacus's successful screenings across the country? Do you think the D.A. will change how they handle cases now knowing they might be scrutinized, or do they seem to not care very much about their public image?
I have no real idea what impact, if any that the film will have on the D.A.'s office. I don't even know if they've seen the film (we invited them to the NY premiere.) I would like to think that the film gives them pause, and makes them think about the decisions they made in going after Abacus. But I could easily see them feeling exactly like they felt in the film: that they were right in bringing the case and have little empathy for what they put this family and their bank through.
What is the best way for people to fight injustices of the kind that you've documented?
I'm just a filmmaker, and not equipped to answer this question. However, I do think that the only way to effectively fight injustice is to not buckle under to the State when one is the target. Easier said then done. Because the great majority of people who are victimized by the justice system are poor--unlike the Sungs--and incapable of effectively defending themselves. That puts greater responsibility on those who can fight back, be they courageous family's like the Sungs, or filmmakers and journalists calling attention these stories in a way that might lead to policy changes.
Interviews were edited and condensed. This article is cross-published in Alhambra Source.
Popular in the Community