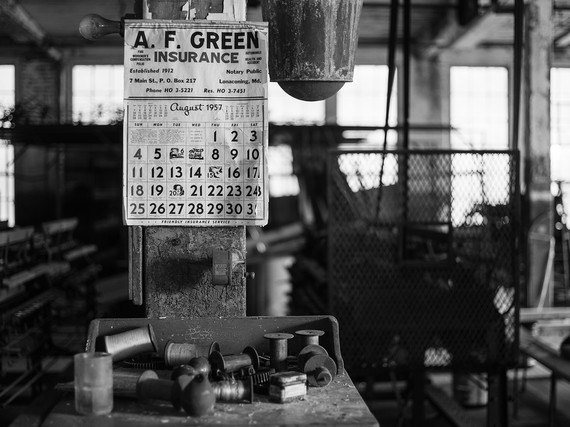 In the summer of 1957, the employees of the Klotz Throwing Factory in Lonaconing, Maryland went home on a Friday afternoon and when they returned to the silk mill on Monday, the doors were locked -- the building and everything inside it had been sold.
Whatever plans the new owner had for the mill never materialized. The silk industry, like many other American textile concerns, found that labor and costs were a lot cheaper overseas.
Today, 58 years later, most everything in the abandoned silk mill is in the same place as it was when the workers left for the last time, albeit in a decaying, decrepit state. These days, the only people who visit the mill are photographers who come from all over the country to the far northwestern corner of Maryland, to enter what, for all intents and purposes, is a 48,000 square-foot time capsule.
Papers are spread across a table in the basement with handwritten notes detailing deliveries and inventory. A yellowed newspaper advertises picnic hams at the local grocery store for 47 cents a pound. Shoes and umbrellas stored in cubby holes are still there waiting for workers who will never return. Stacks of empty wooden spools are everywhere.
I spent four hours in the mill last weekend and it wasn't nearly enough time. Everywhere I turned, there was something waiting to be photographed.
Chances are it won't be like that for too much longer. In truth, the silk mill has probably already cheated fate by at least a couple decades. Parts of the floor in the three-level brick building are buckling, the roof is failing in several places. Buckets to catch rainwater are everywhere. It's anyone's guess whether the roof will last another winter. And when the roof goes, well, the rest of the mill won't be far behind.
"It was just one of those things."
Herb Crawford, who has lived in the Lonaconing area all his life, has owned the old silk mill for 40 years. He made a huge investment to buy the abandoned building because he had been convinced that there were business interests that wanted to open a shirt factory there. That didn't happen. In fact, the man who sold the mill to Crawford went to jail on swindling charges.
Despite his misfortune, Crawford, who is in his 80s, holds no grudges.
"I was never bitter about it," said the retired high school auto body instructor. "It was just one of those things."
For most of the time that he has owned the building, he kept it locked up. Then, about 10 years ago, he started allowing photographers to have free run of the place in exchange for a donation. Some months, he can raise a few thousand dollars. Other months, just a few photographers make their way out to Lonaconing, about a two hour and 45 minute drive west of Washington, D.C.. Crawford says he has about $18,000 saved up in his "mill" account, nowhere near what he needs to fix the roof, which could cost a couple hundred thousand dollars.
Protecting the irreplaceable
Years ago, Crawford says some officials with Preservation Maryland, whose mission is "protecting the irreplaceable," visited the mill and told him that the site deserved to be preserved. Crawford isn't holding his breath waiting for them to show up with money.
Crawford doesn't know how much longer he can hold on to the building. He's had offers from salvagers interested in some of the mill's contents. Someone offered to buy the vintage fire buckets that hang along posts in the mill but he turned the guy away.
"If I let them have this stuff, you guys wouldn't have anything to photograph," Crawford says.
Many of those who have toured and photographed the mill, which is the last intact silk mill left in America, feel strongly about trying to save the site. There's even a Facebook community called "SAVE Lonaconing Silk Mill."
Photographer A.D. Wheeler, who is known for his photographs of abandoned sites, has visited the silk mill a few times, including organizing the group outing I attended last weekend (to see Wheeler's photos from the mill, click here).
Wheeler says it's remarkable that Crawford has been able to safeguard the building from vandals, scrappers and scavengers. Usually, when photographs of an abandoned site get published, the graffiti artists and vandals show up within six months, he said.  Wheeler, an instructor with the virtual photography academy known as the Arcanum, has done a lot to spread the word about the mill and the need to save it.
"I think the loss of yet another amazing historic piece like the mill is sad and tragic," Wheeler says. "These old buildings themselves are works of art -- worth the extra investment, not only for the history, but for the long-term return on them. I cannot understand how people have such a hard time seeing this.
"If it goes, it will be a damn shame -- a huge failure, and a great disservice to Herb Crawford and his 40 years of service to this historic site."
If you're interested in visiting the Lonaconing silk mill, call Herb Crawford at (301) 268-1168.
Featured image via Joe Newman.
Calling all HuffPost superfans!
Sign up for membership to become a founding member and help shape HuffPost's next chapter