SAO PAULO ― A 26-story abandoned office building occupied by about 150 squatters was engulfed in flames and collapsed in the center of Sao Paulo early Tuesday, shooting a massive black cloud of smoke into the sky and red-hot chunks of debris into nearby structures.
At least one person died and three others were missing, authorities said.
Live television images showed a firefighter on an adjacent rooftop talking to a man clinging to a rescue rope and trying to escape from the upper part of the burning building.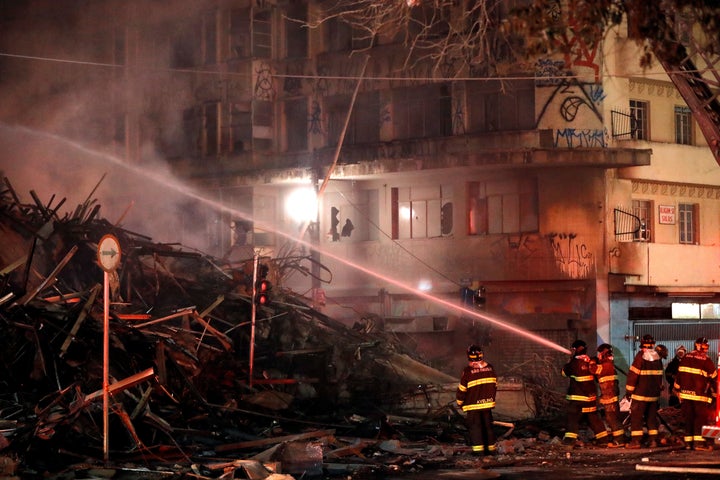 Suddenly, the structure collapsed and the man disappeared into the rubble. Authorities said he likely died, but were searching for him. Firefighters continued trying to fully extinguish the flames amid the debris of concrete chunks and twisted metal pipes.
An adjacent building caught fire, but was evacuated and no one was injured. That blaze was brought under control relatively quickly, Sao Paulo Fire Brigade Lieutenant André Elias told Globo TV.
The cause of the fire was unknown and there could be more victims, Elias said. Three people were unaccounted for, he said.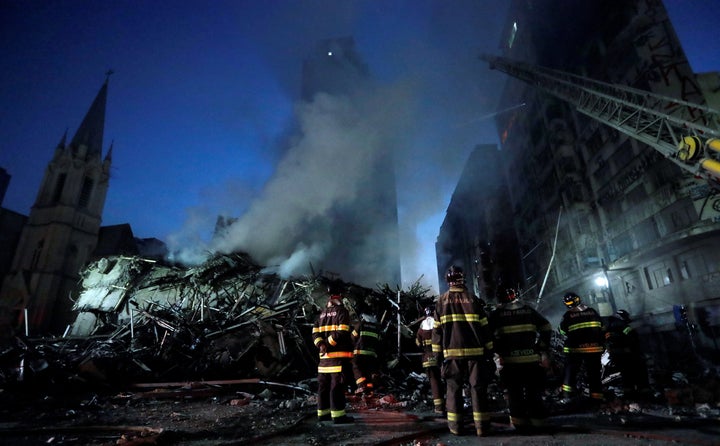 The abandoned former office building had been occupied irregularly seven years ago and some 150 people lived in the lower 10 floors, Globo reported.
Sao Paulo state Governor Marcio Franca, at the scene, told the Folha de S.Paulo newspaper it was a "tragedy foretold."
The city and state governments have been working for years to forcibly remove squatters from buildings in central Sao Paulo, with plans for revitalizing the area.
Franca said about 150 buildings in the region were occupied by organized groups of squatters, who have pressured the government for years to provide housing for the city's homeless.
The governor said it was legally difficult to force people to evacuate the old and decaying buildings.
"There is not even a minimal condition for people to live in there," Franca said. "People live there in desperation. This was a tragedy foretold."
Popular in the Community