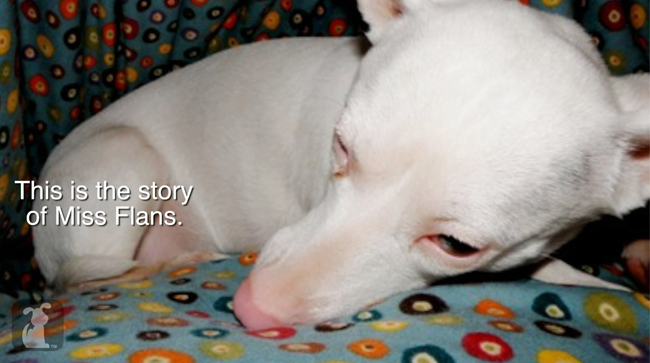 There are many horror stories of backyard breeding. It can range from appalling and unsanitary conditions, to over breeding and worse. Some backyard breeders, out of ignorance, simply mate family members together. Sweet Miss Flans was born a product of incest; her parents were siblings. The breeder mated the brother and sister together multiple times. Each of the litters had genetic abnormalities, causing stillbirths. Miss Flans was the only survivor from her litter, but she too had genetic abnormalities. She has albinism, is blind in one eye, deaf and has White Dog Shaker Syndrome causing seizures.
Her previous owners laughed at her convulsions. They found her seizures to be funny, but soon grew tired of her medical conditions and planned to dump her on the streets to find another home on her own. Linda Alvarez, a private rescuer in Los Angeles, heard about Miss Flans and her desperate condition. When she found out that the family planned to dump Flans on the street to fend for herself, she rushed over to their house and picked Flans up. Little did she know, what one family thought of as flaws and birth defects turned out to be the unique quirks that made this little dog shine.
Three years ago, Linda received a distressing call late one evening from San Bernardino. She was told that a one-year-old blind, deaf and albino Chiweenie (Chihuahua & Dachshund mix) was about to be dumped on the street if someone didn't pick her up immediately. Flans's family simple didn't want her anymore.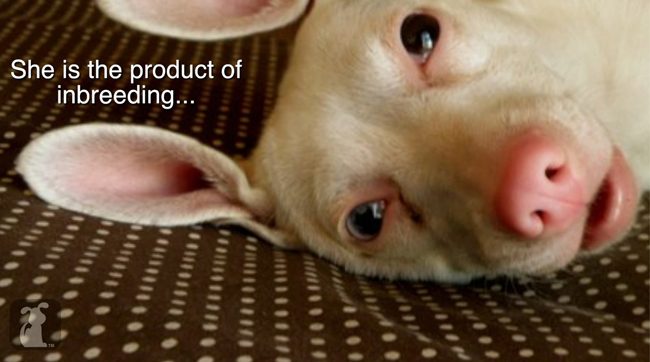 Her owners were going to let her loose in the front of the house to just, "see what happens." Being partially blind and totally deaf, she could have easily walked into oncoming traffic, been attacked, or worse.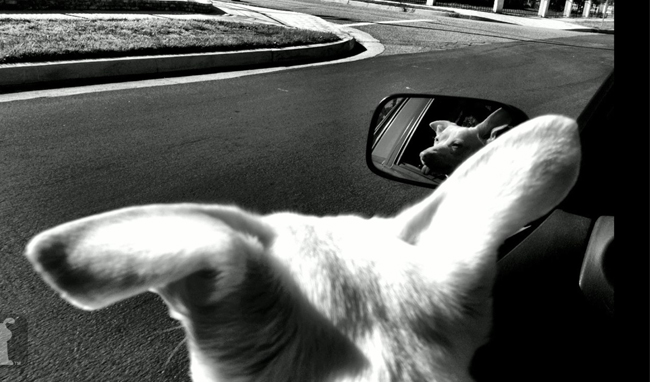 Linda begged them to hold on and raced to San Bernardino, in the middle of the night. She was still in her pajamas when she arrived. She picked up this little dog who was named Mimi at the time. Instead of finding a shy, shaking, fearful dog, Miss Flans turned out to be the opposite: an affectionate, silly, quirky love bug that Linda describes as a "party pumper." Linda changed Mimi's name to Miss Flans.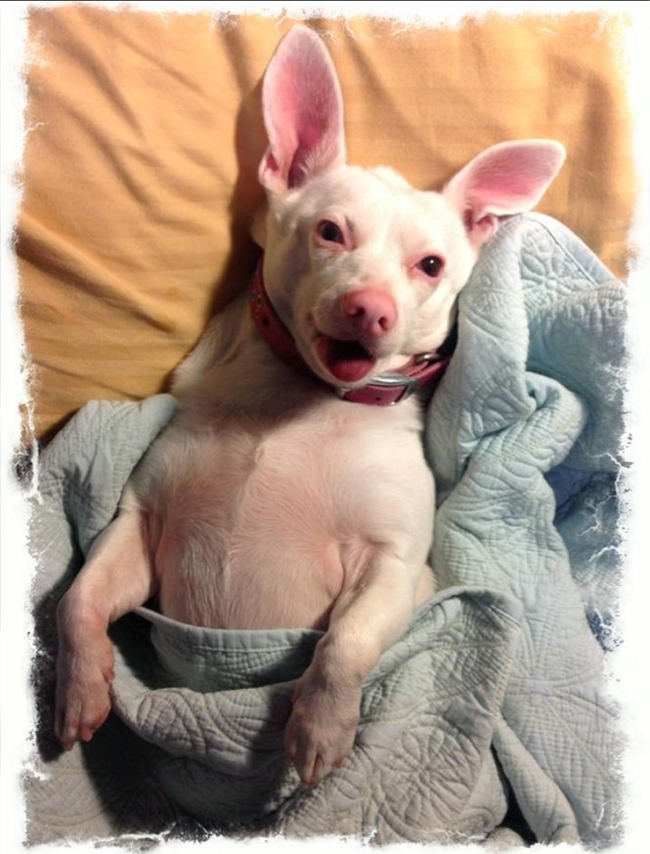 Miss Flans, named after a beloved family friend who had crystal blue eyes, took to Linda and her parents instantly. An animal rescuer at heart, Linda did all she could to find Miss Flans a forever home. She dressed Flans up in cute costumes and took glamour photos and videos. Linda even started a blog called Closet Critters featuring The Flans and the other animals she rescues that need homes.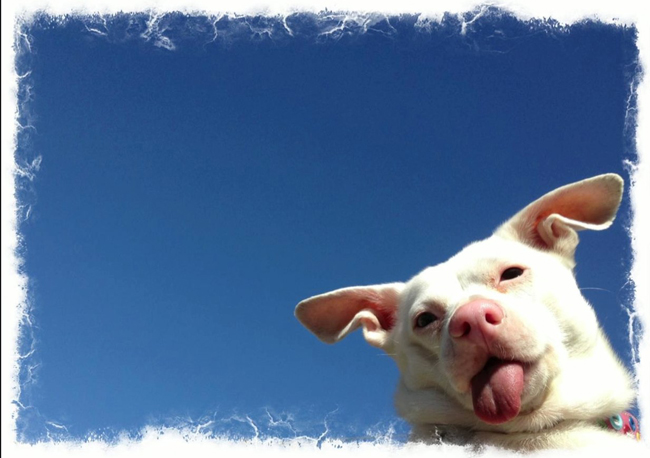 After many adorable photos and videos, there were no takers. Nobody wanted Miss Flans. As months dragged out into years, Miss Flan's personality blossomed and soon Linda started to affectionately call her "The Flans". The Flans wasn't looking for a home, she was home.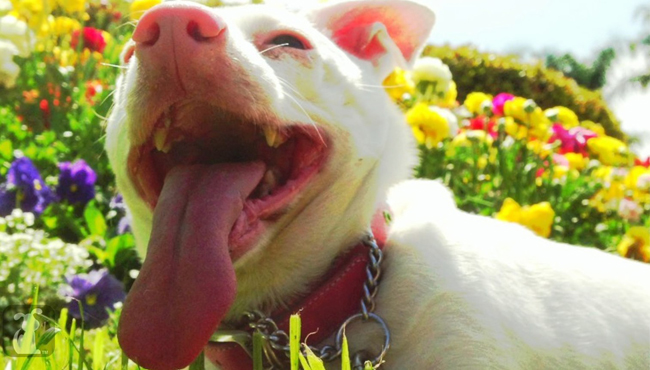 Considering she is nearly devoid of two major senses, The Flans walked and talked with confidence. Being born deaf, Flans has never heard what a dog's bark is supposed to sound like. She makes her own unique sounds. Her bizarre mute screams and squeals would stop any dog or conversation. Since dogs are unaware of their conditions, Miss Flans has no idea that she sounds funny. As far as she's concerned, she is barking like everyone else.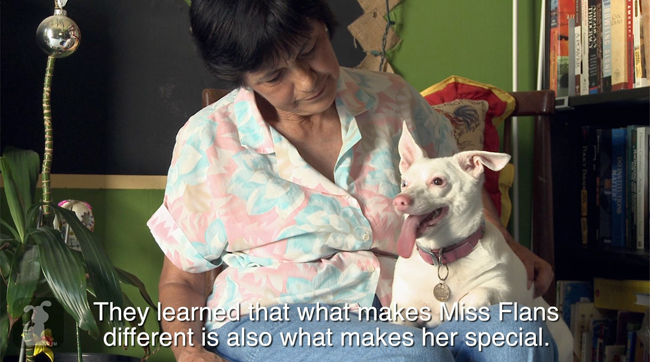 Her endless tongue, the product of a Dachshund's long tongue placed inside the short snout of a Chihuahua, hangs out of her mouth at all times. Suddenly Linda realized the truth about Miss Flans. It was her genetic "defects" that made her wonderfully unique.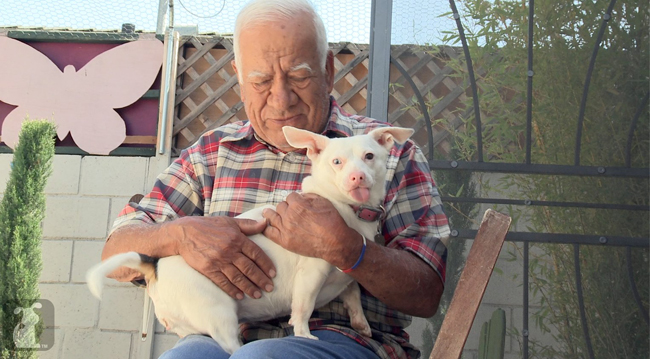 Linda, and everyone else who has ever met The Flans, is a believer. Beauty is in the eye of the beholder and Linda saw nothing but beauty. Some might find her ghastly, others adorable, but for Linda, she's just The Flans, "the best albino Chiweenie in the whole world."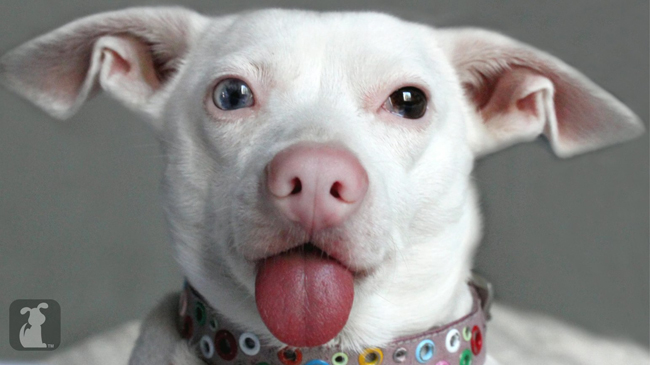 Visit Miss Flans on Closet Critters and watch all of her videos on YouTube. Linda is working on a new project called Safe Spot, because every animal should have a safe spot to live. Show your support!
Do you have a Tail of Hope or Survival? We'd love to hear it! Visit us at thepetcollective.tv and tell us your story!
Popular in the Community