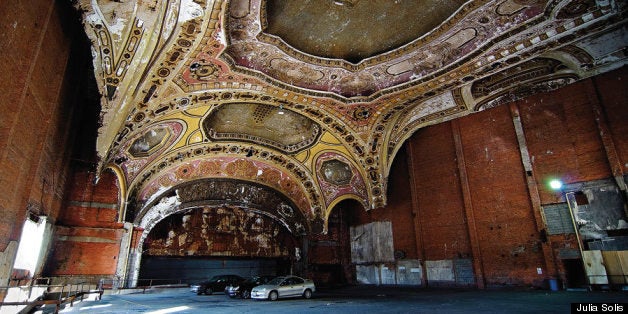 There are abandoned theaters everywhere -- in boarded up church basements, shuttered schools, closed hospitals. Drive through any small town, find Main Street, and you'll invariably discover a marquee long covered up, the hidden marker of an old theater.
Sometimes, if you're lucky, the back door will be open so you can slip in, perhaps be transported to another world. At least, that's been the experience of Julia Solis, who has found and photographed dozens of abandoned theaters for her book "Stages of Decay," published by Prestel in March.
(Scroll down for photos.)
"Theaters are more expressive than almost any other space," Solis told The Huffington Post. "They're designed to transport you somewhere, but at the same time, they have their own personality that doesn't come out when they're being used."
The lush, detailed photographs in "Stages of Decay" evoke Solis' sense of wonder and mystery about the abandoned spaces, free of a sadness that some might feel looking at former beauty in ruins.
"It's only when they're empty that you get to see their essence," she said. "The space is still in movement. ... There's not performance and drama, but the curtain shifts, the trash moves, people come in and dump stuff or take it away, animals [come through], the collapse of the roof, chairs disappear and reappear. … It's very playful."
Solis, who is in her 40s, explores theaters across the United States and Europe. Originally from Germany, she now splits her time between Brooklyn and Detroit, a city with a wealth of abandoned structures, to some residents' chagrin.
"I think in Detroit, decay happens at a much faster pace than other places because of scrappers and the general neglect," she said. "You don't have the long gradual decline like you do in some places; the ruins don't take 10 or 20 years to show the first sign of decrepitude."
Solis recounted visiting one auditorium in a Detroit church that rapidly became a ruin.
"It changed really radically in just one year, from having white-painted walls, pretty much functional, to looking like an ice cave with all these stalactites and icicles, but formed of plaster and paint strips because its so damp in there. Visually it's pretty stunning."
As an artist, Solis has long been fascinated with abandoned spaces. She stages elaborate scavenger hunt games in places like the Northampton State Hospital in Massachusetts, where teams embark on imaginative, absurd quests that blend fact and fiction.
Her adventuring has never gotten her into trouble, though she tries to avoid places that appear to be dangerous or sites of criminal activity. One time, she said, she was photographing in a Detroit theater when sirens screamed past and police suddenly chased an individual through the building.
Though some see abandoned buildings as eyesores, Solis sees a value in preserving the spaces, like a church in Gary, Ind. that she said has practically become a tourist destination.
"There's kind of a line to go in on Sundays," Solis said. "It's evolved into a space that's supposedly abandoned, but there's people in it all the time."
As an urban explorer, Solis appreciates when she finds a theater that's barely been touched, but she's also happy to share a theater with others.
"I kind of feel like the ruin is a culmination of what the building was," said Solis. "It becomes a space that's more open to really be enjoyed and celebrated. … It's the joy of experiencing these spaces in the moment. "
When Solis enters an abandoned space, she doesn't see an empty stage, but one that's presenting the final act of a show where the plot that unfolds is the passage of time.
"That's what this is, a snapshot of the beauty in the final, funereal performance of the theater itself."
See Solis' stunning photographs from "Stages of Decay" below, and if you're eager for more beautiful ruins, check out other photographers' images of abandoned asylums and abandoned palaces.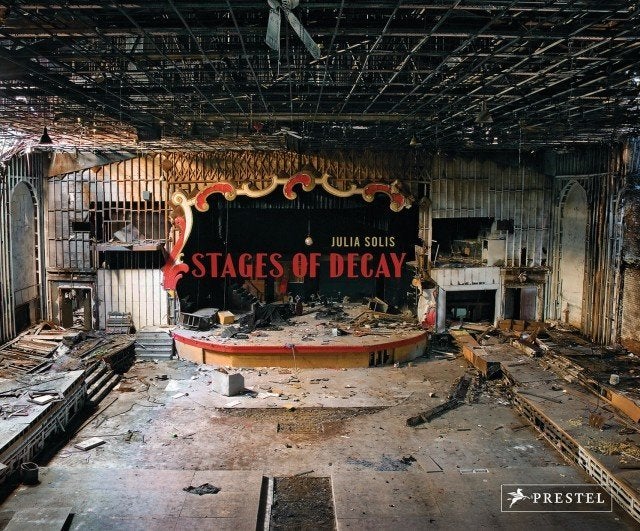 Abandoned Theaters In Julia Solis' 'Stages Of Decay'
Related
Popular in the Community