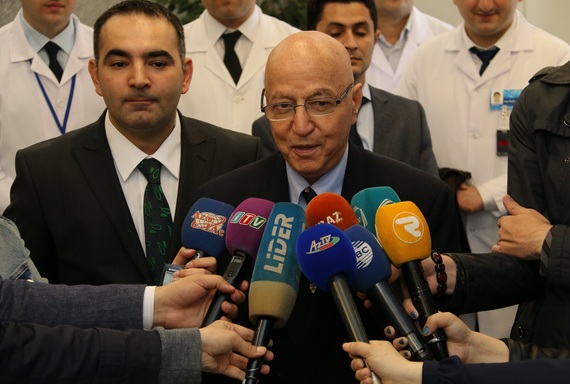 With the goal of harnessing the untapped potential of Iranian-Americans, and to build the capacity of the Iranian diaspora in effecting positive change in the U.S. and around the world, the West Asia Council has launched a series of interviews that explore the personal and professional backgrounds of prominent Iranian-Americans who have made seminal contributions to their fields of endeavour. We examine lives and journeys that have led to significant achievements in the worlds of science, technology, finance, medicine, law, the arts and numerous other endeavors. Our latest interviewee is Professor Abbas Alavi.
Abbas Alavi is Professor of Radiology and Neurology, as well as Director of Research Education in the Department of Radiology at the University of Pennsylvania.Dr. Alavi is a physician-scientist specializing in the field of molecular imaging, most notably in the imaging modality of positron emission tomography (PET). In August 1976, he became the first to perform human PET studies of the brain and whole body using the radio tracer 18 Fluorodeoxyglucose.
Alavi is the recipient of many awards and distinctions among which are the highest distinctions in nuclear medicine: the Georg Charles de Hevesy Nuclear Pioneer Award given by the Society of Nuclear Medicine, and the Cassen Prize of the Society of Nuclear Medicine. This prize is given to living scientists whose work has led to a major advance in basic or clinical nuclear medicine science. The de Hevesy Award from the Society of Nuclear Medicine was given to Alavi for his pioneering work in the development of positron emission tomography.
Tell our readers where you grew up and walk us through your background. How did your family and surroundings influence you in your formative years?
I was born in 1938 in Tabriz, Iran and I was the second of three children. My father Mohsen Alavi, had a sixth grade education. His family was originally from Marash in Turkey. Long ago, they traveled to Iran where they held religious positions in various cities. My grandfather was a hakim, a traditional herbal doctor and my father worked in the textile business for Mr. Nilchi, my maternal grandfather. My mother's family came from Tabriz and my grandfather had a business in the dye "nil", or indigo, hence the surname of Nilchi. My mother had only about 2 years of formal education, and married at age 14.
During my childhood, Tabriz was second largest city in Iran, but still undeveloped. Electricity was scarce,,automobiles rare, few paved streets existed, and there was primitive sanitation. Our family's primary mode of transporation was walking since we never owned a car. There was no running water in the homes where I lived. I recall regularly visiting a deep well in a mosque, about half a kilometer away, to obtain drinking water in buckets, due to the lack of running water in the homes where I lived. The wives cooked on charcoal fires. The heat in winter (it is very cold in that part of Iran) was provided by charcoal braziers. In the center of the courtyard, there was a shallow well and a pool, which was used for hand washing, watering the small garden, and washing clothes as well as dishes. For bathing, we went to a public bath house (hammam) once a week. The rooms of the home consisted of carpets, cushions, and mattresses that were placed on the floor for sleeping; homes were not furnished. Kerosene lamps were the primary source of light, until electricity was installed when I reached high school; however, it was only available for a few hours a night.
Our schools were also dilapidated. First grade was in a multiple-grade one room school house. I later transferred to a boys only school. Since the schools also had no central heating, a wood-burning stove was utilized. Students were expected to bring in some money to pay for the logs. Corporal punishment was common. The learning method mainly involved rote, and religious education was mandatory throughout all years.
Following the death of my father, which was caused by gangrene (The family chose prayer over surgery during this pre-antibiotic era), life became quite difficult for our family Now, my mother, in her 20's, uneducated, and left to care for 3 small children alone, had no income and was forced to return to her father's home. While the house was fairly large, there were many family members living there - my grandfather had 4 wives and a number of children still at home. My mother and her children were given one room, which we used for eating, studying, meal preparation, and sleeping. Despite some meager financial help from my grandfather and cousin, we had to find ways to support ourselves. My mother made ends meet by selling her carpets and jewelry and lending out some of the proceeds for interest. She sewed the childrens' clothes, re-used old clothes, and gave injections of Penicillin to patients around the neighborhood. She also used the pages of old log books of my grandfather to make paper bags which we sold in the bazaar. Food was not easy to come by. We ate meat infrequently and got much of our nutrition from nuts, dried fruit, and bread. I recall standing in line for bread, reading my textbook.
I wore my father's hand-me-downs for most of high school. We rarely had new shoes and wore the old ones until the snow came in the soles. Across the street was an innovative shoemaker who used pieces of old rubber tires to make new soles for the shoes.
In high school, we excelled. I particularly enjoyed science and math. We received scholarships to attend private schools. My mother pushed us to succeed. Her children were the first in the family to complete high school or go to university. She encouraged me to become a doctor, like her hakim grandfather. She was also influenced by the experience of her husband's terrible suffering and the need for medical expertise at that time.
These experiences and hardships prepared me to work hard, enabled me to concentrate on my studies, and made me want to succeed; both to please my mother and to allow me to escape the rigors difficult life.
You are a specialist in molecular imaging, which is among the newest subfields in radiology. Can tell us what your area of expertise is and what your interests are?
Once I came to the US, I began to favor a specialty where I could use an analytical approach to medical problems and continue to use science in my daily activities, especially since I did not enjoy clinical medicine as much as I had hoped and once I came to the US, I sought I specialized in Nuclear Medicine-Molecular Imaging, where modern sciences, including physics, chemistry, math and computing, have been necessary for its development. Over the past 40 years, I have been fortunate to be in a position where I could be involved in developing newly emerging technology, positron emission tomography (PET) and single emission computed tomography (SPECT). During the past decades, I have also combined my interest in molecular imaging with structural imaging (CT and MRI), which has opened new domains for research and the practice of medicine.
You have made substantial contributions to the development and translation of modern imaging techniques for the day-to-day practice of medicine. Can you tell us more what you have done?
I have performed research in conventional nuclear medicine, as well as positron emission tomography and therapeutic uses of nuclear medicine. My work has been honored as pioneering and has helped to revolutionize medicine.
I have made contributions to our understanding of Alzheimer's and other brain disorders. Furthermore, I have worked in many other fronts, applying my knowledge of Internal Medicine to such varied subjects as skeletal disorders, sickle cell anemia, gastrointestinal bleeding, pulmonary embolism, thyroid disease, complicated diabetic foot, malignancies, islet cell transplantation, and inflammation. These studies have substantially improved the diagnosis, and therefore the management, of these disorders. I have been a pioneer in investigating the brain chemistry of Parkinson's disease and drug addiction with PET and SPECT over the past 3 decades. My ground-breaking research on children with hyperinsulinism has helped to substantially improve the treatment of this life threatening disorder. Most recently I have applied PET imaging techniques to the investigation of atherosclerosis and am very interested in potential application of this treatment to heart disease, the number one killer in the US.
Among your achievements, the introduction of fluorine-18-fluorodeoxyglucose ((18)F-FDG )-positron emission tomography (PET) has revolutionized the field of medicine worldwide. Please tell our readers about this accomplishment.
FDG is radio-labeled preparation which is injected into the vein of the subject. It mimics the actions of glucose (sugar) in the body in normal and diseased states. The patient is positioned in a scanning instrument and images of the body or head are acquired due to the radiation emitted from the labeled FDG. Glucose metabolism plays a major role in diseases such as cancer, infection, inflammation, brain diseases, and changes in glucose metabolism which often precedes those of structural abnormalities seen on CT or MRI. This indicates that disease processes start at the molecular level and thus the PET modality is considered a sensitive "molecular" imaging tool. With this technology, we have been able to detect many abnormalities that were overlooked by conventional structural techniques, such as the CT and MRI. Before the advent of FDG-PET, many patients were subjected to unnecessary surgery or medical treatment because of the poor performance of these previous technologies. The high accuracy of PET in separating active disease (e.g. cancer reoccurrence) is now playing a major role in the practice of medical, radiation and surgical oncology. In this way, introduction of FDG-PET has truly improved the practice of medicine as it relates to these diseases and disorders. In addition, the cost associated with unnecessary surgeries can now be substantially reduced.
Can you tell us about the impact of using (18)F-FDG -PET along with computed tomography (CT) (and soon magnetic resonance imaging-MRI) in managing serious diseases and disorders ?
In the past decade, the combination of PET and CT or MRI has further enhanced the role of PET in the practice of medicine. The combination allows us to relate findings on PET, as a molecular probe, to those anatomical structures visualized on CTs and MRIs. Currently, PET-CT is the imaging modality of choice for molecular imaging worldwide. The use of PET-CT has completely revolutionized the specialties of surgical and radiation oncology. While PET-MRI is considered experimental now, it is expected to soon become the modality of choice for assessing age-related brain, cardiovascular, and musculoskeletal disorders. These are the source of the most disabling disorders of aging.
How do you find the American educational system compared to the education in Iran?
The modern educational system in Iran began in the 1930s when scholars and scientists were sent to France to learn the standards of higher educational programs of the country and transform the training system in Iran. Soon after, the University of Tehran was reformed to adopt certain standards that were employed in France and some other European universities.
However, following World War II, when a large group of highly sophisticated and talented scientists went to the US, the system of education in the US advanced substantially and became superior to that of the European systems including France. Starting in the 1950s, a large number of Persian high school graduates were enrolled in colleges and universities in the US. Simultaneously, many university graduates from Tehran and provincial universities furthered their education in the US. This was particularly prevalent among physicians and certain technical graduates from the country. Many of these highly educated individuals returned to Iran during the 1960s and 70s. This resulted in revolutionizing the system of education at various levels in the country and shifted the pattern of educational system from that of Europe to the American system. Some of the students I have met have amazed me by the level of knowledge they possess and the degree of enthusiasm they express for learning, which at times may surpass that of average American students.
In particular, I feel very strongly that by enhancing training and introducing modern means of practice of medicine, the country will achieve standards comparable to those of the Western societies. The potential for growth in the discipline of medicine in the country is enormous and this type of exchange will further enhance the relations between Iran and the US. I must emphasize that the educational standards at the high school and the university centers in Iran are stronger than any other country in the West Asia and many other developing countries around the world. This clearly demonstrates the strong and everlasting culture of learning, spirit and improvement and these elements have been and continue to be the driving force for Iran and its people. This desire for transformation has continued in spite of enormous difficulties that the country has encountered and endured during the past few decades.
Support HuffPost
The Stakes Have Never Been Higher
Related
Popular in the Community