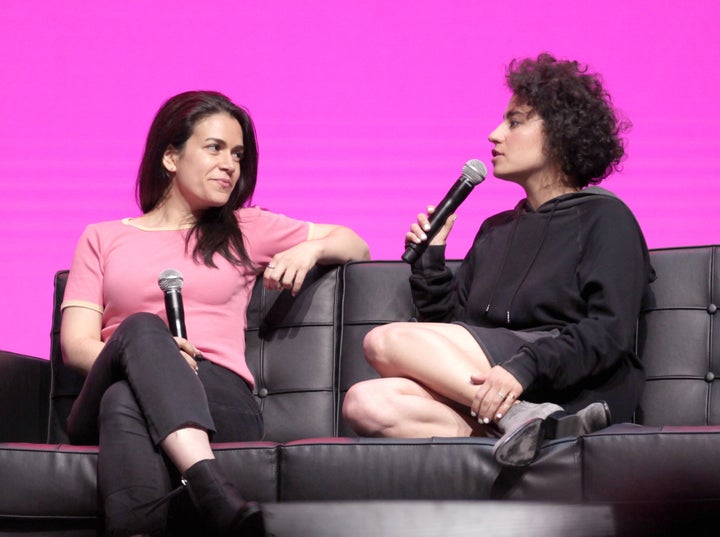 In the first episode of her new WNYC podcast, "A Piece of Work," Abbi Jacobson makes a confession.
After graduating from art school in Maryland, the "Broad City" star moved to New York City in an attempt to juggle what she classifies as two "impossible careers": comedy and illustration. Around this time, she started a greeting card company she called Imagine That and secured a membership to the Museum of Modern Art as a Christmas/Hanukkah present. That's when she started visiting MoMA, beelining for the museum's Design Store and slipping her own greeting cards into the shop's wall displays, "with the hope that someone, some tourist, some art fan, some curator" would discover them and catapult her to fame.
No one ever did, of course, but that was part of her hustle, she explained, adopting the joke-y cadence we've come to associate with Abbi Abrams, the fictional character she plays on "Broad City," who partakes in similarly bold endeavors in order to further her own illustration career. (Yes, Jacobson is behind the art you see on the Comedy Central show.) Though unlike Abrams, who's yet to make it big in the art world, Jacobson has managed to make waves in both the comedy and art realms. Last year, she published a work of illustrations under the title Carry This Book, and now she's hosting a podcast co-produced by MoMA.
"A Piece of Work" made its debut on Monday, kicking things off with an episode featuring fellow comedian and "Broad City" star Hannibal Buress. Together, he and Jacobson ponder Marcel Duchamp's "Bicycle Wheel" (housed at MoMA, it consists of a bicycle wheel sticking out of a wooden stool). They check in with a few curators who ease listeners into the subtleties of the sculpture.
Subsequent episodes will follow a similar format: Jacobson guides us through the halls of the famous art museum alongside a rotating cast of creative pals (RuPaul, Questlove, Tavi Gevinson), recruiting MoMA experts to contextualize things like Yves Klein's solid blue canvases or Meret Oppenheim's furry teacup. It's the kind of podcast that appeals to both museum nerds and modern art luddites; come for the commentary of an always-charming Jacobson, stay for the sincerely smart conversations about what art is, and who actually gets to decide that.
Ahead of the podcast's release, and "Broad City" Season 4, we checked in with the newly crowned host last week. Here's what she had to say about pretentious museum spaces, growing up around art, and the future of Abbi Abrams.
I listened to the first episode last night. I liked how right off the bat you acknowledged that, to some people, the art world is a scary place. That it can be perceived as pretentious, unapproachable, disconnected from the real world.
MoMA and WNYC approached me with this idea, so it wasn't something that I came up with. [...] I had gone to art school and definitely have a background in art, probably more than most, maybe. But I don't know, sometimes museums can [...] feel inaccessible. And what a cool opportunity to get a peek behind the curtain, for people who might not have that opportunity.
When MoMA and WNYC approached you, was it totally out of the blue?
I had done my friend Phoebe Robinson's podcast "Sooo Many White Guys," which is on WNYC, a couple months before they approached me. So I'd been in the studio. I'd had a great time, and I had actually been thinking about how fun podcasting is, but I didn't have an idea and I didn't really want [my podcast] to be straight-up interviews. So when they approached me, it just felt my two words were able to collide. And I had been getting back into the art world ― at least, my own art world; I did an illustrated book last year. So it just felt like I didn't really even have to think about it twice. I was really excited to get to hop back into the art world and ask all the questions I wanted to ask.
In the first episode of the podcast, you tackle the assumption that art has to be "beautiful." What would you say to someone who is intent on equating art with beauty. How would you try to explain how the two concepts relate to each other?
The whole point of the podcast is sort of for me not to be explaining anything to anyone. It's sort of, at least for me, like, well, this is your own interpretation. I love that you point this out, because it was such an interesting dialogue I was having about this idea that art, for so long, was [such] only if it was beautiful. When people sort of moved away from that, it shook [the art world]. I don't know if, now, that's such a thing, obviously, because people are making art in so many different ways. I don't think I can explain it. If anything, the more you listen to the podcast ― I'm not there to explain anything. I want to leave that to the curators I talk to.
You describe a bit of your early life as an artist on the podcast, as well as what it was like to grow up around art and artists in your family. What kind of art you were into as a young girl?
I drew a lot. I always had sketchbooks. My parents were really great about any gift-giving holiday ― birthdays, Hanukkah, Christmas ― it was always art supplies for my brother and I. And my brother is a graphic designer now, too. I feel like we were always drawing. Even if I was watching TV, I was drawing at the same time. We went to museums in Philly every once in awhile, but we weren't huge museumgoers. I wasn't in the art world at all as a kid, I was just creative and we were always doing arts and crafts. My mom was a potter, so she was always doing pottery. For a little while, she had a pottery wheel and a kiln in the basement, which was pretty cool. I formed early habits of making things.
You've, of course, been to art school and moved to New York City as an artist. What was the first work of art you ever sold?
You know, the first work of art I ever sold ... this was cool that she did this, my high school art teacher, Geri Burns ― she was the coolest. My brother had her too. She was really influential for me. She was a painter. She was a big reason for me ending up in art school. Anyway, when I was a senior in high school, she has this tradition, where every year she would buy a piece of a student's. So she bought a drawing of mine for $150. It was a line drawing of a Skee-ball ― you know, the Skee-ball arcade game? So yeah, that was the first. It wasn't like, a gallery or anything. But it was a huge confidence booster. I could not believe it at the time.
I first came across your art as an employee of AOL. [Editor's Note: HuffPost is owned by Oath, formerly AOL.] You'd done some illustrations for them several years ago, and when my colleagues and I discovered it, during the first season of "Broad City," we were so excited.
The AOL thing was the first big thing I did as an artist. That was a really big deal, and I was able to quit my day job. I sold three pieces at the beginning to them, and I quit my day job [at a Groupon-like company called LifeBooker] that I worked at with Ilana [Glazer] to start "Broad City."
So, besides MoMA, what are your top three favorite museums that you've visited in your lifetime?
So I'm from outside Philly and there's the Barnes Foundation, which just moved but used to be outside the city. It was in a more suburban area and it was just the most amazing house. They only let a certain amount of people in. You had to reserve ahead of time and it was just a really intimate way of looking at art. The Barnes Foundation had Matisses that were custom-painted on walls, because [Henri] Matisse spent time in this house. That was one of my favorite museums.
I really like the San Francisco MoMA. And I haven't been in so long, but the Musée d'Orsay, that was very big for me. I went when I was a junior in a college, and I'd just been through the ringer in terms of art history. Then I went to Paris and basically saw an art history book on the wall.
So say someone was hesitant about walking into one of these museums. What would be the first thing you'd tell them to do to feel more comfortable?
I got to bring a lot of friends with me [to the museum] for the podcast. And that was fun to have these conversations in front of the art with people I find enjoyable and intelligent. But I personally really like going to museums by myself as well. Just wandering around. Either way you do it, I think it's just like anything, where if you just go in with an open mind and just know that you're there to have your own experience. Whatever way you want to approach it is OK.
A big thing that I kept thinking about while I was in [MoMA] so much over the last couple of months was the different ways of approaching art, whether you just go up and look at something and have your own experience, or you really like to read about it first, or during, or have an audio tour. There are so many ways of going about experiencing a museum and the artwork inside of it. [...] I will say that a lot of art, some of the best art, has very powerful and meaningful messages behind it, and the more you read the stuff on the walls, the more you learn the artist's intention and you have a totally new point of view of what it's about.
Who are some of your other creative friends, besides Hannibal Buress, we'll be hearing from on the podcast?
Hannibal was amazing and is so fun. It was such a blast having him. And he does another episode ― some of the people I'll mention are in a couple episodes: Tavi Gevinson, who does Rookie and is a writer and actor; Questlove, Ahmir Thompson, talks with me about a couple different kinds of work; RuPaul; Samantha Irby. And then I talk to a ton of different curators and experts and people that work at the museum that you haven't heard from in the first episode.
Was there a MoMA artwork you were particularly excited to talk about, that we'll be hearing about in later episodes?
I was really excited to talk about the Yves Klein, which is just Yves Klein's Blue. We got to go behind the scenes into the restoration area at MoMA, which was such a privilege. When else would I be allowed back into that area? Such an incredible place to get to see what they do and how art is restored. I talked to this woman, Ellen, back there, who explained what that job entails, and why, and how long it takes. That's just something I never knew anything about. To talk about restoring an Yves Klein ― which, when you first look at it, it's just a blue painting. She's been working on it for, I think, six months. Either three or six months. Which blew my mind.
Will we ever get to see the "Broad City" Abbi fulfill her dreams of becoming an artist? What would this even look like?
I think, right now, you're gonna still see Abbi just trying to do that. I don't know … I think Abbi and Ilana are still in that phase of figuring out all the things. So who knows?
They're still in the sneaking-greeting-cards-into-the-MoMA-gift-shop-hustle phase of their lives? 
They are in that exact phase of their lives.
This interview has been edited and condensed for clarity. "Broad City" Season 4 premieres on Comedy Central Aug. 23.
Calling all HuffPost superfans!
Sign up for membership to become a founding member and help shape HuffPost's next chapter
BEFORE YOU GO
PHOTO GALLERY
Books To Read While Getting Excited For "Broad City"