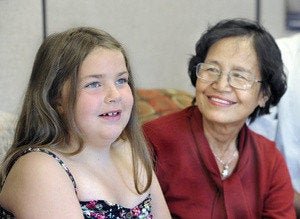 Abbie Jacobson struck a mighty blow to the adage "finders keepers" in returning $4,000 lost by an elderly Cambodian immigrant.
As a result, the 8-year-old from Maine will get to see her idol Justin Bieber in a concert this fall -- all expenses paid, the New York Daily News reported.
"Baby, baby, baby, oh!" Bieber might sing of Abbie's good deed, as he does in his popular song.
"She never asked if we could keep it – not even just in passing," her father, John, told the Portland Press Herald. "It was all about, 'Whose is it? Where are they? How can we find them?' "
According to fast-spreading reports of Abbie's honesty, she was walking into a Sam's Club in Scarborough, Maine, when she spotted a green silk purse on the ground. She opened it up and found $4,202 in rolled-up bills, jewelry, a debit card with the name "Ra Rim" and some Cambodian currency.
At Abbie's insistence, the family searched the store first for the purse's owner and then contacted the police, who took the valuables for safekeeping. Meanwhile, Abbie's mom, Jennifer, did a bit of detective work on her own. She contacted the debit card holder's bank. The next day a panicking Ra Rim received a call from the bank and recovered her money. Ra called Abbie to set up a thank-you lunch with her family, and gave the kid a big hug, Yahoo's Shine reported.
Turns out Ra was once imprisoned by the brutal Khmer Rouge regime and had emigrated to southern Maine two years ago. She was accustomed to carrying her savings around because banks were too corrupt in her homeland, the Herald wrote. She was about to use the money for a visit to Cambodia and was doing some last-minute shopping at Sam's Club.
She made that trip, carrying a photo of Abbie and telling people Abbie was her angel, the Portland newspaper reported.
Medical bills have piled up for the Jacobsons -- Abbie has asthma -- but Ra's story gave the family perspective, the Jacobsons said in several outlets.
Abbie started the third grade on Tuesday and classmates applauded her act of conscience, Yahoo's Shine reported. "A lot of people have asked us why Abbie gave the money back," her mother explained to Shine. "But we always taught our kids, 'whatever is in your heart, you do the right thing.' And it has paid off."
Abbie's good turn, in April, might have gone unnoticed if a community college language teacher of Ra's daughter, Chansatha, hadn't recently emailed the Portland paper with a tip.
The Bank of Maine got wind of the story and purchased Abbie tickets to Bieber's sold-out Nov. 10 concert in Boston, according to the Daily News. The Marriott is throwing in the lodging.
A nice reward for doing the right thing.
"I wouldn't want to lose all that money and have someone take it," Abbie told the Herald. "It was a lot of money!"
Click through the slideshow below to read even more stories of lucky -- and valuable! -- finds.
PHOTO GALLERY
Wacky Finds Worth Big Bucks
REAL LIFE. REAL NEWS. REAL VOICES.
Help us tell more of the stories that matter from voices that too often remain unheard.