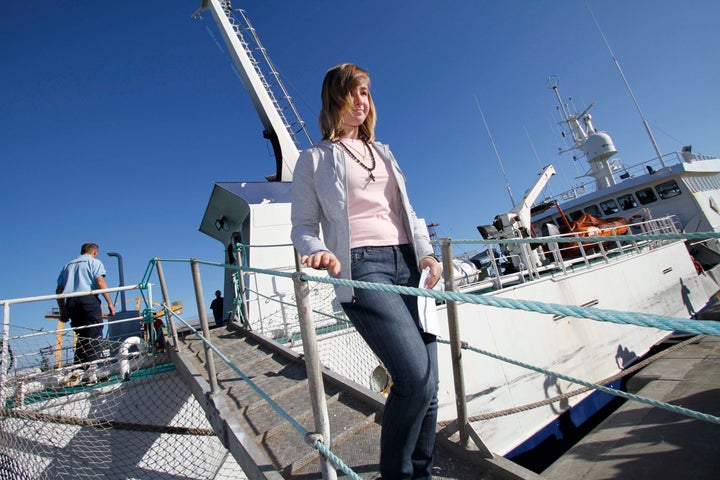 Teen adventurer Abby Sunderland, whose attempt to sail the world solo made global headlines when her boat capsized, is determined to try again. This time, however, she's traveling by plane.
Sunderland declared "I'm going to fly around the world solo," in a recent interview with local paper Thousand Oaks Acorn. 17 year-old Abby has been taking flight lessons for three months and is about half way to earning her pilot's license. If she succeeds, she will be the youngest person to ever fly alone around the world. The current record holder is Barrington Irving, who accomplished the same feat at 23 years-old in 2007.
Sunderland is known for her 2010 attempt to become the youngest person to ever to sail around the world solo. About six months into her journey, severe storms destroyed her satellite phone reception and Sunderland was unreachable for about a week before rescue crews found her. It was feared that she would not be found alive.
After Abby Sunderland was rescued, her parents attracted intense scrutiny for allowing their 16 year-old child to sail around the world unsupervised. Her father Laurence Sunderland seems undeterred by the experience, telling the local paper that he supports her new goal. "I told her, if it's the Lord's will, then go for it," Sunderland explained. "Whatever her conviction or endeavor is, provided it's a noble cause, I will support her 100 percent."
Laurence Sunderland came under fire last year when he revealed to the NY Post that he had signed a contract for a reality television show "Adventures in Sunderland" starring Abby and her seven siblings. Abby had already embarked on her solo sailing trip at the time of the contract signing. After the rescue, no television show ever came.
Instead, after her harrowing episode in the Indian Ocean and dramatic rescue by an international search team, Sunderland co-wrote a book about her story with Lynn Vincent (who also co-wrote Sarah Palin's memoir, notes Thousand Oaks Acorn) and embarked on a cross-country tour to promote book sales and give inspirational speeches.
Abby Sunderland recently marked the one-year anniversary of her rescue on her blog:
I could have easily died out there, just like so many others have, but I didn't. In one of the most remote places on earth I was rescued. Something through all of this that I learned, is that we all get hit by our own rogue waves in life. It's what we do with them that matters. You can take something that looks like a disaster and turn it into something great.

You may support me, you may not, but as long as I live, I know I am going to take every opportunity that comes my way, chase every dream, and do all that I can to help others follow their dreams.
Related
Popular in the Community