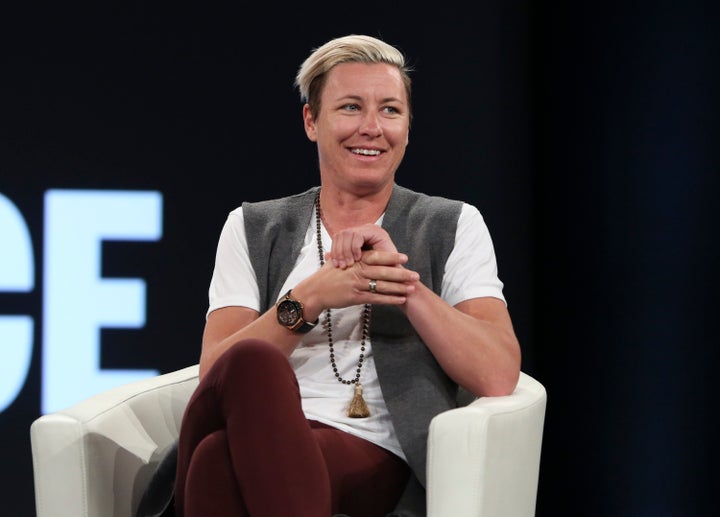 Abby Wambach will go down in history as one of the greatest soccer players in the world. The two-time Olympic gold medalist and World Cup champion, who recently retired from the game, currently holds the world record for most international goals scored by a male or female player. So, what's next for Wambach?
In conversation with AOL CEO Tim Armstrong at the MAKERS conference in Rancho Palos Verdes, Ca., Wambach spoke about her lofty goals for her post-soccer career. 
"It's astonishing to me that at the executive level at many, many Forbes 500 companies, there are very few women, very few people of different orientations, different colors, different ethnicities," Wambach said. "So I want to tackle the biggie. And it's the thing that drives me the most crazy -- it costs zero dollars to treat someone equally."
As someone whose life has always revolved around athletics, Wambach said that the mental, emotional and physical transition from the game has been tough. (Though she called the "getting unfit" part "amazing.") But she's found a passion for political engagement. The 35-year-old has been on the campaign trail with Hillary Clinton and vocal about the gender pay gap -- an issue that has become particularly visible in the soccer world. 
"Policy really does help impact change," she said.
The soccer legend will also be getting her own Barbie doll. "Her hair is even shaved!," Wambach exclaimed. 
So how does one go from being the best at something to a totally new career path? If you're Wambach, you just decide to be the best at something else:
I know no matter what I do I'm gonna be good at [it]. But unfortunately, for me, that's not good enough. I want to be the best at whatever I do next. And it's gonna be changing the world, and fighting for equality for everybody in every industry in every city in every country so that everybody has equal opportunity no matter who you are. So that's what I'm gonna do. I have small goals. 
PHOTO GALLERY
The Most Badass Photos From The Women's World Cup Final
Calling all HuffPost superfans!
Sign up for membership to become a founding member and help shape HuffPost's next chapter