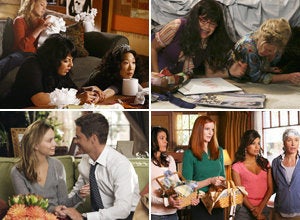 ABC's urging its viewers to conserve gas by staying indoors the week of Sept. 21 -- it's "National Stay at Home Week."
The Alphabet's marketing team dreamed up the holiday as a way to promote the start of the season. "National Stay at Home Week" not-so-coincidentally coincides with TV's premiere week.
Consider it the flip side of the annual April event "TV Turnoff Week" -- something the networks haven't been as eager to embrace.
The promo spots and companion website take a tongue-in-cheek approach to the whole idea that audiences can save money and help the environment by staying home that week and watching TV instead.
Related
Popular in the Community