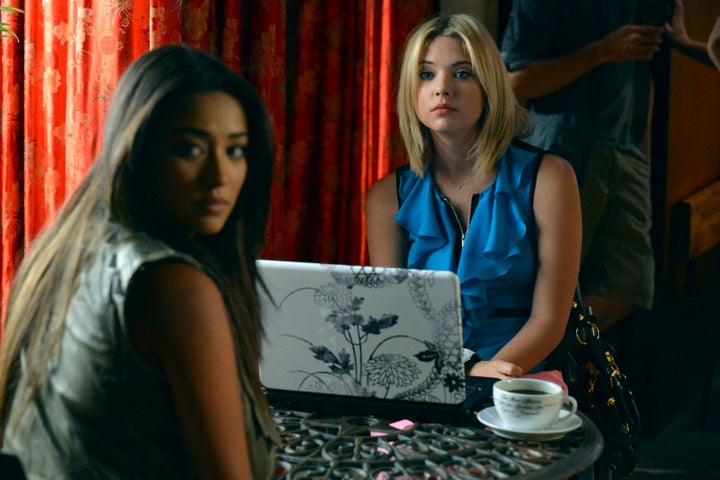 Growing up my staple television shows all came from the Nickelodeon Network. There were comedies such as All That, The Secret World of Alex Mack, Clarissa Explains It All, and so on. Nickelodeon seemed to be the voice of teens everywhere with quirky characters, fashion trends, catchy phrases and relatable story-lines that you wanted to model yourself after. It seems that tides have turned with the incredible breakout and phenomenal force of ABC Family which has become seemingly the voice of the new teen generation. With titillating and edgy programs like Pretty Little Liars, Bunheads, Baby Daddy, Switched At Birth, and The Lying Game, drama, humor, friendship, and family are all concepts and keywords that have taken center stage for teens and they can't seem to get enough of living for the thrills with ABC Family.

Everyone has their special TV nights, nights for "must-see TV," and growing up with Nickelodeon that was Saturday night. You lived for the moment when you could park yourself in front of a TV and tune in for side clenching laughter and escapism. You never wanted to miss a single joke, sketch, or TV magic that kept you captivated. With ABC Family, you don't have just one night of "must see TV," every day of the week has become that. No longer is Saturday night the solitary night keeping teens glued to the television. If you pick pretty much any day of the week, ABC Family has at least one show that has you in a frenzy.

Monday nights pack quite a punch with shows The Secret Life of the American Teenager, Switched At Birth and Bunheads, all shows that help shake the back to school and work blues! Characters filled to the brim with angst, real world dilemmas, and pressures at home and in school. Tuesday nights have been heart pounding with Pretty Little Liars which continues to dominate nightly trends on Twitter and endear itself to the massively avid fans the show has captured. Shay Mitchell, Lucy Hale, Ashley Benson, and Troian Bellisario have become household and worldwide names that are practically on the tongue of every teen. The show's continued success has landed these ladies on the cover of popular magazines and news publications, garnered numerous awards, and kept viewers frazzled and perpetually on the edge of their seat during the roller coaster ride each episode takes you on. Then, Wednesday nights provide the comedy punch you need to catapult you through "Hump Day" and into the weekend. Veteran actors Melissa Joan Hart and Joey Lawrence team up in Melissa & Joey to provide a double team of humor and hijinx in this much needed mid week pick-me-up.

What also makes the ABC Family network stand out is the frequent ability for its programs to bridge age gaps with its demographics by using actors that many older audiences have grown up with! Older audiences can see some of their favorite actors who they've come to know and love in a new light, and it allows younger viewers to fall in love with them for the first time. This is a win-win situation for ABC Family who can have old and new fans colliding and seeing some of the best acting talents in new or renewed lights. Actors and actresses like Lea Thompson, Constance Marie, D.W. Moffett, Laura Leighton, Steve Schirripa, Holly Marie Combs, Molly Ringwald, Ernie Hudson, and Kelly Bishop are all bridging age gaps and garnering new and renewed found fame from being a part of ABC Family's cross generation hit programs.

Another factor in what sets ABC Family apart from other networks is the fan interaction that not only the network has, but its magnanimous show casts as well. During episodes cast members from various shows will answer questions, provide tidbits of information to fans about filming episodes, showcase photos, and much more. Even when episodes aren't airing stars, writers, directors, and crew from ABC Family programs will go above and beyond for fans. For example, Shay Mitchell, Ashley Benson, Brendan Robinson, and Keegan Allen from Pretty Little Liars have been known to do Ustream chats with fans outside of episode air times, and Shay will even live tweet during episodes where she will answer questions for fans using the special hashtag #PPLayWithShay for both East and West Coast show airings! Fans will tweet video reactions of themselves after Pretty Little Liar episodes or season finales air to cast, crew, and other fans so that they can share in the enjoyment and excitement the show brings to so many. Fans consistently chatter about episodes, cast, characters, and quotes from ABC Family programs in and out of seasons. Directors of episodes such as Norman Buckley and Andy Reaser will share behind the scenes photos and chat with fans, writers such as Joseph Dougherty and Bryan Holdman will also share episode anecdotes and talk about what went into the writing of episodes. Even Tumblr explodes from all of the creative fan-damonium that goes on after weekly show airings! Pretty Little Liars continues to dominate and be one of the most fan friendly and interactive shows on television.

ABC Family is a powerhouse of talent, fan friendliness, and bridging gaps between young and old show demographics. You'll instantly become a fan of this network whenever you tune in to any of its touching sensational programs with storylines that not only you'll be able to relate to, but millions of other people will too. ABC Family keeps hitting the bulls eye with sharp writing, crisp directing, and casts that can both tug at your heartstrings and make them palpitate faster with performances by standout stars and everlasting screen legends.
Popular in the Community