As a child of the Shonda Rhimes family, ABC's new The Catch doubtless is counting on manic energy to pull viewers into a whirlwind of tense drama.
Thursday's premiere episode (10 p.m. ET) hasn't quite pulled that energy together yet, despite a compelling performance from a Mireille Enos that some fans may have a hard time recognizing.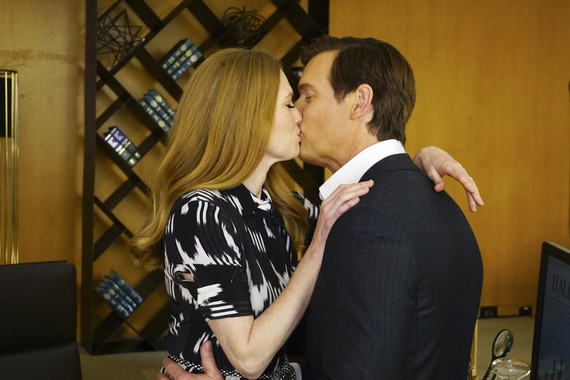 Enos plays Alice Vaughan, who runs a high-end Los Angeles private investigation and security agency with her BFF Valerie Anderson (Rose Rollins) and is engaged to wealthy dream man Christopher Hall (Peter Krause).
Just one catch. There is no Christopher Hall. He is the alias by which con man Benjamin Jones worked his way into Alice's life and acquired financial particulars on all her firm's rich corporate clients.
Further twist: Her agency has been trying to track down an unseen and elusive international criminal known only as Mr. X. Yup, it's Benjamin Jones. Alice has been living with him all along.
Boy, does she feel silly.
Before she learns all of that, she and Mr. I Don't Exist are only a few steps from the altar. Fortunately for Alice, that's when his boss, Margot Bishop (Sonya Walger), orders Benjamin to disappear from Alice's life - and, in a Shondaesque twist, return to his relationship with her.
With the sharp-edged prodding of his associate Reggie Lennox (Alimi Ballard), he does. This frees Reggie, Benjamin and Margot to swoop in and steal new technology worth billions from one of Anderson/Vaughan's biggest clients.
Happily, getting conned out of her self-respect, her pride and her life savings doesn't take Alice out of the game.
After a brief bit of self-flagellation, she suits up to get some revenge.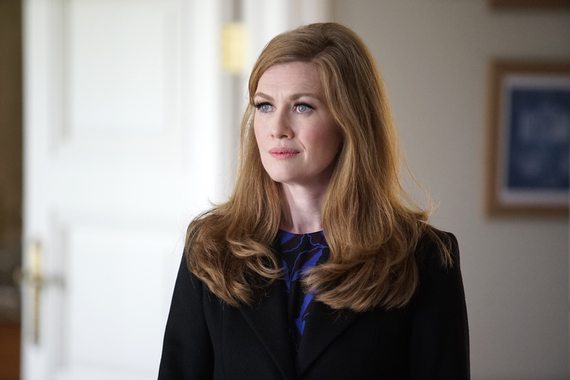 The Benjamin-and-Alice game seems destined to become a major driver for The Catch, though Alice and her team will apparently be simultaneously solving other smaller crises as well.
That combination, common enough on TV, is a bit of a switch for Rhimes - though it should be noted she is not writing this show, just executive-producing, as she does on How To Get Away With Murder.
The Catch has already hit some rough seas, with creator Jennifer Schuur leaving in August over "creative differences" and part of the cast being swapped out while roles and characters were reshaped.
Those late changes may account for the premiere episode feeling a little choppy and the viewer not always feeling sure where it's going.
We know Alice wants to hunt down this worm, and suspect there could be some complication from the fact he seems to genuinely like her and even feel bad about shafting her. We know a lot of money will be in play.
We just don't have a sense yet of how all the elements will come together. An opening scene in which "Christopher" slips past Alice at a stakeout is smartly done, but also feels a little too slick, as if the show wants to show us how clever it can be.
On the plus side, Krause is one of the best ambivalent multi-skilled TV con men since Matt Bomer's Neil Cafferty on White Collar.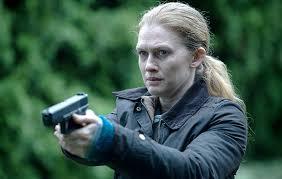 Enos's Alice Vaughan is a night-and-day visual opposite from Sarah Linden, the rain-soaked detective she played in The Killing (above), and she pulls it off nicely. She keeps Sarah's toughness while adding makeup, eye shadow and some manners.
If The Catch can find its footing, it could get us hooked.
Calling all HuffPost superfans!
Sign up for membership to become a founding member and help shape HuffPost's next chapter