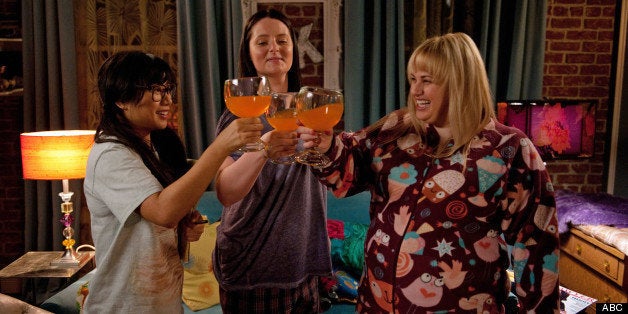 We've seen the pilots of ABC's new shows, and while they're not for review (things often change drastically before the shows are set to premiere), we do want to share our first reactions to what's coming in the fall and midseason.
This quick guide is designed to get you excited for some new shows ... and to warn you to curb your enthusiasm for others. Just keep in mind that we'll have full reviews of the final pilots closer to airdate. For now, here are our snap judgments of ABC's new shows for the 2013-2014 TV season.
Here's how we broke them down:
Watch It - awesome show, can't wait for more
DVR It - there's potential, will give it a second chance
Skip It - it's either horrible or just totally not their thing
"BACK IN THE GAME"Read more about "Back In the Game" and watch a preview hereFurlong: Skip ItThis show feels like it could've been made in 1992, and without any real stand-outs or groundbreaking storytelling, it's just too snoozy for me. Also it's time for actor Ben Koldyke (he of ABC's previous ill-fated, sexist sitcom "Work It") to fire his agent.
Etkin: DVR ItI was expecting to hate this, but it actually made me laugh out loud on multiple occasions (though I did ask my co-workers, "Why am I laughing at this?"). James Caan has his smile-worthy moments, but Maggie Lawson shines as a far more charming (and attractive) Walter Matthau to her team of "Bad News Bears"-like misfits, The Angles.
Moaba: Skip ItWants to be a next-generation "Bad News Bears," but it's a swing and a miss.
Harnick: DVR It"Back in the Game" was surprisingly entertaining, but there's definite potential for it to veer off course and be a disaster.
Weingus: DVR ItThis one is worth a shot for the adorable kids alone. It's not the most intriguing pilot out there, but Maggie Lawson is very endearing.
"BETRAYAL"Read more about "Betrayal" and watch a preview hereFurlong: Skip ItThis show is not great -- by any stretch of the imagination -- but it feels just soapy, just scandalous enough to find an audience. And I might check back in if I'm desperate or doing laundry.
Etkin: Skip ItBeing the poor man's "Revenge" is problematic on a lot of levels. "Betrayal" is slow and full of way too many issues to work out, including a character with an unclear mental disability and a man and a woman having an affair, who have more chemistry with their spouses than with each other.
Moaba: Skip ItThere's a somewhat interesting Capulets vs. Montagues-ish twist at the end, but the first 98 percent is so slow that most viewers won't get that far. It was also problematic that it took me 20 minutes to realize that a character had a mental disability ...
Harnick: Skip ItI had no idea what I was watching or why I was supposed to care about these people. Still have no clue. One final thought: Poor James Cromwell.
Weingus: Skip ItIt's always sad when people cheat on their spouses, especially when they have kids, but this pilot left me so uninterested in the main characters that I couldn't bring myself to care.
"THE GOLDBERGS"Read more about "The Goldbergs" and watch a preview hereFurlong: Watch ItI love the Goldbergs! This super '80s-tastic sitcom did what most this season couldn't: It actually made me laugh. Great casting, fun throwbacks and plenty of familiar with a funny twist.
Etkin: DVR ItThe very basic premise -- a dysfunctional Jewish family in the '80s -- made me want to like this one, but "The Goldbergs" didn't exactly hit where I wanted it to. The Dad translation IBM-style subtitles didn't work for me and unfortunately, the middle brother at the center of the pilot's storyline is easily the least likable character. But the real-life side-by-side videos of the characters that inspired "The Goldbergs" warmed my heart.
Moaba: DVR ItBasically a Jewish, '80s version of Fox's "Surviving Jack," and it works in a similar way. A great performance from Wendi McLendon-Covey carries it, Jeff Garlin seems to be having fun yelling like Jeff Garlin, and Patton Oswalt makes a great narrator. The real-life home videos at the end tied it together nicely.
Harnick: DVR ItThere's something here, but it's buried under a few unnecessary characters and clunky lines.
Prudom: DVR ItCharming, nostalgic and sweet, like an old baby blanket -- but not a watercooler show. Young lead Sean Giambrone is astoundingly charismatic for his age, which is even more remarkable considering that this is his first major role.
Weingus: DVR ItI'm all for '80s nostalgia and I love Jeff Garlin, but I had higher hopes for "The Goldbergs." There's definitely turnaround potential though, so set your DVRs.
"LUCKY 7"Read more about "Lucky 7" and watch a preview hereFurlong: Skip ItYes, this job is great, but I feel like the unluckiest girl alive when I have to watch a pilot so familiar, so retread, it makes me recall a good 5-10 very similar flops that've come before it. Next!
Etkin: Skip ItI'd rather watch only Hurley's storyline on "Lost." The characters are one-note and I found myself completely bored by the time they actually won the lottery.
Harnick: Skip ItI think this would work better as a comedy. Just don't see this going the distance.
Prudom: DVR ItAn odd but engaging dramedy that doesn't quite fit with anything else on ABC's schedule. But it's light enough to pair well with comedies "The Goldbergs" and "Trophy Wife" on Tuesdays. The cast is solid and it could prove to be an interesting character study, if nothing else.
Weingus: DVR ItI love the premise of "Lucky 7," and the setting is a fun one. The pilot was a little confusing because it had way too many plotlines, but it could sort itself out in a few episodes.
"SUPER FUN NIGHT"Read more about "Super Fun Night" and watch a preview hereFurlong: Skip ItI so wanted to love this one -- Rebel Wilson is a fearless comedic gem -- but it's beyond tired. I truly didn't care about any of the characters and Wilson's American accent was spotty at best.
Etkin: Skip ItIt pains me to say that it pained me to watch this. Why does Rebel Wilson have to have an American accent? Why are we making multiple "Wicked" jokes in 2013? Why does this show need not one, but two presumed lesbians to mock and stereotype? And how the hell would a character this socially inept ever become so successful?
Harnick: Skip ItKinks galore! There were moments I loved, and others that made me cringe -- and not in a good way. Please unleash Rebel Wilson, ABC. Let her be charming, tone down the awkward friends and give Wilson back her accent. Thanks.
Prudom: Skip It I really wanted to like this, because ... Rebel Wilson! But I kind of ended up hating it because ... Rebel Wilson. This "comedy" hit my second-hand embarrassment buttons way too hard, and Wilson's wobbly American accent was far more distracting than if she'd stuck with her real Aussie twang.
Weingus: Watch ItI agree with the argument that Rebel Wilson ditching her accent here was a big mistake, but I thought the pilot was hilarious. The moment Rebel belted "Defying Gravity" with her friends -- there was even some harmonizing! -- I was sold.
"TROPHY WIFE"Read more about "Trophy Wife" and watch a preview hereFurlong: Watch ItMalin Akerman is my hero in this "Bad Teacher"-esque sitcom (not to be confused with the new "Bad Teacher" sitcom on another network). She makes being a trophy wife look good.
Etkin: DVR ItPleasantly surprisingly funny. Malin Akerman carries this show with ease and her youngest stepchild has the perfect amount of naiveté and know-it-all-ness. Though I love Michaela Watkins, I'm not sold on her "second wife" character, who's simultaneously a zucchini-loving hippie and promoting Promises as a great celebrity-sighting rehab center.
Harnick: Watch It I was pleasantly surprised by how much I enjoyed this comedy. Malin Akerman, Bradley Whitford, Marcia Gay Harden and Michaela Watkins all click in a great way.
Prudom: Watch It Malin Akerman is exceedingly charming in the titular role, Bradley Whitford is always a pleasure to watch and the supporting ensemble is memorably quirky. Definitely worth another look.
Weingus: Watch ItMalin Akerman for the win! Being a third wife is never easy, but Akerman's character wears it well. Who else would chug a water bottle of vodka just to keep her brand new stepdaughter out of trouble? A must-watch!
"KILLER WOMEN"Read more about "Killer Women" and watch a preview hereFurlong: Skip ItYikes. I was excited to see a new strong female lead on TV, but this one needs some serious work.
Etkin: Skip ItI hope they change the title of this one, especially since it's filled with so many men who I could barely keep track of, a la "Nashville." Tricia Helfer plays the kick-ass Texas Ranger at the center of this well and it's beautifully shot, but ... there's not much else working here.
Moaba: Skip It"Kill Bill" meets "Dr. Quinn Medicine Woman," and if that sounds like a good thing, it isn't.
Harnick: DVR ItMy "Battlestar Galactica"-loving heart is going to give Tricia Helfer's new show another chance. It was a bit slow at times, but worth a look.
Weingus: Skip It Guns and Texas shows aren't really my thing, but I'm pretty sure I would have hated "Killer Women" regardless. I just wasn't intrigued.
"RESURRECTION"Read more about "Resurrection" and watch a preview hereFurlong: Watch ItI have chills. I have no idea where this show will go, or if it's even a sustainable premise for a weekly TV drama that could run for multiple seasons, but I have chills. I'm in.
Etkin: DVR ItWhen I saw the trailer for "Resurrection," I was absolutely intrigued, but I didn't find the pilot quite as transfixing. I'm sure I won't be satisfied by whatever pseudo-supernatural explanation "Resurrection" ends up giving its audience for a presumed dead child returning to his family 32 years later looking exactly the same, but still, I kind of want to stick around to find out.
Harnick: DVR ItFinally, a pilot that balances the right amount of mystery with exposition. "Resurrection" has piqued my interest.
Prudom: Watch ItFascinating and beautifully done, although I worry about ABC with serialized mystery shows -- they haven't had a great track record post-"Lost." It's rare to be so emotionally engaged within the first few minutes, and I'm disappointed we have to wait until midseason for more.
Weingus: DVR ItThe concept is a tricky one: A long-dead kid, brought back from the dead? This definitely has its dull moments, but it also manages to be a combination of heartwarming and creepy.
Please note: Screeners for new ABC series "Marvel's Agents of S.H.I.E.L.D.," "Mind Games," "Mixology" and "Once Upon a Time in Wonderland" were not yet made available to press when this published, but you can read more about them and watch trailers here.
WANT MORE? SEE FIRST IMPRESSIONS FOR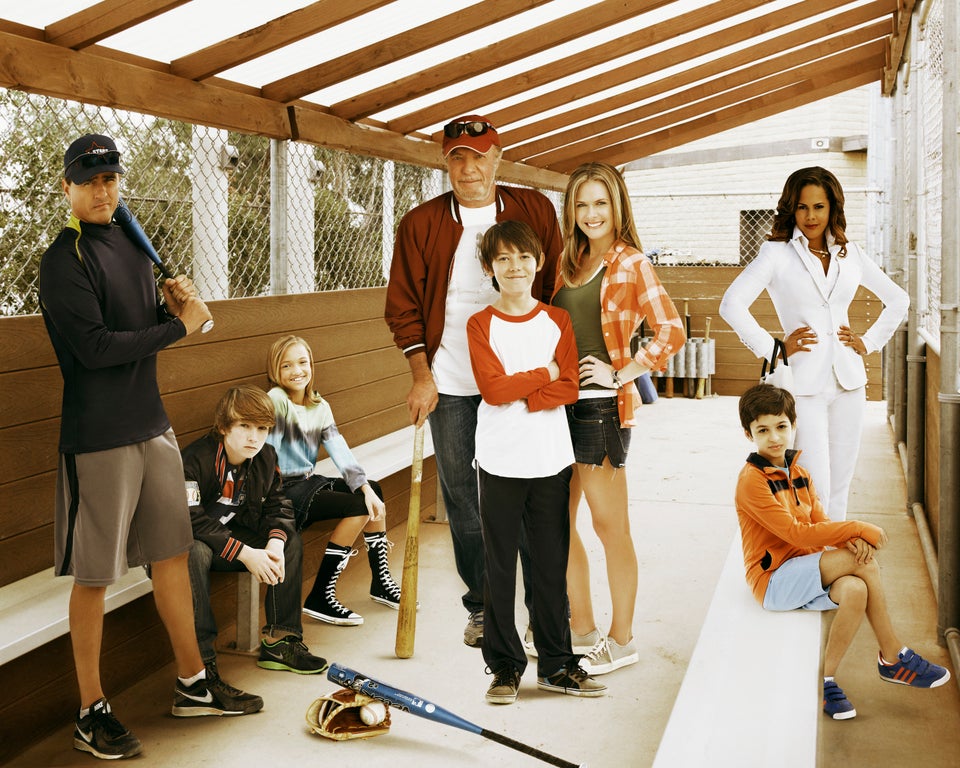 ABC's New Shows 2013-2014
Popular in the Community